Event Hub
Men's 5000 Meter Updates - 2012 London Olympic Games
MO FARAH AT IT AGAIN!!! FARAH GETS 2ND OLYMPIC GOLD!!!!!!! 52.94 LAST LAP!!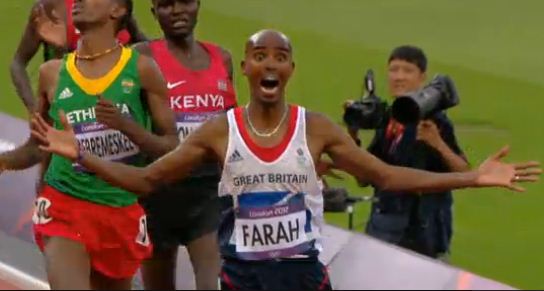 Medalists:
Gold - Mo Farah (Great Britain) 13:41.94
Silver - Dejen Gebremeskel (Ethiopia) 13:41.98
Bronze - Thomas Longosiwa (Kenya) 13:42.36

Lagat 4th
Rupp 7th
Lomong 10th

Men's 5k Live Updates:

1K: 2:55 - Mo Farah, champion in the 10k tucks in and hangs in the back.  Big gap for the leader, Iguider of Morocco, 70 seconds for the first lap.  Ethiopian trio leading the pack. 

- Mo Farah takes the lead of the main pack behind Lopez Lomong and Koech in a slow pace of 70 second quarters. It's looking like it'll be a very tactical race. Cam Levins of Canada also hanging out in the back. 

- Very slow for this field but no one wants to push it. Lomong still leading. At 7 laps to go Lomong still leads with Alamirew alongside him. Levins moves on the outside to put himself in good position. Pace picking up slightly with 68 second quarters at six laps to go. 

2K: 5:56 - Slight break is made by the Ethiopians who pick it up to a faster 62 second lap. It's about to get painful. Farah and Rupp running behind the leaders. Pack still pretty tightly bunched. Pace picked up with four laps remaining 61 second quarter.

3K: 8:42

4K: 11:16 - Farah makes a move with three laps to go on the leaders. Three to go and the pack is still together. Who will break it up??

Lap to go and Farah makes a huge move!! He made it happen and held off the Ethiopians! Farah wins his second Olympic gold medal with a 52.94 last lap!!!



BRING ON THE FINAL!



Men's 5k Semi-Final Updates
Qual. rule: first 5 of each heat (Q) plus the 5 fastest times (q) qualified.
FULL RESULTS

Heat 1 (400 splits, these disregard the first 200):
1. 69.96 - Koech (KEN) leads, Farah (GBR) in second
2. 68.36 - Koech followed by Sato (JPN)
3. 66.72 - Koech still up front, Lomong (USA) sitting in 5th next to Farah. Lomong looks to Mo and exchanges words
4.  66.61 - Koech leads, Lomong 4th. Right after split McNiell (AUS) takes the lead, pack follows
5. 65.09 - Lahbabi (MAR) takes lead, Koech in second. McNeill drops back to forth. Pack still remains with Lomong and Farah in the mix
6. (split unknown as they cut to Discus) Mo takes lead at 3k, 7:46 approx split
7. 65.93 - Gebrhiwet (ETH) takes off but Koech responds and takes the lead. Pace picks up
8. 62.69 - Four laps to go and Koech leads. On the back stretch after split Mo moves outside and starts moving up slowly, Lomong sits on his shoulder.
9. 65.20 - Pace slows back down a bit as Gebrhiwet goes back to the lead, pack bunches up with Mo still wide on the outside of lane 2. Collis Birmingham (AUS) drops off the lead pack. (2:39 last 1k, 10:58 at 4k)
10. 62.54 - Leaders do not change through split. Pace picks up on back stretch, athletes jockeying for position with 500 to go.
11. 60.65 - Gebrhiwet starts kicking, Koech follows but Ibrahimov (AZE) hammers to the lead. Mo and Lomong move up controlled on back stretch as the pass Soi (KEN). Ibrahimov and Koech take the top two spots while Mo and Lomong kick by Gebrhiwet to grab their auto spots. Those are your 5 autos.
12. 54.72 - Final time 13:25.23 and 13:26.16 through fifth.

Potential Next 5 in on Time - Soi (KEN) 13:27.06, Gabius (GER) 12:28.01, Meucci (ITA) 13:28.71, Al-Outaibi (Saudi Arabia) 13:31.47, Shugi (Bahrain) 13:31.84

Kilometer Splits:

Heat 2 (400 splits - first 200 approx 31 secs):
1. 64.31 - Mottram (AUS) leads. Packed heat with known names like Rupp (USA), Lagat (USA), Levins (CAN), Cragg (IRL), Gebremeskel (ETH)
2. 63.16 - Mottram still up front with Rupp on his back, pack in a string.(1k in 2:38)
3. ?
4. 64.59 - Mottram steps to the side down the home stretch and lets Rupp take over with Gebremeskel following in second. Cragg is off the lead pack (last 1k in 2:41, 5:19 at 2k)
5. 63.37 - Rupp looks like he is ready for someone else to lead but not one does. The pack bunches up now, Lagat in middle of the pack and Levins at his side.
6. 67.95 - Rupp continues to slow pace as he visibly would like someone else to lead. They flash to Mo in the stands watching the race. Slow pace gets Cragg back with lead pack.
7. 68.86 - Mottram takes over with Kipsiro with him. Pack is very bunched (last 1k at 2:48)
8. 65.79 - Mottram leads but soon after Kipsiro takes over with Levins in second. Rupp and Alamirew (ETH) are behind Levins and Lagat two more places back.
9. ? - (last 1k in 2:41, 4k in10:49)
10. 63.03 - Not change in lead, pack remains with Kipsiro leading. At 500 to go, pack starts moving and looking for position
11. 60.61 - Seven athletes are breaking away, time looks fast enough for time qualifiers in this section. Lagat and Rupp with lead pack containing both Ethiopians, Longosiwa (KEN) and Iguider (MAR) who got the bronze last night in the 1500.
12. 13:15.15 finish - Gebremeskel finishes strong with his signature wheels at the end of the race passing Iguider who had led with 100m to go.  Lagat moves to fourth to grab an auto spot and Rupp fades to 6th missing an auto. Rupp appears to be fatigued. Levins grabs a new PR in 8th with a 13:18.29 which will put him into the final.

Five Qualifiers through on time: Rupp (USA) 13:17.56, Kipsiro (UGA) 13:17.68, Levins (CAN) 13:18.29, Barrios (MEX) 13:21.01, Gala (DJI) 13:21.21

Kilometer Splits:



---
Men's 5000 Meter Quick Hits
2012 London Olympic Games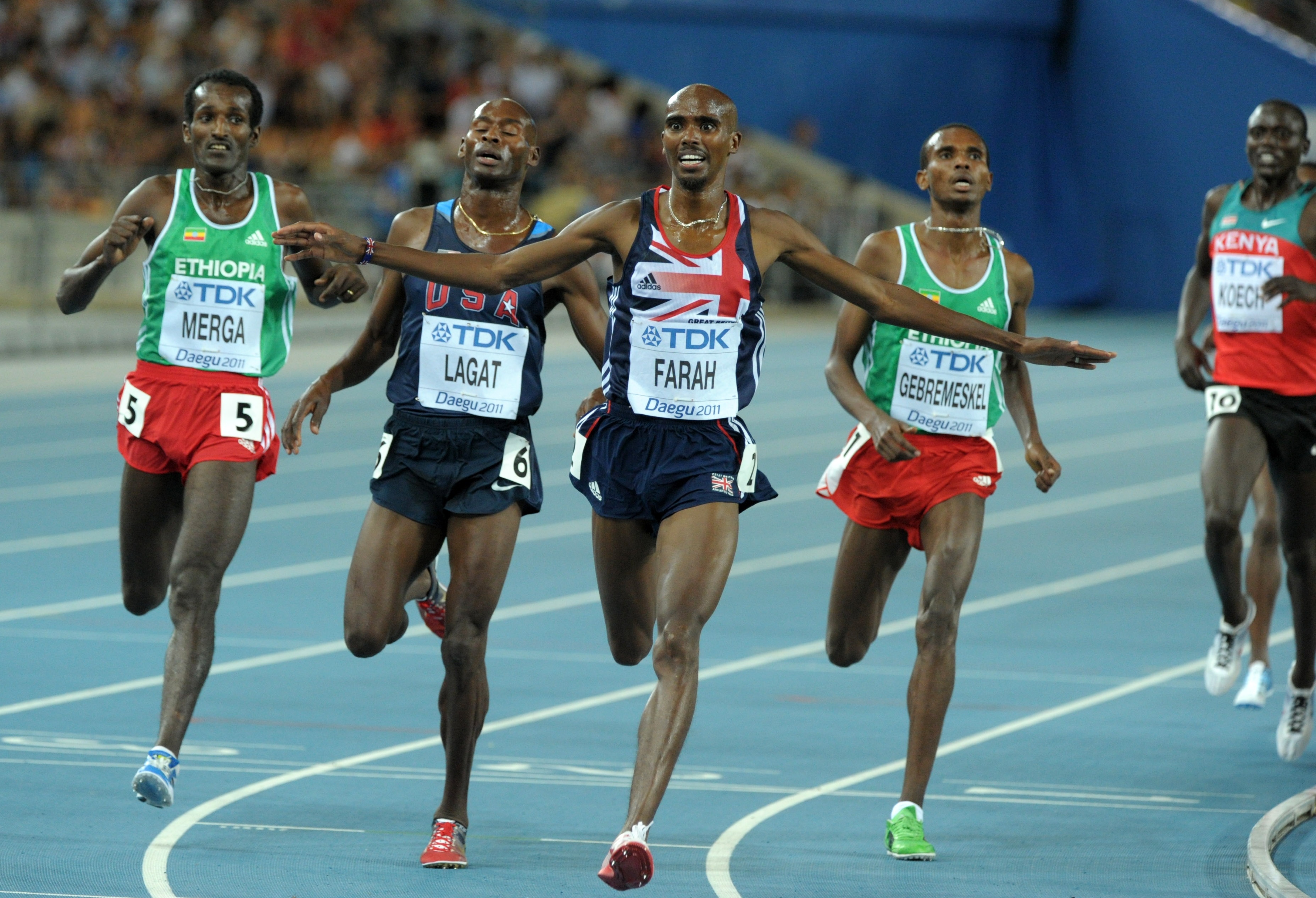 5000 Meter Schedule
Day 6, August 8th - Round 1 (4:45am CT) - Qualifying procedure TBA
Day 9, August 11th - Final (1:30pm CT)

5000 Meter Records:
World Record - 12:37.35 - Kenenisa Bekele (ETH) 31 May 2004
Olympic Record - 12:57.82 - Kenenisa Bekele (ETH) 23 August 2008
American Record - 12:53.60 - Bernard Lagat 29 August 2010

The Favorites (season best/personal best):
1. Mo Farah, Great Britain (12:56.98/12:53.11) - The reigning World Champion. Consistently proven he knows how to win.
2. Dejen Gebremeskel, Ethiopia (12:46.81/12:46.81) - 3rd at 2011 World Championships in Daegu. Tore the stadium down in Paris with his 12:46.
3 Isiah Koech, Kenya (12:48.64/12:48.64) - 4th at 2011World Championships 5k.

Past 5000 Olympic Results: (from wiki)