Event Hub
Women's 400 Updates - 2012 London Olympic Games
Sanya Richards-Ross Takes the Gold! Her first Olympic Gold Medal!!

Medalists:
Gold - Sanya Richards-Ross (USA)
Silver - Christine Ohurougu (Great Britain)
Bronze - Dee Dee Trotter (USA)

The women's 400 final was an incredible performance as all of the favorites battled it out until the final moments of the race. USA's Sanya Richards-Ross would be the one to bring home the gold in an amazing last 20 meters where she powered through to the line in 49.55! The defending champion from Great Britain, Christine Ohurougu secured her podium spot with silver in 49.70 and was followed by USA's Dee Dee Trotter for bronze in a season's best of 49.72!

Full Results here


updated: August 5, 10:47am CT

Final lane assignments: 


---

updated: Aug 4, 2:45pm CT
Women's 400m Finalists Named!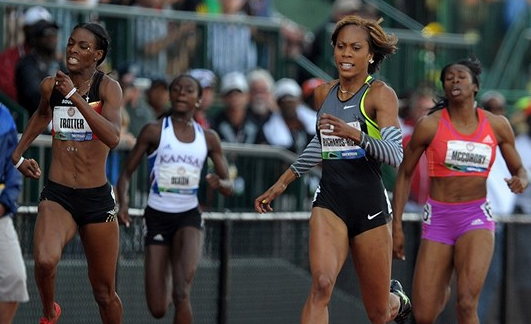 All Three Americans into the Final!

(First 2 automatically advance)

Heat 1 - Sanya Richards-Ross got the job done in heat 1 with a very comfortable looking win of 50.07. Christina Ohouogou of Great Britain chased her down in a very strong 2nd place with a season's best of 50.22. 


Heat 1

04 August 2012 - 20:05


Heat 2 - Amantle Montsho of Botswana and Francena McCorory of USA battled it out together away from the rest of the pack to grab 1st and 2nd in heat 2. Montsho just edged out McCorory at the line for a 50.15 followed by McCorory in 50.19. 


Heat 2

04 August 2012 - 20:13


Heat 3 - Anontina Krivoshapka of Russia took heat 3 out like a bullet through the first 200 meters in sub 23 seconds to lead the pack. The Russian payed for it though in the final fifty meters as she was chased down by USA's Dee Dee Trotter and Jamaica's Noviene Williams-Mills. Trotter almost edged out Krivoshapka (49.81) for first but came through in 2nd with a 49.87 and 49.91 for Williams-Mills. 


Heat 3

04 August 2012 - 20:21




---
last updated: August 3 at 7:54am CT

Richards-Ross, chief rivals ease through 400 meter prelims


All the favorites in the women's 400 meters cruised through the first round of their competition on Friday morning. U.S. Trials champion Sanya Richards-Ross walked across the finish line to easily win heat four in 51.78 seconds.

For as easy as Sanya looked, her chief competition ran similarly eased back effort to win their races. Defending world champion Amantle Montsho jogged the last straightaway to claim section two in 50.40 seconds while world leader Antonina Krivoshapka of Russia relaxed the second half of the race for a 50.75 effort to win heat five.

Americans Deedee Trotter and Francena McCorory also won their respective heats.
Full Results Page Here 



Heat 1

03 August 2012 - 12:00

 

Heat 2

03 August 2012 - 12:08

 

Heat 3

03 August 2012 - 12:16

 

Heat 4

03 August 2012 - 12:24

 

Heat 5

03 August 2012 - 12:32

 

Heat 6

03 August 2012 - 12:40

 

Heat 7

03 August 2012 - 12:48




---

last updated: July 20th at 6:05pm CT
Women's 400 Quick Hits
2012 London Olympic Games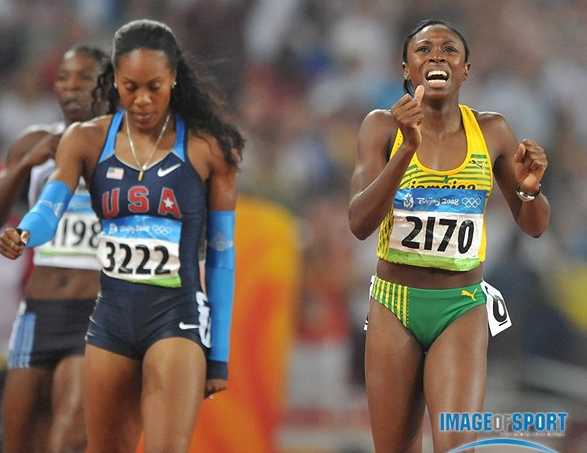 400 Meter Schedule:
Day 1, Aug 3rd - Round 1 (6:00am CT) - qualifying procedure TBA
Day 2, Aug 4th - Semi-final (2:05pm CT) - qualifying procedure TBA
Day 3, Aug 5th - Finals (3:10pm CT)

400 Meter Records:
World Record - 47.60 - Marita Koch (EGR) 10/6/1985
Olympic Record - 48.25 - Marie Josie Merec (FRA) 7/29/1996
American Record - 48.70 - Sanya Richards-Ross 9/17/2006

The Favorites: (personal best/season best)
1. Antonina Krivoshapka, Russia (49.16/49.16) - Bronze medalist at 2010 European Championships, bronze medalist at 2009 World Championships
2. Sanya Richards-Ross, United States (48.70/49.28) - Two-time Olympian, bronze medalist at 2008 Olympic Games
3. Yulia Gushchina, Russia (49.28/49.28) - Fourth place finish at 2008 Olympic Games

The Americans:
1. Sanya Richards-Ross (48.70/49.28) - Two-time Olympian, bronze medalist at 2008 Olympic Games
2. Deedee Trotter (49.64/50.02) - Two-time Olympian, semi-finalist in Beijing
3. Francena McCorory (50.06/50.06) - Fourth place finish at 2011 World Championships

Past 400m Olympic Results: (from wiki)

2000 Olympic Games
2004 Olympic Games
2008 Olympic Games


---