Event Hub
Women's 800 Updates - 2012 London Olympic Games
Montano Misses Podium By 2 Spots
Savinova Takes Gold in World Lead Time 1:56.19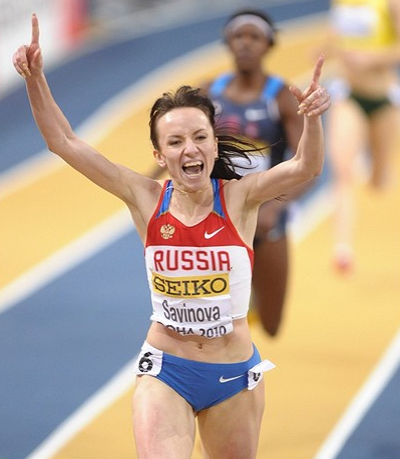 Medalists:
Gold - Mariya Savinova (Russia) 1:56.19 Season's Best
Silver - Caster Semenya (South Africa) 1:57.23 Season's Best
Bronze - Ekaterina Poistogova (Russia) 1:57.53 Personal Best

Alysia Montano, in her typical racing style took the field out from the gun and into the first quarter in 56.31. The pack was on her back however heading into the backtretch as reigning Olympic Champion Jelimo made a move for the lead and was followed by the two Russians. Coming into the homestretch it would be Savinova, the 2011 World Champion to come through with the gold and a new world leading time of 1:56.19. Silver was won in a huge kick by 2009 World Champion Caster Semenya of South Africa and bronze was snatched in a close 3rd by Ekaterina Poistogova of Russia. 

Results:



Montano on to Final! Sneaks in on Time in Heat 2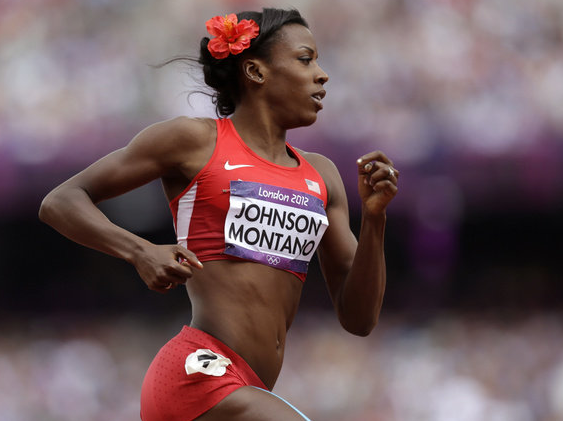 Women's 800 Semi's Live Updates
Heat 1 - Heat 1 was all about Jelimo of Kenya as the defending Olympic Champion played the race smart, put herself in good position and made a move at the perfect time. The pack went out in 60.15 and Jelimo lead the 600 in 1:30. She was followed by Russian Postogova who came through in 2nd place just behind Jelimo in a winning time of 1:59.43.  

Heat 2 - Heat 2 was a kicker's race as Busienei of Kenya lead almost the entire time, but was outkicked in the final 200 meters as Caster Semenya of South Africa made a big move and was followed by Alysia Montano of USA and Arzhakova of Russia. It would be Semenya who would win the heat in 1:57.67. She was followed by Arzhakova, Busienei, and Montano. The last two will have to wait and see if they can qualify on time.

Heat 3 - Heat 3 was a very different race compared to heat 2. Mukasheva of Kasikstan lead through 600 meters, giving herself a huge gap in the first quarter (57.70), but the lead would be short-lived as the pack closed in on her with 200 meters to go. World Champion Savinova of Russia closed in on her along with Nivonsava who came in for second to automatically qualify. Savinova took the heat in 1:58.58. 


Official Time Qualifiers: Janeth Busienei (Kenya) 1:58.26, Alysia Montano (USA) 1:58.42


Full Results:



Women's 800 Semi-Final Sections:
Qual. rule: first 2 of each heat (Q) plus the 2 fastest times (q) qualified

Heat 1
Thursday 09 August 2012 - 19:30
Heat 2
Thursday 09 August 2012 - 19:38
Heat 3
Thursday 09 August 2012 - 19:46
---

Women's 800 First Round Updates:
Qual. rule: first 3 of each heat (Q) plus the 6 fastest times (q) qualified

Heat 1 - Alysia Montano hammers the first lap in 55.55 with the announcers questioning her tactics. Semenya sits comfortably at the lead of the chase group. Montano still has a big lead at 600 hitting the split in 1:27.22. She hits a combination of slowing and hurting in the last 100 meters but holds on for the lead in 2:00.47 (last lap in 64.93). Semenya closes to finish in 2:00.71 and Hachlaf (MAR) 2:00.99.

Marks to qualify from section: Almanza (CUB) 2:01.19

Heat 2 - Alice Schmidt (USA) lead thru the 400 in 60.23 with 2011 World Champ Savinova (RUS) in back of the pack. Savinova challenged for the lead at 600 meters and Schmidt matched her move. Savinova went on to take the heat in 2:01.56 (61.34 last lap for the race), Schmidt was 2:01.65. Luka of India sneaks out the third auto spot in 2:01.75.

Marks to qualify from section: Akkaoui (MAR) 2:01.78

Heat 3 - Three women don't show up for the section, only five run. Super slow 68.06 through 400 with everyone clumped together. After the bell Shumi (Bahrain) and Niyonsaba (Burundi) start moving with Jessica Smith (CAN). Top three finish Niyonsabatimes 2:07.57, Smith 2:07.75 and Shumi (2:07.77).

Heat 4 - Jelimo (KEN) goes for the lead but Filandra (GRE) gets it at 200m. Through the 400 meters in 59.21 and Krevsun (UKR) drops out. She had a season's best of 1:59.25. Jelimo took the lead at 600m in 1:29.59 with Sharp (GBR) following. Geena Gall (USA) off the back and not really in the race. Jemlino wins in 2:00.56 (61.35 last lap), Sharp 2:01.41 in second, Filandra third in 2:02.29

Marks to qualify from section: Geena Gall (USA) 2:03.85

Heat 5 - First lap in a pedestrian 68.70 with Arzhakova (RUS) and Lupu (UKR) upfront, pack bunced behind them. Pace picks up and athletes are three lanes wide with 100m to go. Lupu takes section in 2:08.35 (59.66 last lap), Arzhakova second in 2:08.39 and third auto spot goes to Koech (KEN) 2:08.43.

Heat 6 - An experienced Janeth Jepkosgei (KEN) leads early and through 400 in 58.71, six athletes are with her. Through 600m in 1:30.62. They all remain together with 100m to go. Jepkosgei kicks to the win in a comfortable 2:01.04. Three of the time qualifiers will come from this section. Second was Poistogova (RUS) 2:01.08, Garcia of Columbia 2:01.30.

Next marks to qualify from section: Lavric (Romania) 2:01.65,  Mukasheva (Kazakhstan) 2:02.12, Bernard-Thomas (Grenada) 2:03.23



---
Round 1 Start Lists:


800 Metres - W   HEATS
Qual. rule: first 3 of each heat (Q) plus the 6 fastest times (q) qualified.
Heat 1
Wednesday 08 August 2012 - 11:35
| | | | | | |
| --- | --- | --- | --- | --- | --- |
| Lane | Bib | Athlete | Country | SB 2012 | PB |
| 2 | 1486 | | CUB | 1:59.55 | 1:59.55 |
| 3 | 2469 | | MAR | 2:00.38 | 1:58.27 |
| 4 | 2531 | | MRI | 2:06.58 | 2:06.11 |
| 5 | 2491 | | MDA | 2:00.64 | 2:00.64 |
| 6 | 1590 | | EGY | 2:15.15 | 2:11.63 |
| 7 | 3300 | | USA | 1:57.37 | 1:57.34 |
| 8 | 2794 | | RSA | 1:59.18 | 1:55.45 |
Heat 2
Wednesday 08 August 2012 - 11:44
| | | | | | |
| --- | --- | --- | --- | --- | --- |
| Lane | Bib | Athlete | Country | SB 2012 | PB |
| 2 | 2890 | | RUS | 1:57.42 | 1:55.87 |
| 3 | 2625 | | PAN | 2:01.63 | 2:01.63 |
| 4 | 3081 | | TUR | 2:00.23 | 2:00.23 |
| 5 | 2074 | | IND | 2:01.09 | 1:59.17 |
| 6 | 2464 | | MAR | 1:59.01 | 1:59.01 |
| 7 | 3315 | | USA | 1:59.46 | 1:58.61 |
| 8 | 2518 | | MHL | 2:15.94 | 2:13.83 |
Heat 3
Wednesday 08 August 2012 - 11:53
| | | | | | |
| --- | --- | --- | --- | --- | --- |
| Lane | Bib | Athlete | Country | SB 2012 | PB |
| 2 | 2969 | | SUD | | 2:05.06 |
| 3 | 1711 | | ETH | 1:57.48 | 1:57.48 |
| 4 | 3171 | | UKR | 1:59.62 | 1:58.30 |
| 5 | 2204 | | JAM | 2:01.55 | 1:57.88 |
| 6 | 2023 | | GUM | 2:21.30 | 2:21.30 |
| 7 | 1130 | | BDI | 1:58.68 | 1:58.68 |
| 8 | 1260 | | BRN | 2:01.18 | 2:01.18 |
| 9 | 1318 | | CAN | 1:59.86 | 1:59.86 |
Heat 4
Wednesday 08 August 2012 - 12:02
| | | | | | |
| --- | --- | --- | --- | --- | --- |
| Lane | Bib | Athlete | Country | SB 2012 | PB |
| 2 | 1990 | | GRE | 2:00.44 | 2:00.44 |
| 3 | 3291 | | USA | 1:59.24 | 1:59.24 |
| 4 | 1015 | | ANG | 2:13.89 | 2:13.89 |
| 5 | 3169 | | UKR | 1:59.25 | 1:57.32 |
| 6 | 2329 | | KEN | 1:56.76 | 1:54.01 |
| 7 | 1878 | | GBR | 2:00.52 | 2:00.52 |
| 8 | 2622 | | PAK | 2:10.65 | 2:10.65 |
Heat 5
Wednesday 08 August 2012 - 12:11
| | | | | | |
| --- | --- | --- | --- | --- | --- |
| Lane | Bib | Athlete | Country | SB 2012 | PB |
| 2 | 1173 | | BLR | 1:59.63 | 1:59.30 |
| 3 | 2844 | | RUS | 1:57.67 | 1:57.67 |
| 4 | 2533 | | MTN | | |
| 5 | 1305 | | CAN | 1:59.82 | 1:59.82 |
| 6 | 3173 | | UKR | 1:58.46 | 1:58.46 |
| 7 | 2338 | | KEN | 2:01.20 | 1:59.68 |
| 8 | 2638 | | PLE | 2:41.22 | 2:40.12 |
| 9 | 1536 | | CZE | 2:01.38 | 1:59.71 |
Heat 6
Wednesday 08 August 2012 - 12:20
| | | | | | |
| --- | --- | --- | --- | --- | --- |
| Lane | Bib | Athlete | Country | SB 2012 | PB |
| 2 | 2886 | | RUS | 1:57.93 | 1:57.93 |
| 3 | 2323 | | KEN | 1:57.79 | 1:56.04 |
| 4 | 2767 | | ROU | 1:59.74 | 1:59.74 |
| 5 | 2285 | | KAZ | 1:59.79 | 1:59.79 |
| 6 | 1276 | | CAF | | |
| 7 | 1428 | | COL | 2:01.27 | 1:59.38 |
| 8 | 2378 | | KSA | | |
| 9 | 2009 | | GRN | 2:01.21 | 1:59.60 |






last updated: July 21st at 6:05pm CT



Women's 800 Quick Hits
2012 London Olympic Games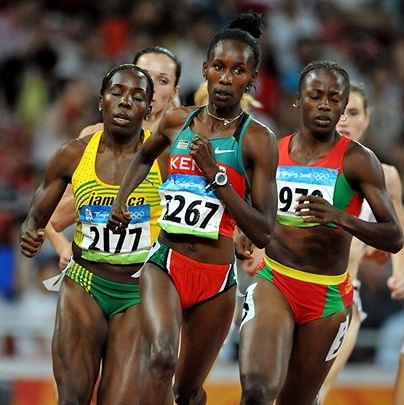 800 Meter Schedule:
Day 6, Aug 8th - Round 1 (5:35pm CT) - qualifying procedure TBA
Day 7, Aug 9th - Semi-final (1:30pm CT) - qualifying procedure TBA
Day 9, Aug 11th - Finals (2:00pm CT)

800 Meter Records:
World Record - 1:53.28 - Jarmila Kratochvilova (Czechoslovakia) 7/26/1983
Olympic Record - 1:53.43 - Nadezhda Olizarenko (Soviet Union) 7/28/1980
American Record - 1:56.40 - Jearl Miles Clark 8/11/99

The Favorites: (personal best/season best)
1. Pamela Jelimo, Kenya (1:54.01/1:56.76) - Reigning Olympic Champion, 2012 World Indoor Champion
2. Alysia Johnson Montano, United States (1:57.34/1:57.37) - 4th place at 2011 World Championships
3. Mariya Savinova, Russia (1:55.87/1:57.42) - 2011 World Champion

The Americans:
1. Alysia Johnson Montano (1:57.34/1:57.37) - 4th Place at 2011 World Championships
2. Geena Gall (1:59.24/1:59.24) - Semi-finalist at 2011 World Championships
3. Alice Schmidt (1:58.61/1:59.46) - Semi-finalist at 2011 World Championships

Past 800m Olympic Results: (from wiki)


---