Redemption on the Track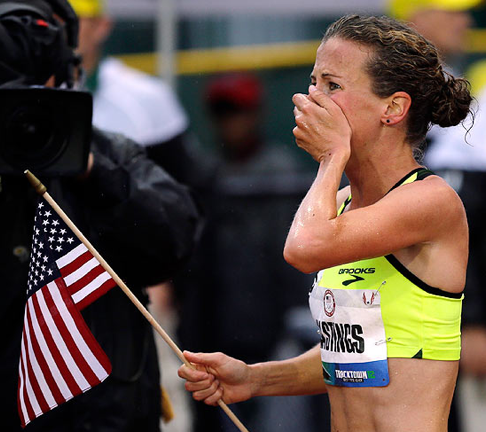 There's something to be said for the comeback.  It's never an easy road to take but when the comeback happens, it sends a wave of inspiration to everyone who witnesses it.  
For 10k runner Amy Hastings, her comeback was a textbook story of perseverance and strength that led her to her first Olympic team.  With tears of joy streaming down her face, Hastings experienced the ultimate comeback moment when she won the 10k final in front of a packed stadium at Hayward Field.  After finishing 4th at the Olympic Marathon Trials in January, crying on the track at Hayward Field was her perfect moment.  
"I am stronger now than I was January 13th and I know that many future races will be better because of that race. I guess I just didn't want that race to defeat me.  It hurt but I wanted to fight back and I knew I could do that on the track," said Hastings reflecting on overcoming the loss at the Marathon Trials.    
To say that Hastings has been through a lot this year would be an understatement. The Brooks athlete had a very impressive marathon debut in 2011 at the Honda LA Marathon with a time of 2:27:03, but was completely devastated when she finished in 4th place at the 2012 Olympic Marathon Trials in Houston.  She was forced to watch as Shalane Flanagan, Kara Goucher, and Desiree Davila earned the three coveted spots on the Olympic team that did not include her. 
"I was hurting so bad and I just wanted to stop and walk or jog it in but I knew I had to refocus in order to get fourth so for the next 12 minutes I wouldn't let myself go into that emotional state of not making the team. It wasn't until the last straightaway when I knew no matter what I wasn't getting third or fifth that I let myself breakdown and cry," said Hastings looking back on the hardest finish of her life in Houston.
Hastings would not let the heart-breaking loss defeat her however, and after a long period of healing with a great amount of support from her family and friends, she was on her way to a comeback on the track.  
"My family and friends were there for me at the drop of a hat to help in any way that they could.  Des, Kara and Shalane were the first three people I saw after the race and they all told me before I went back that I would make it on the track.  Since then it has been an endless flow of support from people, sometimes it has come from the most unlikely of places.  People I didn't even know were coming up to me and telling me I could still do it, that they believed in me.  I know that sometimes you have to trust an outsiders perspective more than your own when it comes to yourself so I let myself believe them, all of them, every single person who had a nice thing to say I stored it as energy in myself for six months and then used it in Eugene," said Hastings. 
As Eugene approached, Hastings had already achieved the Olympic "A Standard" time of 31:45 after battling several foot injuries that appeared after the marathon. All she needed to do on that cold June day in Eugene was to finish in the top 7 in order to make the Olympic team, but that would not be good enough for Hastings.  
"With 200m to go I still didn't actually think about winning.  Instinct just kicked in the way it does every time. No matter what meet it is or who is next to you, you just try to get to that line first," said Hastings as she remembered the final moments of the 10k that would determine her spot on the Olympic team. 
Hastings could not be beat in the final straightaway as her face showed the determination of a runner on a mission to win.  She clocked in with a time of 31:58.36 to out-kick Texas A&M's Natosha Rogers and Oregon Track Club's Shalane Flanagan.  She had finally punched her ticket to London.   
"Lisa came up to me, gave me a hug and said, 'We made it!' That moment will stay with me forever," said Hastings when remembering the post race celebration with fellow Olympian Lisa Uhl.  
Her goal will become a reality tomorrow as Hastings will toe the line in the 10k final against the best in the world at the 2012 London Olympic Games. 
"You never know what can happen tomorrow or four years from now so I am not planning on wasting anything, and maybe, just maybe, I can pull something incredible off."