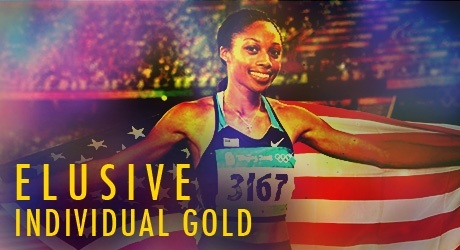 By Carl Stones

Francie Larrieu Smith had nothing short of an impressive career in track and field.  Between the ages of 19 and 39 she managed to make 5 Olympic teams starting with the 1500 meter run in Munich in '72, and culminating with the marathon in Barcelona in '92.  For a sport where longevity isn't an all too common word, Larrieu Smith is a bit of an anomaly.  Though the USA won't have any 5 time Olympians taking the track in London this year, there will be a few runners with plenty of experience, including 3 time Olympian Allyson Felix.  While Felix can't claim as many Olympic teams as Larrieu Smith, she can claim incredible success thus far. 
Felix made her first Olympic team in 2004, only one year after following Lebron James' decision to turn pro straight out of high school.  I'd like to think the Felix inspired James to make his decision, but that's neither here nor there.  Either way, there aren't many track and field athletes who make the Olympics at the age of 18; there are even fewer who bring home a silver medal.  She would follow this the next year in Helsinki by becoming the youngest woman to win the 200 meter dash at the World Championships, and then going on to win another three gold medals in Osaka two years later.  Despite this impressive lead up to the 2008 games in Beijing, Felix fell short once again in the 200 meter dash and took the silver behind Veronica Campbell-Brown; the same woman who beat her 4 years earlier in Athens.  Felix did, however, manage to win gold as a member of USA's winning 4x400 meter team.  In 2009 Felix became the first woman to win three gold medals in the 200 meter dash at the World Championships, in addition to her gold in the 4x400 meter relay. 
2011 was, by Felix's standards, one of her more lackluster seasons as she managed only bronze in the 200 m, and silver in the 400 m. While being on the podium at all is an impressive feat, this wasn't the result Felix was looking for leading into this Olympic year.  Nonetheless, she should have that confidence back after an already incredible 2012 season.  Not only is Felix the only woman to have run under 22 seconds this year for the 200 m with her scorching 21.69 from the trials, but she is the fastest in the world this year by 0.4 seconds.  As for Campbell-Brown, the two time defending Olympic champion in the 200 m, she has only managed to run 22.38 this season; almost 0.7 seconds behind Felix.  Combine that with the fact that Felix will also be competing in the 100 meter dash, a double that she believes will give her the best chance to win the 200 m, and it's tough to see anybody sneaking by her this year.
While Felix is only 26 years of age and will most likely have more Olympic games in mind, this is her year to win that ever elusive [individual] Olympic gold.  It's no doubt that Felix is one of the best sprinters ever without an individual Olympic gold, but Felix surely isn't satisfied with that title and will be looking to fix that.  With an already impressive resume, she just needs this gold to let people know she's one of the best.  I'd say it would be appropriate for Felix to win her first gold the year that Lebron won his first title.