Event Hub
Aries Merritt: Greatest of All-Time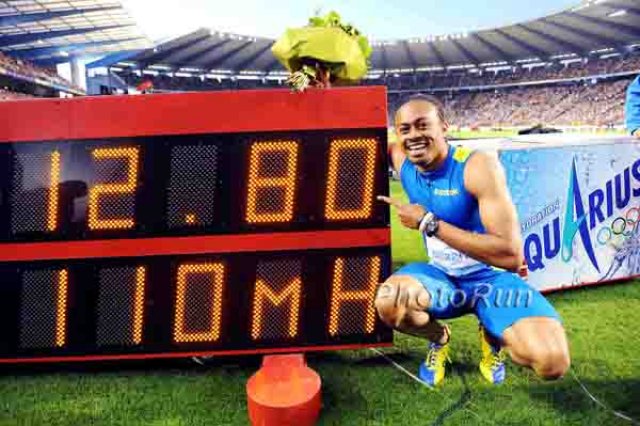 Aries Merritt adds a world record to his 110m Olympic gold medal

At the final Diamond League meet of the outdoor season in Brussels, Belgium, Aries Merritt ran the world record in the men's 110m hurdles. His time of 12.80 surpassed the previous mark of 12.87 set by Dayron Robles of Cuba from 2008. USA Track and Field news stated, "It was the biggest drop in the world record since Renaldo Nehemiah dropped 0.28 seconds off the mark from 13.21 to 12.93 in 1981."

Merritt's performances during the 2012 outdoor track and field season now make him the greatest hurdler of all time. Merritt began him dominant campaign at the USATF Indoor Championships in February, where he ran a personal best of 7.43 in the 60m hurdles. At the 2012 World Indoor Championships in March, Merritt won his first gold medal of the calendar year in the 60m hurdles over 2004 Olympic gold medalist and former world record holder Liu Xiang.

His incredible fitness indoors immediately translated to success in the 110m hurdles outdoors. Following two sub-13 performances in Fayetteville, Arkansas and at the Prefontaine Classic in Eugene, Oregon, Merritt began his reign as the king of the 110m hurdles. Other than preliminary heats and two disqualifications, Merritt did not run over 13.00 or lose another 110m-hurdle race for the remainder of the season. Sub-13 performances and wins came at Diamond League races in London, Monaco, Lausanne, Birmingham, Berlin, and Brussels.

The biggest highlight of his season came at the 2012 London Olympic Games, where Merritt won the gold medal in the 110m hurdles in a near Olympic record time of 12.92. Merrit also broke the Robles' world record for most wind legal sub-13 races in one season with eight.

At a teleconference hosted by USA Track and Field, Merritt reflected on his race. Merritt said, "This is a dream season for me, I guess. It's a dream season for anyone because I don't think anyone has done what I've done this year, ever. It's amazing. I'm still pretty much in shock at the time. I knew it was going to happen but I didn't think I was going to sneak under 12.90"

"All of my races felt the same. I've been running the same times over and over. But this time I just knew this time that I didn't float any hurdles. Normally when I run really fast, I have to back off in order to not [hit any hurdles] because the hurdles are coming up so fast and sometimes I'll mess up the finish and I won't run a complete race. But this is the first time I didn't have to back off. I just said forget I'm just going to keep running because whatever happens happens because it's the last race."

This dream season has been a long time coming for Merritt since 2004. At the 2004 World Junior Championships, Merritt took home the gold medal in the 110m hurdles over former world record holder Dayron Robles in 13.56. In 2006 at the University of Tennessee, Merritt went undefeated in all hurdle races that year, broke the University of Tennessee hurdles school record, and posted the second fastest 110m hurdles time by a collegian with a 13.21 clocking.

Merritt stated, "I think that in 2004 when I became World Junior Champion that it was only a matter of time before I would succeed at the pro level, but obviously there is a lot of development that needs goes on - I have to develop as an athlete, I have to develop as a person, and there's a lot of things that I have to do in order to develop. It comes with age - you just don't wake up one morning and you're good. You have to train really hard, you have to mature in all aspects in life, and I think I did that this season."

Merritt changed more than one aspect of both his training regiment and living standards this past year. The major technical change that Merritt made was that he switched from an eight-step approach to the first hurdle to a seven-step approach. If you watch his world record run, you will notice that even though he does not get out of the blocks very well, he makes up ground very quickly because of his more powerful steps.

"The best way I can describe it is like trying to write cursive with your left hand if you're right handed. It's really difficult to make the switch. For some reason, I was able to adapt to it really quickly. I spent my entire indoor season trying to find a rhythm for the first hurdle and I ended up making some small discoveries in training… Sometimes I'd get it right and sometimes I wouldn't get it at all. It was a consistency thing I had to overcome in training."

Often hurt in the past, Merritt reflects on the injuries he collected over the years. "… I tore my left and right hamstring, I tore my quad, I've had torn ligaments in my ankle, I've had a stress fracture in my foot, I've blown out my knee - I've all kinds of things." This year marks the first time where Merritt has been healthy throughout an entire season. He attributes one of the factors to staying injury free to a change in his diet. Merritt stated, "I'm lean and more fit because of my diet. I'm able to recover faster because supplementation and proper eating and I didn't get hurt this year."

Even though he has avoided any major injuries, clocking the fastest time in 110m hurdles history has overloaded his body. Merritt laughingly says, "I feel like my hamstrings are about to explode [and] my calves are cramping up. I'm experiencing a lot of pain; more pain than normal. Normally when I run I don't really tighten up, I just feel regular because I can come back the next day and I don't feel like I can come tomorrow and run fast."

Merritt does not have to come back the next day and run fast. For him, the greatest hurdle campaign in the history of the sport has now been concluded. To break a world record, an athlete must have the audacity and confidence to run faster than any athlete before him or her. Merritt accomplished this task through consistency, dedication, and confidence in his abilities.

Looking towards the 2013 season, Merritt realizes that there are added pressures and expectations. During the 2012 Olympic Games, Merritt told NBC Olympics, "In my mind, until I become an Olympic Champion or the world record holder, there could be no pressure on me because this is my first Olympics." Now that he has both, Merritt is "… going to take it one day at a time, one race at a time…" and solidify his mark as the greatest 110m hurdler in history.