Huddle and True capture USA 5K Championships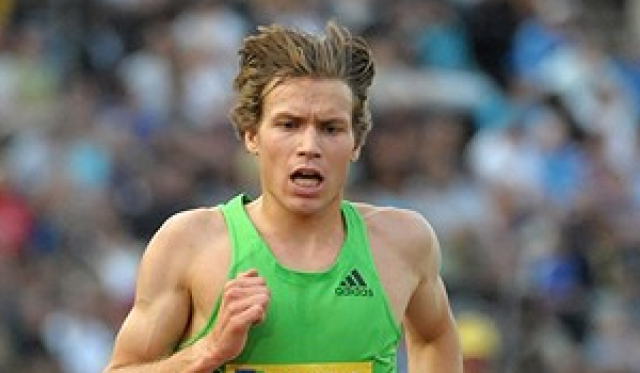 The track season is over, which means it's time for the road races and cross country courses. In the early fall, professional athletes are either at the tail end of their season and are trying to squeeze out one final race or are beginning their buildup and will run races based off initial strength work.

The USA 5k Championship took place this morning in downtown Providence, RI. American 5k record holder Molly Huddle took home first place in the women's race with a time of 15:29.9 while former Dartmouth standout Ben True won the men's race in 13:52.0.

Huddles season ends on a high note after a disappointing outdoor campaign. Second at the U.S. Olympic Trials in the 5000m, she had hoped to be in contention for a medal in the 2012 Olympic 5k final but finished 11th. Huddle tried to dip under 15:00 at the Diamond League Meeting in Brussels, but caught a bit of bad luck when a runner in front of her fell and Huddle lost contact with the pack. She finished in a season's best of 15:01.32.

After Brussels, Huddle told Flotrack that she gave her season a "B-," but her win in Providence will raise her grade point average.

Fans should keep a close on Neely Spence, who finished second in the women's race in 15:33.7. Spence, an eight-time NCAA Division II champion, signed with the Hansons-Brooks Project after graduating from Shippensburg University.

Spence missed the U.S. Olympic Trials with a foot injury she incurred at a cross country race in Edinburgh. This is her second race back from injury after she finished 11th at the Falmouth Road Race last month. Her stock is on the rise as she ran six seconds off her personal best of 15:27.72 on the tough Providence roads.



Photo Credit:  scottmasonphoto.com


The top two finishers in the men's race have also been hampered by illnesses this spring. Ben True, who chose to compete in track and field over cross country skiing after being selected as an All-American in both sports while at Dartmouth University, won in 13:52.0. True had an outside shot to make the U.S. Olympic team in either the 10k or 5k, but contracted Lyme disease right before the Olympic Trials.

Despite his illness, True finished an impressive 12th in the 10k with a time of 28:8.17 and 6th in the 5k in 13:28.02. Similar to Spence, True's stock is also on the rise as he's made large improvements on his fitness in the last few years.

Second place finisher Andrew Bumbalough has also come across some unlucky circumstances in spring. After setting personal best in the 5000m (13:16.25), Bumbalough finished a disappointing fourth in the Olympic Trials 5000m.

After the Trials, Bumbalough's season began to spiral downwards. Bumbalough then returned to Flagstaff, AZ to prepare for the European outdoor circuit. However, when traveling to Europe, he came down with a lingering cold during his trip. Bumbalough finished 11th in the 3k at the Stockholm Diamond League Meeting (7:44.71), 6th in a 1500m in Belgium (3:45.33), second in the 5k at Rovereto (13:28), and dropped out of the 1500m in Rieti.

Also in the men's race was American record holder in the mile, Alan Webb. Webb, who has had a tumultuous career ever since 2007, took 11th in 14:13.3. Webb may look to make a move up in distance to the 5k as he not only ran that distance at the U.S. Olympic Trials this year, but recently ran 14:29 in another 5k road race last week.

Injuries and illnesses will take their toll on runners this upcoming cross country season. Woody Allen said, "80% of success is just showing up. Make sure to get your rest, take care of your body at the onset of any symptoms, and make it to the starting line this fall.