Doubting Nick Ryan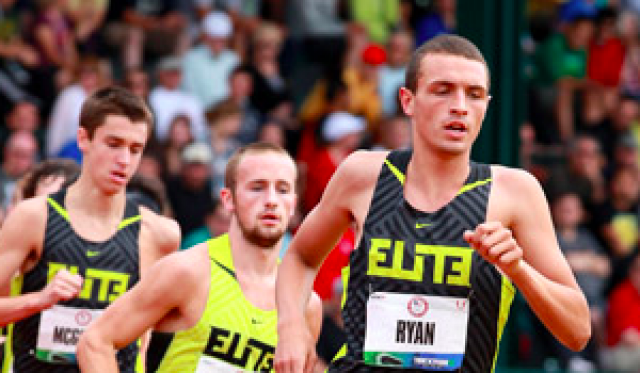 "Every morning in Africa, a gazelle wakes up, it knows it must outrun the fastest lion or it will be killed. Every morning in Africa, a lion wakes up. It knows it must run faster than the slowest gazelle, or it will starve. It doesn't matter whether you're the lion or a gazelle-when the sun comes up, you'd better be running." - Thomas Friedman, The World is Flat


The final lap of a mile separates the men from the boys. Whether it's before the bell or in the final few meters, true strength of character can be found when a runner makes the turn for home.

The most exciting races aren't always the fastest, but rather the most surprising. Watching a runner discover another gear in the final straightaway to nip his competitor at the line is worth watching whether the race is sub-4 or sub-5.

This spring at the New York State Outdoor Track and Field Championships, I found myself happily surprised. It's not that I doubted Nick Ryan from Fayetteville Manlius in the boys 1600m, it's just that I wasn't sure if he could take home the win. After all, he was doubling back the next day following his 3200m victory in 9:03.81. Although he had run 4:09.61 for 1600m about two weeks earlier, he had to be running on tired legs.

Or so I thought.

His main opposition to complete the 1600/3200 double at the NYS meet was Zavon Watkins, the quarterback-middle-distance specialist from Liverpool, NY. Earlier that winter, I had seen him run 2:22.58 for 1000m (even though he was disqualified for breaking in too soon) and come from behind to win the Millrose Mile in 4:13.83. He was in last place with 600m left, but was clear of the field at the tape.

He had run 1:49.70 for 800m and closed his last 200m at Millrose in ~25 seconds. He had some serious wheels.

Ryan and Watkins were just clear of the rest of the field (with the exception of Brian Crimmins) by 400m at the NYS 1600m championship. The two went through the first lap close to sixty seconds.

Watkins stalked Ryan the whole way. "Typically strategy," I thought to myself. He'll make a move before 200m to go and blow the doors open.

"Watch the kid from Liverpool," I said to my athletes. I was trying to act as the Nostradamus of track and field with my predictions. 

It was like watching a scene from the African Savannah with the exception of the rain in Syracuse, NY. In the front, Nick Ryan, the gazelle, was gracefully trying to run away from his predator, the towering Zavon Watkins. Watkins was going to use his speed to make one definitive move to break Ryan and power away for the win.

Or so I thought.

Based on his body language, Ryan looked spent. A feeling that distance runners know all too well, Watkins was looming on Ryan's heels.

Watkins did try and kick with 250m left, but Ryan was ready. Ryan responded by fending off Watkins' challenge in the final 200m and took home his second NYS Championship in 4:05.24.  Ryan told Syracuse.com, "I thought I had no juice left, and then he made a move. I just got this extra boost that I didn't think I had."

That time broke the state record in the boys 1600m. In the rain. Off a double. Wire to wire.

The day wasn't over for Ryan as he later ran a leg on the FM 4x800 and split 1:55.13.

That will be the last time I consider doubting Nick Ryan. It wasn't that I didn't think he could win, I just didn't know that he was fearless. Watkins had a prolific resume and Ryan had done all of the work in poor conditions.

Bold enough to run from the front and audacious enough to break a record in the process, Ryan has confidence. The best part is that he's not only a great miler, but is the top returner for Nike Cross Nationals.

If I had also realized beforehand that Ryan had lead the first half of NXN that fall, I wouldn't have had any doubts regarding his intentions.

Below are Nick Ryan's races from last season: 


2011 cross country
| | | | |
| --- | --- | --- | --- |
| Race | Place | Time | Date |
| NXN Nationals | 5 | 15:31.0 | 12/3/2011 |
| NXN-NY Regional | 1 | 15:59.1 | 11/26/2011 |
| NY States - Class A | 1 | 16:28.4 | 11/12/2011 |
| Section 3 - Class A | 1 | 15:34.4 | 11/5/2011 |
| Manhattan Invitational | 5 | 12:50.20 | 10/9/2011 |
| VVS Invite-1 | 1 | 16:10.7 | 9/17/2011 |
 
2012 outdoor track and field (highlights)

| | | | | |
| --- | --- | --- | --- | --- |
| Race | Place | Distance | Time | Date |
| Nike Elite Run | 4 | 1-Mile | 4:11.54 | 6/29/12 |
| NYS Championship | 1 | 800mR | 1:55.13 | 6/9/12 |
| NYS Championship | N/A | 1600m | 4:05.24 | 6/9/12 |
| NYS Championship | 1 | 3200m | 9:03.81 | 6/8/12 |

The only issue this fall is we will have to wait until October to see what kind of shape Ryan is in. Fayetteville-Manlius has decided to not race any of the big Saturday invitationals with the exception of Manhattan Invitational this fall. FM coach Bill Aris told The Post-Standard that many of his upperclassmen are being heavily recruited by colleges, which will interfere with the meets.

Top tier schools such as Michigan, Syracuse, Virginia, and Wisconsin have been in contact with Ryan. Wherever he ends up going to school next year, Nick Ryan has already had an excellent high school career.

He'll have a target on his back this fall because he's the top returner from the NYS Championship and NXN. There are other distance runners, such as Jake Leingang, who have beat Ryan last season. Those runners will display the same type of confidence at NXN that Ryan showed at the NYS outdoor championships.

Somehow, I don't think the pressure will get to him.