Event Hub
The Pre-National Invitational Preview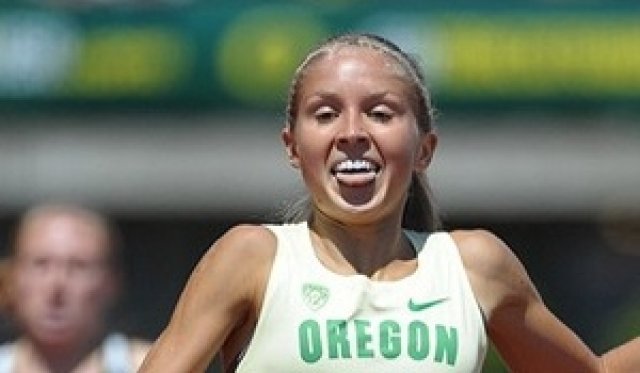 The new home of the Pre-National Invitational is in Louisville, KY and it'll serve as a second opportunity for teams to get a preview of the course that they'll be hoping to run at NCAA Nationals. Not to be caught up in the hype of the Wisconsin adidas Invitational, the start list for Pre-Nats is still very impressive.

There's more to gain than course experience at Pre-Nats. This race will set the tone for teams as they begin to enter the most important races of the season. Teams will want to walk away from Pre-Nats with the mentality that they're ready to roll in the next few weeks. If that's not the case, the team will spend the next two weeks trying to convince themselves that Saturday was just a fluke.

Doubt is never good in late October.

It's difficult to think two days ahead. Wisconsin is Friday afternoon while Pre-Nats is Saturday morning. If you bomb at Wisconsin, don't worry because you can hop on a quick flight to Louisville and try and redeem yourself. Right now, one-way flights are only $637.20.

In case you choose to stay in Madison to celebrate (and are of legal age), you should check out State Street Brats. This bar runs a promotion called the Liquor Exchange, where the price of drinks is tracked the same way as stock prices. The more a drink is purchased, the higher the price and vice versa. I image this is where stockbrokers go after a hard day's work to relax.

In our scenario, a team's stock will either rise, fall, or remain the same after Pre-Nationals. Even if a team is highly ranked and is expected to perform well later in the season, their stock can still fall in Louisville if their opponents rise to the occasion. That team is still a top squad, but their overall value will slightly decrease. It's like Apple (AAPL) dropping a few points in the NASDAQ, but still remaining at a high value.

Teams that remain stagnant are more in the middle of the national field that will only be affected by other teams and not their own performance. Not that their race doesn't matter, but they'll either have to run out of their skulls or blow up to fit into the other two categories. Since they're all fairly consistent, they've been placed in the stagnant group.

If you're looking for insider tips for who to buy and sell before the postseason, start taking notes. Jim Cramer and the E-Trade Baby would be proud.

Rising Stock (Buy, buy, buy)

Men



#7 Colorado - 1st at Colorado; 25:03 team average
Individuals: Jake Hurysz and Joe Bosshard

In our two featured Sunday Long Runs, the two teams ran very similar workouts of 18 miles at 6:00 pace. Except one had an "easy" run and the other one was at 9,000 feet. Colorado won their home meet two weeks ago and look like they're ready to make that late season jump in the rankings. Jake Hurysz ran the fourth-fastest time in course history at the 27th Annual Rocky Mountain Shootout.

Think about all of the former CU athletes that have run that course.

Colorado did not run Joe Bosshard and Ammar Moussa (unattached) at the Shootout. While Moussa is ready to make up those 1.8 seconds, are we going to see Bosshard at Pre-Nats? He'll probably make the trip to see the course, but I wouldn't be surprised if Bosshard sat this one out. Colorado wants to be ready in late November and not mid-October.



#12 Villanova - 1st at Paul Short; 24:26 team average
Individuals: Sam McEntee, Mathew Mildenhall, and Jordy Williamsz

According to the FloRatings from the weekend of October 2nd, Villanova had the sixth best team performance in the nation. The trio of McEntee, Mildenhall, and Williamsz (FloFrosh Watch List) went four, seven, and nine at Paul Short. That race was very similar to Iona's race at Louisville where their top three ran closely together at the front.



#23 William and Mary - 2nd at Paul Short; 24:32 team average
Individuals: The Quartet (Alex McGrath, Josh Hardin, Rad Guzenhauser, and John Muller)

While Iona and Villanova have impressive trios leading their squads, the Tribe have a quartet up front. Would you rather have three finishers at the front and the fourth and fifth man further back OR four guys not so far up front, but the fifth man close behind?

If either Joseph LoRusso or Josh Mercado have a strong race at Louisville, the Tribe will gain valuable places from their fifth place finisher.

Side note, why is the Tribe's mascot a Griffin? I realize this was chosen in a selection process, but what happened to being politically incorrect about Indian stereotypes?



 #37 Florida - 1st at West Carolina, Mountain Dew, and Saint Leo
Individuals: Josh Izewski and Phil Duncan

The Gators have not run any big meets this year, but Louisville gives them the opportunity to accumulate the valuable Kolas Calculator points for teams that are on the bubble.



 #38 Virginia Tech - 1st at Charlotte Invitational; 24:39.51 team average
Individuals: Will Mulherin and Leoule Degfae

The Kolas points also applies to Virginia Tech. While they have two strong frontrunners in Will Mulherin (30th at NCAA XC Nationals) and Leoule Degfae, the Hookies may need some help getting their team to Nationals. Every place counts as they'll try and beat inter-regional teams to make their case to run in November.

Women



 #1 Florida State - 1st at Notre Dame; 29 points
Individuals: Everyone (Colleen Quigley, Violah Lagat, Kayleigh Tyerman, Amanda Winslow, Jessica Parry, and Linden Hall).

Even though they're the best team in the country, their stock has yet to reach its price ceiling. The Seminoles dominated the Notre Dame Invitational by placing their top five in the top twelve (their sixth and seventh ladies were 20th and 34th).

While Notre Dame, New Mexico, and NC State are no easy teams to beat that handedly, FSU will solidify their case as the best team in the nation if they can recreate a similar performance at Pre-Nationals.



 #4 Oregon - 1st at Oregon; 16:55 team average
Individuals: Alexi Pappas, Jordan Hasay, and the rest of the team (Annie Leblanc, Sarah Penney, and Katie Conlon)

This will be the first real test for the Ducks. While the individual race at the Bill Dellinger Oregon Invitational was no easy win for Alexi Pappas, the other teams in the race were no competition for Oregon.  Their three, four, and five finishers are crossed the line within seconds of one another and should look to continue that type of pack running in Louisville.

Jordan Hasay has the most to gain of any team or individual at Pre-Nationals. She had an off race at her home meet where she fell off the lead pack late in the race. If Oregon or Hasay want to be a real title contender, she'll have to rekindle her cross country magic this Saturday.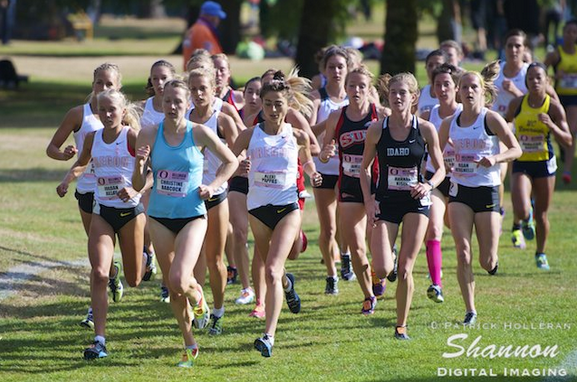 #6 Georgetown - 3rd at Paul Short; 20:53 team average
Individuals: Emily Jones, Annamarie Maag, Madeline Chambers

When taking a quick glance at the results from Paul Short, third place does not look good for the defending nationals champions. However, the Hoyas rested both Emily Jones and Annamarie Maag. If they run their full team, there will be less doubts concerning the Georgetown women.



 #18 Colorado - 1st at Colorado; 19 points
Individuals: Shalaya Kipp and Carrie Verdon

Just like the men, the Colorado women looked very strong in both their season debut at the Rocky Mountain Shootout and in their Sunday long run on Magnolia Road. Freshman Carrie Verdon looks like she's acclimating to both the altitude at Boulder and collegiate running scene in fine fashion.

Hopefully, we'll see the return of Olympian Shalaya Kipp who finished 19th at NCAAs last year. It must be the sweater.



 #34 Florida - 1st Saint Leo Invitational 
Individuals: Julie Macedo, Callie Cooper, and Shelby Hayes

The Lady Gators are also included on this category because they'll have the opportunity to gain valuable Kolas Calculator points. Isn't is convenient when both the men's and the women's team have the same schedule and goals?

Falling Stock (sell, sell, sell)

Men



 #3 BYU - 1st at Oregon; 23:54 team average
Individuals: Jared Ward

BYU are national contenders, so how could their stock fall? Easy answer: the jump from #3 to #1 is more than just a hop. They looked incredible at the Bill Dellinger Invitational when they placed ten men in front of Oregon's fifth, but look at the rest of their competition. Essentially, it was a dual meet between BYU and Oregon. BYU may very well win Pre-Nationals, but the question is by how much? Or will they even win?

Anything less than a convincing team title will hurt their mentality going into the postseason.

If they can't win here with a full squad, how are they going to beat OSU (who have rested their #1 man Tom Farrell)?



 #9 Tulsa - 1st at Notre Dame; 104 points
Individuals: Chris O'Hare

The Golden Hurricanes came to the Notre Dame Invitational with to win. They not only won over a solid field, but Chris O'Hare established himself as a dark horse contender for NCAA Nationals. Equally as impressive is the fact that Tulsa had four in the top fifteen.

So why are they in the Falling Stock category? They need their fifth man to step up. The race in Louisville is going to have a lot more than 52 runners between Tulsa's #4 and #5 finishers. Unless they can bridge the gap, their team score is going to suffer.



 Paul Chelimo - While he's unofficially predicted to be in the top three at nationals, his stock will decrease in Louisville. The only way he can make his case for a title contender is if he races the Arizona duo of Lawi Lalang and Stephen Sambu. Since Arizona is racing in Wisconsin on Friday, Chelimo will once again run at Louisville.

Even if he wins, which he may not with Trevor Dunbar from Oregon, Jared Ward from BYU, and others in the race, he'll have to win by a large margin to maintain his position as the projected #3 for Nationals.

Women



 #24 Villanova - 7th at Paul Short; 21:07 team average
Individuals: Nicky Akande

The Wildcats did not look like their former selves at Paul Short. To make matters worse, Bogdana Mimic is running cross country, but has no eligibility left. Seventh place at a weaker field at Paul Short does not bode well for their race in Louisville.

Remain Stagnant

Men

#14 Florida State - 4th at Notre Dame; 152 points
Individuals: Jakub Zivec and Breandan O'Neill

#15 Oregon - 2nd at Oregon; 24:00 team average
Individuals: Trevor Dunbar and Ben Dejarnette

#20 Georgetown - 3rd at Paul Short; 24:29 team average
Individuals: Mark Dennin

Women

#8 Michigan - 1st at Kansas; 20:51 team average
Individuals: Rebecca Addison

#17 William and Mary - 2nd at Paul Short; 20:51 team average
Individuals: Elaina Balouris and Emily Stites

#25 Butler - 1st at Toledo; 72 points
Individuals: Katie Clark

Market trends and data analysis aside, the Pre-Nationals Invitational should not be ignored this weekend. This meet is second to none to none this weekend. Nearly every single ranked cross country team in the nation will run in one of two races this weekend.

While some teams may make their case that their value should be higher, we'll have to wait until all of the teams meet at NCAA Nationals.