Event Hub
29 Years Later, Harvard Returns to Nationals
In cross country, time is relative. When racing, seconds of struggle may seem like an eternity while finishing sprints may end with a blink of an eye. When reflecting on each season year to year, painful loses have the ability to leave permanent scars. But when this type of pain is carried over two or three decades, one has to wonder if there's any hope for success.

The Harvard women's cross country have not made NCAA Nationals since 1983. That's twenty-nine years of disappointment and twenty-nine years of hope.

The other Boston Red Sox-esque streak in Massachusetts is finally over. The Crimson's fourth place finish at the Northeast Regional earned them the eighth at-large bid for nationals.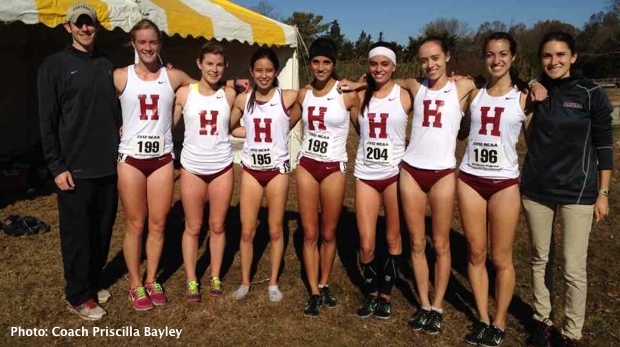 How close did Harvard come to falling short for a 29th consecutive year? They tied Boston College with 150 points, but the head-to-head tiebreaker allowed them to punch their ticket to Louisville.

Regional tiebreakers are different from the normal sixth man/women scoring in cross country. During the regional championships, the place of each runner on team is scored against the opposite runner of the other team. In this case, Harvard's third (Morgan Kelly), fourth (Sammy Silva), and fifth (Alaina Alvarez) runners beat Boston College's third, fourth, and fifth runners. The final score was three to two in favor for Harvard.

If the Crimson would have scored one less point, they would have stayed home this weekend.

The last time Harvard made NCAA Nationals, none of the girls on the team had been born, Coach Bayley was learning to walk, Ronald Reagan was the president, and the first Hooters was opened. Times they are-a-changin'.

We caught up with the Harvard squad right after the NCAA released the final list of teams that would compete at the NCAA Nationals in Louisville, KY.

After the outdoor season, did the team sit down to discuss goals for the fall?

Emily Reese, Women's Captain
Definitely.  I met with each of the women individually to talk about goals for the fall and how to work towards that over the summer, and a central focus was getting to nationals.  We made that our goal at the end of cross country season last year, so we were all on the same page going into summer training.  Before leaving for summer break, we talked about our goal of making it to nationals and what it would take to get there - namely, staying healthy and motivated, training hard, and staying cohesive as a team.  We also had smaller goals along the way so we could track our progress, and our Coach Bayley helped us with those and individual goals in our end of outdoor track season meetings.

During preseason, were these goals reiterated or did your expectations change?

Emily Reese, Women's Captain
Our grasp of our goals only got stronger as we met up for preseason camp.  Everyone was healthy and fit, and those who had been recovering from injuries were running strong again.  The ultimate goal was still to go to nationals, but we also developed more concrete goals of what places we wanted to shoot for at the big meets once we had an idea of how well everyone could run.

I wouldn't say our expectations changed in terms of our overarching goals, but I think we got a huge confidence boost by being able to have such a solid group training together at a high level.  We knew from our first workout at preseason camp that we were going to surprise some people this year.

As the season progressed (regular training, various invitationals), did the squad start to believe in themselves? Were there any moments of doubt? Why?

Alaina Alvarez
The team has come so far from last year and last season that I think for the most part morale on the team was significantly better than anything I had experienced on the Harvard team before.  I had even spoken to Coach Saretsky on my recruiting trip two years ago about ending that nasty streak of 29 years; we always believed it, I knew it was just a matter of getting the right personalities and leadership.  Coach Bayley really did a great job with keeping us all healthy and helping everyone become students of the sport, which was a huge factor in our qualifying for NCAAs this year.

How was your performance at your conference meet? 

Alaina Alvarez
Were you looking to bounce back after disappointment or continue that momentum towards regionals? Heps was very much a stepping-stone for us...in previous years the team had emphasized Heps as the pinnacle of our season and that had really frustrated me last season.  It set us up to do poorly at Regionals in the past and I think this was another big shift for us in terms of our training approach.  We decided that Heps wasn't going to be the end for us anymore, just the beginning of the end of the season. We were definitely excited about our performance at Heps, but more in the sense that we knew there was much more to come.

What were your first thoughts after the results were posted?

Jen Guidera
Total excitement. After I crossed the line I wasn't sure how we did as a team, since I was the 6th runner in. Coach Bayley and Coach Saretsky were smiling so I knew my teammates had stepped up big like they have been doing all season, but I didn't know just how fast our top 5 came in. When the results came out I saw clearly just how tough they ran. I realized that we had a real chance to go to nationals. It was a moment of pride and nervousness, but mostly excitement.

How did you feel when watching the Kolas Calculator?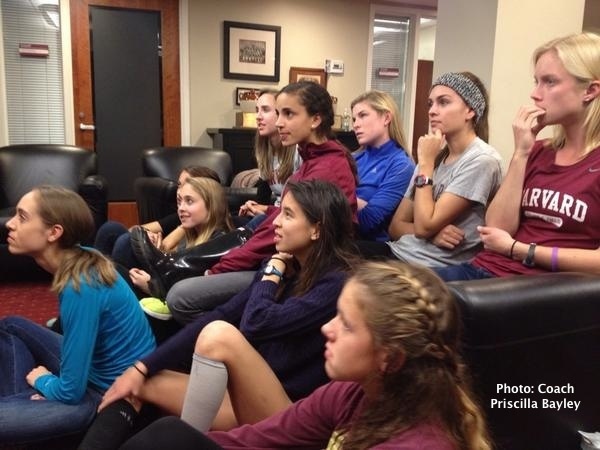 The Harvard women watching Flotrack's live Kolas Calculator. Who says cross country doesn't have its own Selection Sunday?

Viviana Hanley
It was a really emotional moment. At that point, we knew there was nothing more we could do. The miles had been logged, the intervals clocked, the races run... All there was to do was wait. We had each left everything we had on the course that morning, knowing that it would take an exemplary performance from each of us to earn a spot on the national stage. After finding out we had tied for fourth, we were left wondering, was it enough? Coach Bayley told us all there was left to do was pray. And Alaina and Sammy did.

We spent the entire day together after the race, excited, restless, anxiously hopeful. We eventually met back up with our coaches at the track lounge at 9 to wait and see. The room was buzzing. Coach Saretsky had done his own predictions and he thought we would make it, but I did not want to get my hopes up prematurely. Flotrack had used a picture of Emily for the background of the Kolas Calculator. We couldn't help wondering if this was foreshadowing. The internet connection was fuzzy, and the tension mounted as the webcast started and they finally began revealing the teams that had made it. We sat huddled together, holding hands, eyes fixed to the screen. I think I was more nervous in that moment than I was before the race. Before the race I had a mission. Now I was just waiting to see if we had completed it.

When they finally wrote out Harvard, the tension in the room just exploded. I actually was still nervous to believe it, but when coach started booking our flight, I let the skepticism slide a little. We had so much energy we ran out and did a victory lap on the track. It was great. Priceless. Pure joy. We had been reaching for this all season. To have it in our hands felt so good.

What does going to Nationals mean for your team? Why is this more than just another trip to Louisville?

Viviana Hanley
Harvard XC has not gone to nationals for 29 years. We have been painfully aware of this, and beyond determined to change it. We wanted to show the country that Harvard XC can compete at the national level, that we are of that caliber. The word "potential" has been something associated with our team since I have been there, and had started to ring stale and sour. We wanted to turn that potential greatness into actual greatness. And we worked our butts off each day in the pursuit of that greatness.

The transformation that our team has undergone since last year is incredible, and in my eyes, the biggest change is mentality. Last year it was all about having a respectable performance at Heps. This year, there was not a workout or a run where a possible trip to Louisville wasn't buzzing around in the back of my mind, helping me push a little harder. Coach Bayley told us we could do it, Emily believed we could do it, and we all bought into it. We were all invested in a national bid. And last year, our first runner at regionals placed where our number 5 runner placed this year.

What makes it really great is that we have been underdogs all season. We were never nationally ranked. People were not paying attention to us. We think we took people by surprise by making it. Which is funny, because we knew we could do it all along. 

Before the race our team had a quiet but strong confidence, a sense that greatness was on the horizon and that it was very much in reach. All the quality work was there--all that was left was to pour out our guts. The bus ride over was quiet but there was a positive energy. In the team huddle Coach Bayley reminded us that THIS was the day to take what was ours. Looking around, she saw a championship team. This was the day to make it happen.