There is something captivating about Japanese distance running. Perhaps it's the consistency in their performances or the mystique that surrounds their spectacular training regiment. Nevertheless, distance running in Japan continues to impress. But why?

When I hastily boarded my flight from New York to Austin, I had a few options to keep me preoccupied and distracted from the man next to me who was inches from sleeping on both my and his own shoulder.

This question has been brewing in my mind for quite some time. When Flotrack was in Chicago for the marathon, we were asked two questions concerning the Japanese. The came during the Japanese press conference, which we accidentally stayed for because we refused to move or the internet Gods would incur their wrath upon our video uploader.

While the Japanese marathoners made their remarks, one reporter asked us, "How do you think they'll do on Sunday?" To which we replied, "They'll probably run 2:10."

He (Koji Kobayashi) ran 2:10:40. Two of his compatriots ran 2:11:47 and 2:12:39.

The next day as we drove to the Hilton Hotel in downtown Chicago for another round of interviews, we checked the results for the World Half-Marathon Championships.

"The Americans didn't run all that well," I said looking at my iPhone.

"How did the Japanese do," replied our video editor for the weekend.

"The women's team took bronze."

I pose three questions: Why did we know that Kobayashi would run 2:11, why did we care how the Japanese half-marathon team ran, and how do they do it year after year?

I wouldn't be able to answer any of those questions until this past Thanksgiving, when the U.S. sent a formidable team to the 2012 Chiba Ekiden Relay.

The Chiba Ekiden Relay

For those that do not know, Track and Field Superfan Jesse Squire describes it as, "... a road race relay in Japan that matches up national teams along with a Japanese college team. Ekidens are hugely popular in Japan, and the closest thing there is to 'ekiden season' in the USA is March Madness. Ekidens can be any distance and any number of legs; this particular one is the marathon distance of 42.195 km and has six legs, three men and three women."

The 2012 USA Chiba Ekiden team consisted of 10k silver medalist Galen Rupp, Joseph Chirlee, Jake Riley, Neely Spence, Chelsea Reilly, and Emma Kertesz. They finished third overall.



Still better than the pollen mask.

Squire also posed an interesting scenario. Since Japan sends a collegiate team to the Ekiden, who would be on the U.S.' college team this year?

His fantasy Ekiden team consists of Henry Lelei (running the 5k leg), Betsy Saina (5k), Stephen Sambu (10k), Jordan Hasay (5k), Kennedy Kithuka (10k), and Abbey D'Agostino (the final 7.195k).

The team would certainly be competitive, but what if the Japanese sent a team to compete in the NCAA XC Championships? How would they fair?

The answer is probably not very well. While the Japanese possess a multitude of young long distance runners, their middle-distance corps is overshadowed, depleted, and simply put, not very good.

Why do young American distance runners struggle to compete internationally in longer distances as much as young Japanese middle-distance runners struggle in the 5k and 10k? Based on a lost blog post and with the help of a friend (Carl Stones), we assembled a semi-complete list of American and Japanese runners. Brett Larner over at http://japanrunningnews.blogspot.jp/ compiled a list of athletes from ages 18 to 22 who had broken 13:30 in the 5k, 28:03 in the 10k, 1:02:24 in the half-marathon, and 2:11:36 in the marathon.

The results are not surprising. There is an obvious inverse between distance and nationality from 5k all the way up to the marathon. Again we ask, why?

The Celebrity Marathoners

The short answer is that Japanese road racing is vastly more popular in Japan than compared to the U.S. Japanese marathoners are celebrities.

Before you start to laugh, there are some startling statistics. Runner's World states, "While U.S. marathon broadcasts rarely creep above 1 percent ratings, in Japan a 10 percent rating for a major ekiden or marathon would be a disappointment; certain athletes and events can bring Super Bowl-like 40-plus percent ratings."

This popularity is ingrained the Japanese business world as well. While U.S. athletes rely on the support from shoe companies, Japanese distance running is another good in the marketing world that can be used for advertising purposes.

Nearly every type of company has a stake in the road racing scene. Automakers, insurance companes, cosmetic makers, banks, and department stores are just a few of the many types of business that support an athlete's training. These companies provide funds for their corporate team, jitsugyodan, to help them compete.

This reason for this popularity is found among the differences between running cultures. When American marathoner Tyler McCandless was invited to compete in the Iwaki City Sunshine Marathon in Iwaki, Japan, he wrote an in-depth and personal blog post about his experiences.

The main point to highlight is the press he received for this "small" marathon. McCandless takes note of the attention from the media, the glamorous award ceremonies, the endless crowds lining the streets to cheer on a near freezing day, and his overall celebrity status.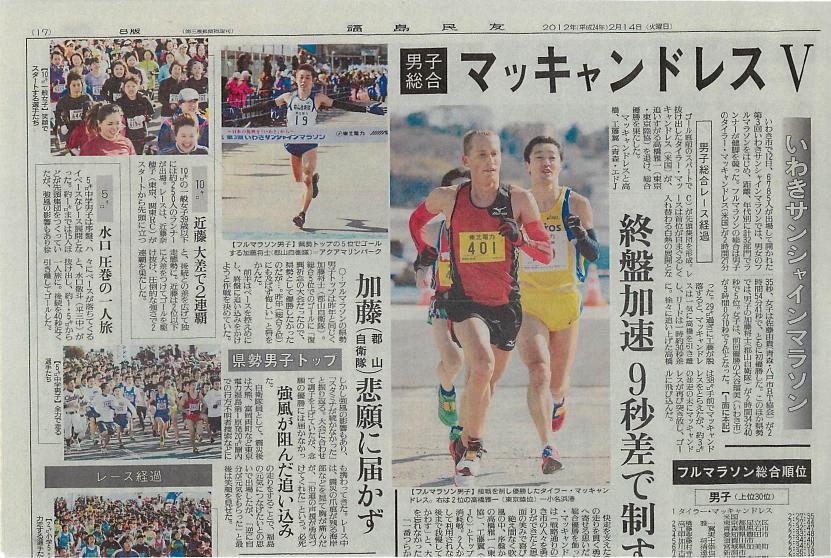 Japanese, anyone?

All of those television sets are actually being watched by real people. There are lies, damned lies, and statistics. The popularity of Japanese distance running falls into none of those categories.

When analyzing the success on a national scale, experts will examine population. Whether it's Gross Domestic Product (GDP) or the success of the national [insert sport here] team, everything is scaled down to the number of inhabitants of that country.

The U.S. is approximately 2.5 times larger in population than Japan. The U.S. has 314.8 million citizens (ranked 3rd in the world) while Japan "only" has 127.5 people living on the small archipelago (ranked 10th).

The Small Island That Loves to Run

How are smaller countries are to produce consistent distance runners? Countries such as Ethiopia (ranked 14th in population) and Kenya (32rd) are can overcome this barrier because distance running is the essence of their culture. The same can he said for Japan.

Brendan Reilly of Runner's World put it best when he wrote, "The very nature of long-distance running resonates with the Japanese spirit. Endurance, perseverance, and the will to never-give-up-no-matter-how-damn-uncomfortable-it-gets are core Japanese values. A popular proverb is Nana-korobi, ya-oki (Fall down seven times, get up eight times)."

The corporate teams, or jitsugyodan, are delicately organized and regimented. The corporations provide salaries, housing, meals, a fully trained staff, and more for the athlete to reach his or her full potential. After all, the runners represent the company. Imagine if Apple or Facebook put their logo on a runner's chest?

The full sponsorship does not come with much leeway. The training that envelops each corporate team is almost unbelievable except for anecdotal evidence.

Before he moderated his message board, Weldon Johnson of Letsrun.com was a member of an American Ekiden team that consisted of Ivy Leaguers. During his trip, he was able to go for a run with one of the most successful collegiate racing team in Japan, the Yamanashi Gaukin team.

In his blog post, "Wejo" describes an interesting 30k run at 6:20 per mile pace that was run in single file, total silence, and around a 10k loop. While these top Americans trudged along Mt. Fuji, there were at 55 runners from the training group doing the same thing. Imagine a full track and field roster capable to doing such a workout.

This anecdote is not out of the ordinary when it comes to Japanese distance training. There are at least 90 other teams in Japan who abide by the same training principle, which is mileage.

Let's start from their daily log and build-up towards their monthly totals. Doubling or even tripling is the norm for some training camps. While we look at Cam Levin's weekly total of 190 miles in a week in awe, I would bet that most Japanese marathoners are not startled.

In Wejo's post, he mentions that some of the athletes in the training group had completed a 29-mile recovery day one day earlier. The runs were split into runs of 8 miles, 8 miles, and 13 miles. Even after the 30k workout, there was still another run in the afternoon.

Some top Japanese athletes run upwards of 60km per day (37.2 miles) and 1,200km per month (750 miles). The mileage is well monitored and eradicates the "fear" of the marathon. "Train hard, win easy" isn't just the slogan for Kenyans.

There are some that don't accept this type of training. Take Arata Fujiwara: A successful Japanese marathoner who disregarded the tradition principles of the corporate teams and trains on his own. Fujiwara has run 2:07.48, but has also run slower than 2:20 a handful of times.

This summer, Fujiwara told the NYTimes, "The Japanese marathon is sluggish," he said. "There's an emphasis on only practicing running. Intuitively, I felt uncomfortable with it. I felt, 'Perhaps there is something wrong about this.' I didn't have the answers for how to change this. Then I began to be curious, and I decided to learn how the foreign athletes are doing it."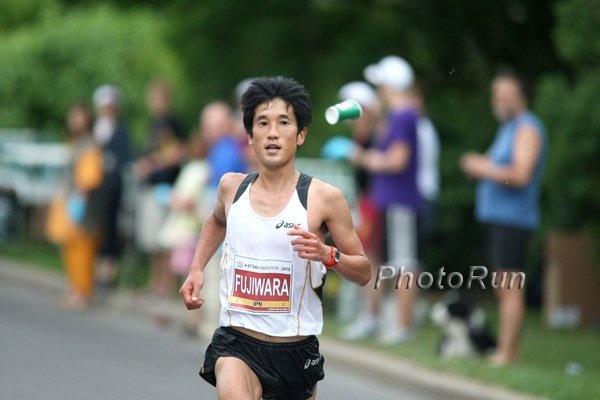 Fujiwara turned away from the traditional training principles that lead to greats such as Toshihiko Seko, Shigeru and Takeshi Soh, Kunimitsu Itoh, and Koichi Morishita. Fujiwara enlisted the help of Vincent Russeau, a successful Belgian runner from the 1980s and '90s.

Import Substitution

We can use basic economics to provide reasoning for this coaching change. In short, some developing countries have low production rates because their citizens don't have enough skills.

The best way to learn to learn a skill, such as how to make running shoes, is to learn on the job. However, the cost of producing running shoes in the U.S. is far higher than that of other countries. Therefore, if one country is always importing the cheaper good, they'll never actually make it and never learn.

In the novel Soccernomics, the authors argue the for the concept of import substitution. Import substitution can exist negatively for internal growth when a country imports a good, such as running shoes, or sometimes positively when an athlete hires a new coach, like in the case of Fujiwara. The author states, "You wouldn't appoint a Frenchman to manage your baseball team, because the French don't have a history of thinking hard about baseball."

Therein lies the crux of the problem with Japanese middle-distance running. Based on both the chart of young athletes and the popularity of Japanese road racing, the middle-distance events have been more neglected than that sweater your grandmother bought you for Christmas (except for when you have an ugly sweater party to attend and then it's the center of your world).

The Japanese simply do not care for the middle-distances because there's no allure behind them. The Chiba Ekiden is an event with history, glory, and money. The 5k is something run around the track.

It's not like this is some sort of incredible revelation for the Japanese. In his article from 2008, Reilly goes on to write, "The coaches are gradually taking steps to address this lack of middle-distance expertise, such as a middle-distance seminar arranged by Nike with Hicham El Guerrouj in Tokyo this past winter or a plan to send 10 athletes and coaches for cross country training in Europe under the guidance of a foreign coach next January; nevertheless, long distance reigns."

The Exchange of Ideas

Ideas have been an integral part of revolutions. In 16th and 17th century Europe, the "scientific revolution" occurred because scientists were able to communicate in extensive (for the time period, anyway) networks. Even though travel times for mail were long, letters from Copernicus and Galileo could reach most European countries.

Countries on the fringe on these networks would receive the latest news last. While middle-distance running thrived in other parts of the world, the Japanese remained stagnant. This type of isolation policy isn't limited just to geography, but is the foundation of Japanese culture.

Japan has had successful periods of isolation. From 1641 to 1853, the shogunate of Japan enforced a policy called kaikin, in which foreigners could not enter Japan. Even though this wasn't total isolation, the policy still reverberated for years.

There are also more defined periods of success. After WWII, Japan began to import less goods and domestically produce more. Now, they're able to produce high-quality cars and electronics that are exported around the world (this point does not take into account the low cost of labor).

Soccernomics states, "Gradually, isolation becomes your mind-set: after a while you don't even want to adopt foreign ideas anymore." This is why Fujiwara's independence is something special; he may be a catalyst for change in Japan. Although the economy seems to control the running scene, there is an incredible untapped potential in Japanese middle-distance running.

There probably will not be any coaching changes among the training camps. If the Japanese are to be successful at the 5k and 10k, there needs to be a shift in training principles. El Guerrouj's visit to Tokyo is a perfect example of an attempt to fill this void.

What Will Happen First?

There are three scenarios can that can occur in the next few years.
The Japanese will start to excel at middle-distances
Americans will place a larger emphasis in the longer distances
Neither

The first scenario is easily achievable, but unlikely to happen. The Japanese economy is the lifeline for the road racing scene. Unless there is a huge cultural shift to the track, then the money is going to stay on the roads.

One could argue that the second scenario is already in motion. American marathoning has risen from the dark ages of the 1990s and is currently in a renaissance period. There's an excellent crop of young (and aging) marathoners who are eager to test the distance. In 2012, there were eight American men under 2:12. The year before only had four.

However, the answer for true success lies at the end of McCandless' blog post. He includes nine goals that would improve the American running community.

4.) Create an AMERICAN Ekiden Relay event between the shoe companies! This gets debated a lot, "how much value does sponsoring an athlete bring to a shoe company?" What happens if there are relay events, broadcast live, where the various shoe companies compete against each other? Imagine if NYC hosted an event in central park. Galen Rupp hands off after his 5k leg to Dathan Ritzenhein. Ryan Hall has a 25 second lead going into the last 10k leg. Can he catch him? How exciting would this be! This would also increase the depth in distance running. For example, would Sketchers only sponsor Meb? If they only sponsored Meb, he would have no chance of being on that anchor leg. Could this bring additional sponsors to the sport? If this is shown on live TV, would a company like McDonalds want to improve it's fast food image and sponsor a team to compete in a running event? National TV coverage from sponsoring a team might be cheaper than a super bowl commercial and bring an audience of healthy individuals to try the Asian Chicken salad?

This would be awesome, but remains an idealist's dream. Unless Americans can receive either public of private funding for their training, such as in the UK, it will always be an upward hill battle for young marathoners. One of the only American 21-year olds on the chart above, Luke Puskedra, is still in contract limbo. Why wouldn't a company invest in his potential?

Hypotheticals aside, the fact remains that Americans focus more on middle-distances while the Japanese move to the roads earlier. This is from two independent, but similar factors: The American collegiate circuit and the Japanese college circuit.

American collegiate championships are at the 5k and 10k while the Japanese collegiate teams compete in the Ekidens.

It seems that both countries are moving to improve on their lesser populated events. It's only a matter of time before that chart above becomes filled with both young runners from Japan and America.