Elite 50 Recap: NXN Regional Championships
It's always nice when things are symmetrical. To match the three Foot Locker Regional Championships, Nike Cross Nationals (NXN) had their own regional championships this past weekend.

While there were four championship races, there were only three sites. The Northeast and New York Regional Championship took place at the famed Bowdoin Park in Wappingers Fall, NY, the Southeast Regional Championship was hosted at the WakeMed Soccer Park in Cary, NC, and California doubled their state meet with NXN regionals at Woodward Park in Fresno, CA.

Formerly known as Nike Team Nationals, NXN still seems to be about the team race. In each region, the top two teams are awarded automatic bids to nationals in Portland, OR.

Other teams had to wait until Sunday morning when the at-large bids were announced. For those that do not know, the process is committee based. There is a panel that chooses four boys and girls teams for the at-large bids.

One of the major considerations is a team's performance at the regional championship. If there is no clear distinction, then previous races are taken into account.

It's no BCS Bowl Selection, but it's how it's done. Similar to the pitfalls of the Foot Locker Regional Championships or for that matter, any cross country qualifier, it's about how the team performances on that specific day.

Some teams definitely stepped it up when it counted most.

NXN Southeast Region

The individual race was Jacob Burcham's from the gun. The senior from Cabell Midland in Ona, WV ended his cross country season early last year in preparation for indoor track, but making his fall a bit longer in 2012.

Burcham lead the majority of the race as he split 5:53 through 2k and 9:48 for 2-miles. When he emerged from the woods and turned towards the finish, he had a comfortable lead over the field.

The final meters would be important. While Burcham broke the tape in 15:09.8, there was something special unfolding behind him.

There were three teams that could have earned the automatic bids. St. Xavier High School from Louisville, KY (Louisville Extreme in the results as athletes cannot represent their high school at NXN) was the class of the field. They took first with 87 points and a team average of 15:42.48.

There was drama for second. Blacksburg High School (Blacksburg Club) and Chantilly High School (Xbc Track Club) had tied with 139 points. When it went to the sixth man tiebreaker, Blacksburg would get the nod and automatic bid as Chantilly only ran five guys.

While anyone on the team could have made up one spot, we love to shed some light on those who may not always be center stage. Hats off to you, Kenneth Hagen, for being the all-important sixth man.

Why had the team scores been so close? On paper, Chantilly was surely the favorite and should have qualified. Even with senior Logan Miller finishing second overall, Chantilly was without their number one. Their number one runner Sean McGorty had opted to run Foot Locker South Regionals the same day (he won).

We'll hopefully hear more from the boys from Chantilly later this week.

Race video from Milesplit

The girl's individual and team race was very similar to that of the boy's, but had very different outcomes.

Wesley Frazier ran a near identical race to that of Burcham as she lead from the gun and came to the finish uncontested in 17:17.0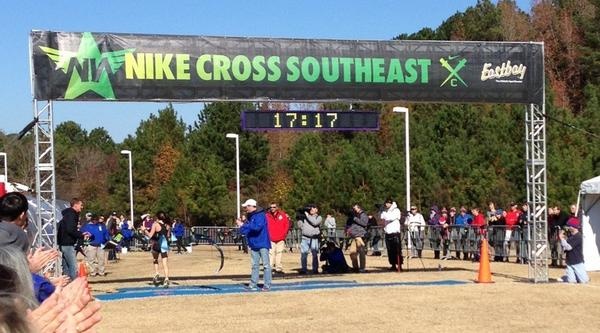 Boom stick.
Photo: Pat Price, @WritingAboutRunning

The race for the two automatic bid was nearly a tie. However, the major difference the between this race and the boy's was that there was only two teams involved. Assumption High School from Louisville, KY( Louisville Track Club) came away with the win over the girls from The Tatnall School (Wilmington XC). The final team scores were 92 for Louisville and 93 for Wilmington. Morgantown XC Club finished a distant third with 152 points.

Race video from Milesplit

NXN Northeast Region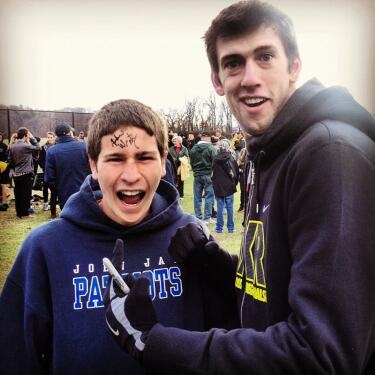 First and foremost.
Photo: Andrew Wheating, @AndrewWheating

This one had to wait until Sunday morning for the final results. The top three boy's teams from the Northeast were expected, vengeful, and anxious.

The defending NXN champions Christian Brothers Academy came with the win with 73 points. Once again lead by Jack Boyle, CBA posted a 16:22.0 team average over the tough Bowdoin Park Course.

Then there was the Pennsylvania rivalry. A few weeks prior at the Pennsylvania State Meet, West Chester Henderson won the state title on a tiebreaker against Cardinal O'Hara. That was the second year in a row that Cardinal O'Hara had lost the state title on a sixth man tiebreaker.

Cardinal O'Hara XC Club wouldn't leave it as close this time. The trio of Dan Savage, Kevin James, and Ernie Pitone lead Cardinal O'Hara XC to score 90 points, take second, and punch their ticket to Portland.

West Chester Henderson (Warrior Track Club) would finish third with 95 points despite an incredible race from juniors Tony Russell and Reiny Barchet. The two went one-two and guaranteed a spot on the line in Portland as individuals.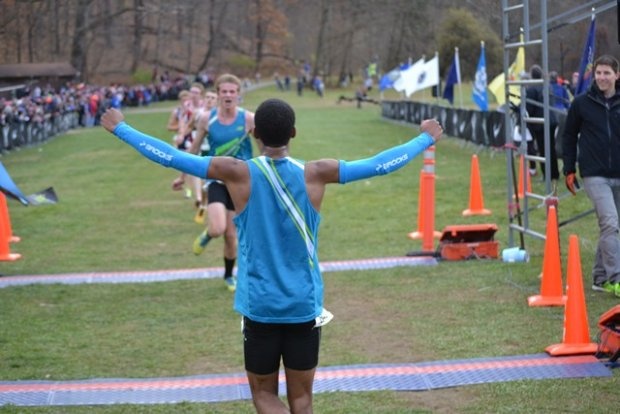 We are all witness.
Photo: Kyle Brazeil

When the four at-large bids for NXN came out Sunday morning, I bet there was some celebration for the Warrior Track Club. They'll travel to Portland Meadow as a team.

In the girl's race, the Pennsylvania and New Jersey state champions will make the trip across the country as well.

The Pennsbury girls (Lower Bucks XC) ran away with the race scoring 61 points and had a team average of 19:10.5. Even with junior Erica Gray having an atypical race, the young squad (four freshmen, one sophomore, and one junior) still put together an impressive team performances.

Voorhees High School (Hunterdon Hawks Track Club) from Glen Gardner, NJ took second with 139 points. The more experienced squad is lead by junior Clarissa Modde and senior Nisa Cicitta.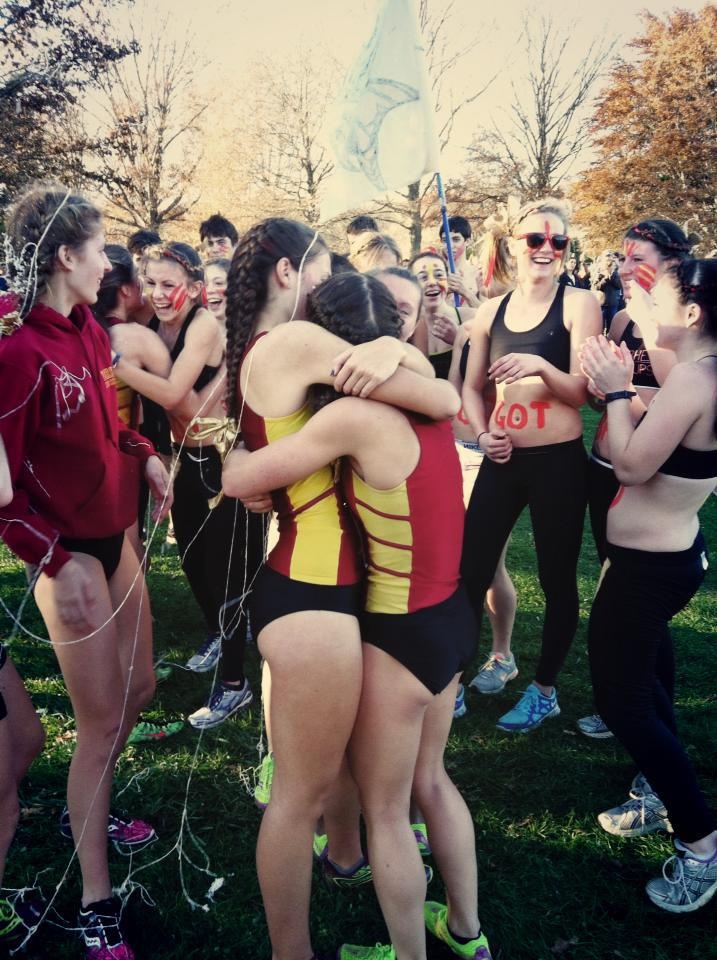 It's from their state meet, but there's a lot going on in this picture so we had to post it.
Photo: Jess Gorton

The individual race was won by senior Elinor Purrier in 18:09.4.

NXN NY Region

There were a lot of surprises from the New York regional race. The Fayetteville-Manlius girls dominated, Nick Ryan ran away from the field to lead FM, the best two female runners in NY went one-two, and Saratoga High School is sending both of their teams to NXN.

Wait.

Manlius XC (Fayetteville-Manlius) took the first automatic spot with 28 points and a team average of 18:52.3.

Let's play a game: What was their team spread from their number one runner to their number four?

If you guess 2.4 seconds, then congratulations - you cheated and looked at the results. Again, this isn't a surprise for the six-time NXN team champions.

Kinetic Running Club (Saratoga High School) took second with 59 points. Senior Taylor Driscoll took third overall, but first in the team scoring.

In front of her was junior Mary Cain from Bronxville and Bella Burda from Arlington. Cain, now formally coached by the great Alberto Salazar, comfortably took the win (another common theme from the NXN regionals) in 17:42.6.

She was not alone for much of the race. Burda, the NY Federation champion, was with Cain until 400m left in the race when Cain kicked for home. Burda would finish second in 17:55.2.

When it comes to high school cross country, New York is tough to beat (don't worry California, we're getting to you too). Maybe that's why these two states have their own NXN regional championships?

New York is so deep in terms of cross country talent that that two more teams could have easily qualified for NXN with at-large bids. On this particular day, East Aurora High School had an incredible race to overtake fourth place Academy of the Holy Names.

Aurora, lead by senior Madeline Murray and junior Marta McLaughlin, took third with 123 points and gave a performance worthy of an at-large bid to nationals. Since the at-large bid selection is based on performance at the regional championships, these girls sure picked a good day to be on their best.

The eternal struggle between FM and Saratoga continued in the boy's race. A few weeks back, Saratoga got the best of FM at the NY State Championships when they just barely took the state title with 57 points to FM's 58 points.

It's like Pennsylvania and New York are copying one another. Just as we saw with the Northeast regional race and the teams from Pennsylvania, the results from the state meet were once again reversed at NXN.

This time, FM came away with the win with 86 points and Saratoga took second with 98 points.

Nick Ryan of FM gave the fans a race to remember. Leading from the gun, Ryan broke the Bowdoin Park course record by nine seconds with his winning time of 15:27. The previous course record was set by now Stanford standout Jim Rosa in 2010.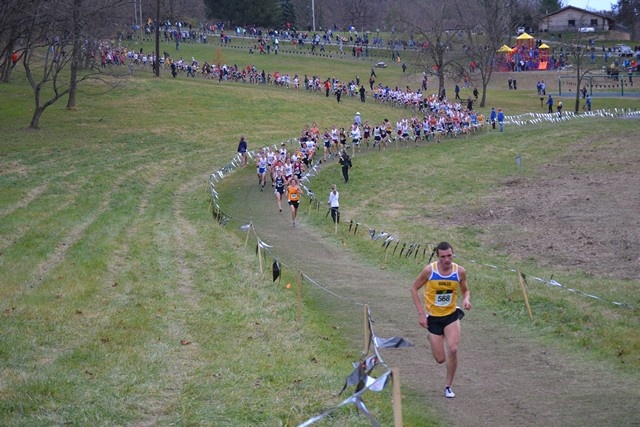 It's just a small gap.
Photo: Kyle Brazeil

Who's one of the favorites going into NXN?

California State Meet / NXN Regional

NXN seems to conveniently save the best for last. PrepCalTrack Editor Rich Gonzalez explains that because "the California state meet is the last one in the land, it's too late to host a regional there. So athletes and teams can prove their worth at the California State Meet."

No pressure.

Even though she was the main star, the girl's race wasn't just the Sarah Baxter show. Baxter's winning time of 16:39.7 broke the previous course record of 16:43 set by Julia Stamps from 1996. After her milestone run at Mt. SAC earlier this season, were we that surprised by Baxter?

Gonzalez added, "Baxter's time today beat 61% of the boys field .  She would have been a top 5 scorer on 89 of the 114 boys teams that competed!"

She has another year left, but is it too early for greatest of all-time claims?

Baxter wasn't the only one to write her name in the California record book. The Saugus girls won their seventh straight California state team title. They're the first team to accomplish this ironhorse-like feat.

However, the Saugus girls finished third in the merged team results. Great Oak came away the victors with 112 points, St. Francis was second with 254 points, and Saugus was a distant third with 330 points.

Even though they were out of the automatic bids, California has its own regional for a reason. Sunday morning, the Saugus girls earned one of the four at-large bids for NXN.

Both the boy's individual and team races came down to the very end. Estevan De La Rosa from Arcadia High School almost claimed the double individual and team title, but was denied at the line. De La Rosa leaned for the tape and finished second in 15:04.8 while Juan Gonzalez from El Toro took home the win in 15:04.8.

The California boys would also show their depth in the team battle. Arcadia High School came away the victors with 94 points, California took second with 248, and Carlsbad unfortunately finished third with 254 points.

While they may have left the state meet anxious, Carlsbad had to wait until Sunday morning to receive the news that they would also be awarded with an at-large bid.

While we mentioned that Westchester Henderson, East Aurora, Saugus, and Carlsbad received at-large bids, there were still four more golden tickets to hand out for NXN. Below are the other teams that received at-large bids from the NXN panel.

BOYS AT-LARGE
Summit HS - Summit Central Oregon (NW)
Carlsbad HS - Carlsbad (CA)
St. Xavier HS - AMDG (MW)
Westchester Henderson HS - Warrior (NE)

GIRLS AT-LARGE
Pine Creek HS - Altitude (SW)
New Trier HS - Wilmette (MW)
Saugus HS - Newhall (CA)
East Aurora HS - Aurora (NY)

There is a lot of debate that goes into the selection process. If you want to read some excellent insight and analysis from Rob Monroe (username watchout and formerly from ESPN-Rise) and Bill Meylan (owner of tullyrunners.com and inspiration for FloRatings), the message board thread can be found here.

The fields are set for December 1st in Portland Meadows in Portland, OR. The happiness, heartbreak, and drama will finally come to an end as there is only one more team race left to be run. The 2012 Nike Cross Nationals will surely be one to remember.