Baxter, Cain Will Clash at NXN
It'll be a battle of record holders, undefeated high school greats, and two opposites at Nike Cross Nationals. Simi Valley junior and defending NXN champion Sarah Baxter will try to become the first harrier ever to uphold the NXN title. In her way, stands the greatest girls' metric miler of all-time, Bronxville junior Mary Cain.

Every time Baxter toes the line, you can expect something special to happen. In our fall preview, she was to challenge for the number one ranking this season. This supposition was cemented as a fact after her course, earth, and belief-shattering run at the Mt. SAC Invitational.

This wasn't the only notable course record she shattered this fall. Most recently, Baxter ran 16:40 to set the CR for Woodward Park at the CIF California State Cross Country Championship. When course records are the norm for someone, it's hard to be surprised.

Although she won't be able to run with the rest of Simi Valley this year, Baxter will look to become the first two-time NXN champion in history.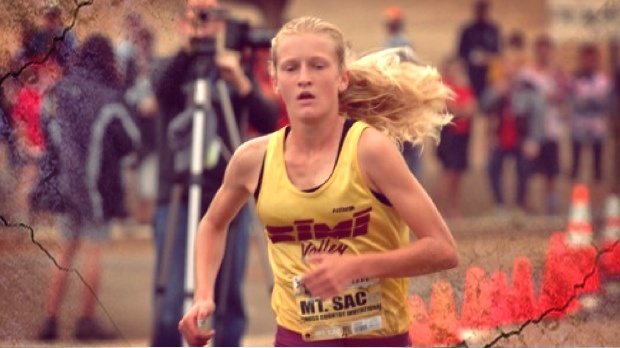 It's pretty lonely when you have no one to run with in races.

Only three prep female runners have ever defended their national cross country title: Erin Sullivan ('97 - '98), Melody Fairchild ('89 - '90), and Erin Keogh ('85 - 86). Note: These title defenses were all from the Foot Locker/Kinney National Championships.

Who's going to be the one to spoil history? Enter stage left, Mary Cain.

Cain's cross country repertoire is starting to match her track credentials. During the 2012 outdoor season, she didn't lose except for three races. Those races, two of which were preliminary rounds, include 5th in her heat of the 800m at the U.S. Olympic Trials, third in her heat the IAAF World Junior Championship 1500m, and sixth in the WJC 1500m final.

Her success on the track has carried over to cross country and this fall, she's been undefeated. What's been the big change?

Enter stage right, Alberto Salazar.

Salazar's watchful eye had taken note of Cain. The two had met during the U.S. Olympic Trials and after previously watching her set the U.S. prep high school record of 4:11 in the 1500m at the WJC, Salazar had a some suggestions for the star.

He's is known for making changes in his runner's biomechanics. Salazar claimed that double Olympic gold medalist Mo Farah was "the weakest athlete I've ever seen." He also suggested some upper body changes to the American record holder and silver medalist in the 10k, Galen Rupp.

So when Salazar makes a personal call to your house and suggests some changes to your running form, you listen closely and attentively.

After watching her record run in Barcelona, Salazar phoned Cain's house and recommended some changes in her stride. Cain was enthralled.

This may have been the small start to what is now an incredible partnership. This fall, Cain had left the Bronxville team to train on her own. She had been training with the boy's team as she had left the girl's team last fall.

In the interim, Salazar had visited Cain at her house and begun "advising" her.

No more than a week later, Salazar was officially coaching Cain.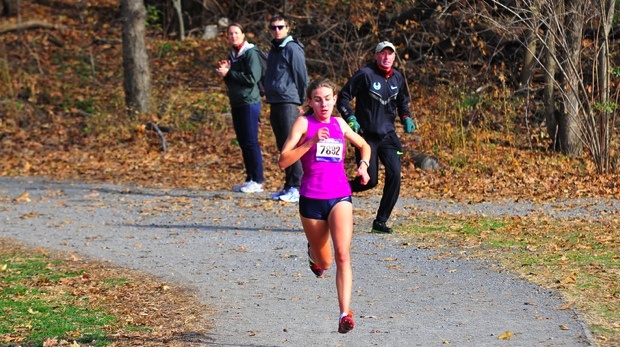 "Mary, I think this is the beginning of a beautiful friendship."
Photo: Susan Pearsall

Due to their partnership, Cain could not compete in any New York State public cross country races. Her debut race under Salazar was supposed to be the Dash to the Finish Line 5k the day before the NYC Marathon, but was unfortunately/luckily canceled.

Unfortunate for Cain and lucky for the "out of shape" elites who might have had to push themselves to finish in front of a high schooler.

Since then, Cain has made some more changes and run two races. Salazar is satisfied with Cain's stride, but then turned to her upper body strength. "There is no wasted motion in her legs," Salazar told the NYTimes. "All we have to do is get her stronger from the belly button up."

She's certainly gotten stronger. Cain was the first female finisher (6th overall) at the Fred Lebow Cross Country Championships at Van Cortlandt Park. Her time of 17:26 it 7th all-time at VCP.

Maybe the Manhattan Invitational NYRR will fly out Sarah Baxter next year so that she could try and break Cathy Schiro's unreal course record of 16:46 from 1984.

Cain followed up that race with a very convincing win at the NXN NY Regional Championship over NY Federation champ Bella Burda. Cain used her blistering kick over the last 400m to come away with the win in 17:42.

Although she did not run the course record (it's 17:16 by Aisling Cuffe), it's the manner in which she ran that's important.

If it's going to come down to a kick, the 2:03/4:11 girl is probably going to pull away for the win. Alas, cross country strength is different from miler strength. Then again, look at some the favorites in the boy's NXN race (hint: They're all primarily milers).

Baxter's racing style should prevent a barnburner. After Mt. SAC, she told Flotrack that, "I just taught myself that [other runners] are always right behind me and I shouldn't have to look back because they're always there."

So far this season, Baxter's all-out runs have simply been more impressive than Cain's performances. That being said, it doesn't matter how well you run in October when NXN is in December. Additionally, there is some sort of "Salazar Factor" when it comes to preparing and training for a season. One could argue that Cain will be well-rested come Saturday.

Cain took sixth last year at NXN, but is she ready to take down Baxter at her own game?

There's one other runner that finished between the two last year should also be in the title hunt. She's not Baxter, she's not the Barnburner - she's the Brit, Amy-Eloise Neale.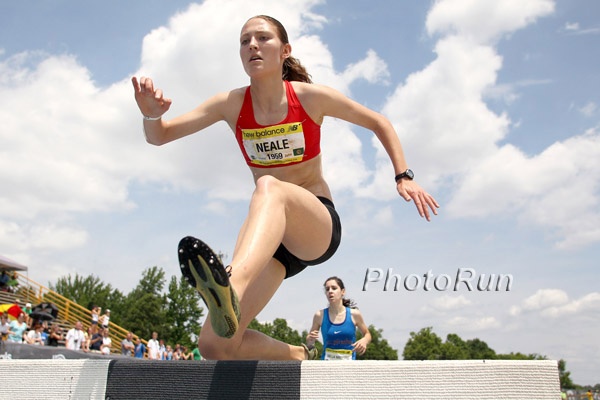 Who did she cheer for the in Men's Olympic 10k?

Neale is also undefeated this cross country season. One major race to highlight is her 16:31 course record win at the Sundodger Invitational back in mid-September. The previous CR was 17:21.98 from Kendra Weitz.

She's definitely a threat with a 4:43 mile and 10:27 3200m to her name. Additionally, with all of the hay bale jumping, her 6:42 3 2k steeplechase personal best from sophomore year should help (note: She did not compete in the 3kst last spring).

Neale has finished 14th, 3rd, and 5th at NXN.

She might have to once again settle for third with Baxter and Cain in the field.

Baxter will most likely take the race out hard, but will Cain be able to hang? Will Baxter be able to defend her crown or will Cain kick for home? We'll find out on Saturday.