The 9th Girl's Nike Cross Country National Championships features two types of bets. If you were trying to make a quick buck and double down, we'd say you should put your money on the Fayetteville-Manlius girls to win the team title. The individual race has us thinking about going all in, then reconsider for a minute that we may lose our life savings, and pull our chips from the pot. Sarah Baxter is one the greatest cross country runners of all-time, but could she lose at her own game?

Girl's Teams

1. Fayetteville-Manlius

It's going to be lucky number seven for Fayetteville-Manlius. Which dynasty is better: The '90s Chicago Bulls, '50s Boston Celtics, '60s UCLA, or '00 FM?

This team, let alone this school, is so incredible, that our analysis won't fit in this preview. You can read about the entire history of the FM program here.

NXN NY Regional Championship
| | | | |
| --- | --- | --- | --- |
| Name | Class | Place | Time |
| Katie Brislin | SR | 3 | 18:48.4 |
| Alana Pearl | JR | 4 | 18:50.1 |
| Annika Avery | SO | 5 | 18:50.2 |
| Jillian Fanning | SR | 6 | 18:50.8 |
| Mary Barger | SO | 10 | 19:01.6 |
| Jenna Farrell | FR | 15 | 19:11.0 |
| Michelle Duffy | SR | 21 | 19:30.5 |
---

2. Great Oak

The giant statue of Sarah Baxter that was built at Mt. SAC has overshadowed Great Oak this fall. Well, at least outside of California. However, this might be a good thing going into championship season. The teams that performed the best at the NCAA XC Championships were the one's that soaked in the fun from the weekend and didn't worry about the inevitable race.

They don't have a low stick, but that's not a problem as we're seeing more and more powerhouse teams that rely on all five girls. When they won the Mt. SAC Invitational, they finished with the #5 all-time team total time (88:51) and had a spread of 36-seconds between their scorers. That gap shrunk to 29-seconds at the California State championship, which means they're coming into form at the perfect time.

Junior Ashley Helbig has been up front for Great Oak all season, but their number two girl has changed. Although junior Haley Dorris ran stride for stride with Helbig at Mt. SAC, it was senior Miranda Kewley that had the same exact finishing time as Helbig at the state meet.

No number two girl? No problem.

California State XC Championships
| | | | |
| --- | --- | --- | --- |
| Name | Class | Place (overall) | Time |
| Miranda Kewley | SR | 18 | 17:57.3 |
| Ashley Helbig | JR | 19 | 17:57.8 |
| Christian Calain | JR | 32 | 18:09.9 |
| Haley Dorris | JR | 35 | 18:11.8 |
| Maiya Larsen | SO | 56 | 18:26.3 |
| Alexis Messerly | SR | 93 | 18:42.3 |
| Kim Mcnamee | SR | 217 | 19:15.1 |
---

3. Southlake Carroll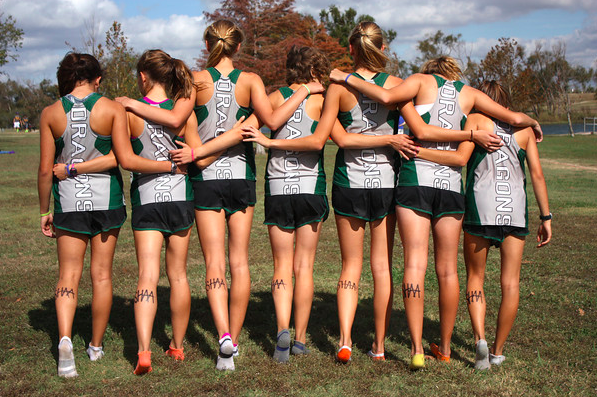 They have pinstripe shorts, striped tan lines, and matching calf tattoos? I wish I had nice things.
Photo: Southlake Carroll Cross Country

Over the years, Southlake has been pretty dependable. Eight out of nine NXN championships and sixteen consecutive Texas state meets type-of-dependable.

Courtney Kriegshauser will be up front, but the rest of the Dragons won't be too far behind. When they won the Texas State Championship and the NXN South Regional Championship, their spread from #2 - #5 was 24-seconds. We'll reiterate our original claim that we made after their NXN regional meet: If teams can't score enough runners between Kriegshauser and Southlake's number two Elena Arriaza, then they're going to have some problems.

NXN South Regional Championship
| | | |
| --- | --- | --- |
| Name | Place | Time |
| Courtney Kriegshauser | 6 | 17:45.8 |
| Elena Arriaza | 11 | 18:05.6 |
| Antigone Archer | 15 | 18:16.1 |
| Shelby Chapin | 19 | 18:19.6 |
| Katie Burnham | 21 | 18:29.7 |
| Maddie Keen | 40 | 19:06.2 |
| Taylor Ullmann | 65 | 19:33.3 |
---

4. Saratoga

Some skeptics will naively ask, "Why does New York get its own NXN regional championship?" Well, if they ran with everyone else in the Northeast region, then there wouldn't be any non-New York teams in the girl's championship race.

It's a blessing for everyone else, but also a curse for the Saratoga girls. It's hard to win titles when the best team in the nation is a few hours away. Since FM doesn't compete at the NY Federation Championship, Kinetic Running Club has won four straight Federation titles.

Saratoga has a similar style to that of Southlake Carroll. Front running senior Taylor Discoll is knocking on the door of the first team all-American household. Behind her is four girls from all four grades. They have have a the pack running mentality to add to their arsenal. At the NXN NY Regional Championship, the spread between their #2 and #5 girl was 43-seconds.

They have a better front runner, but worse team spread than Saratoga. Their final four scorers aren't a true pack, but two separate entities that are handcuffed together (see below). If they can close the gap between their #3 and #4 girl, then special things are going to happen.

NXN NY Regional Championship
| | | | |
| --- | --- | --- | --- |
| Name | Class | Place | Time |
| Taylor Driscoll | SR | 1 | 18:06.9 |
| Keelin Hollowood | SR | 7 | 18:51.0 |
| Ollivia Morrow | FR | 8 | 18:51.0 |
| Sarah Morin | JR | 20 | 19:28.1 |
| Spencer Hayes | SO | 23 | 19:34.3 |
| Maddie Samuell | SR | 34 | 19:50.3 |
| Shania Hayward | JR | 58 | 20:32.4 |
---

5. Pennsbury

The young and talented team from PA has a real shot this weekend. These greenhorns have freshmen in the top seven, including phenom Maddie Sauer, and are ready to step it up a notch. Even though they don't have the race experience to adjust to the pressure at NXN, that's not always what matters most.

When FM won their first title back in 2006, they squad was almost as young with two freshmen and one eighth grader. Experience is important, but when you're just plain dirty when running in the mud, does it really matter?

NXN NE Regional Championships
| | | | |
| --- | --- | --- | --- |
| Name | Class | Place | Time |
| Maddie Sauer | FR | 6 | 18:51.5 |
| Sara Sargent | SR | 9 | 18:59.2 |
| Hannah Molloy | FR | 11 | 19:09.9 |
| Olivia Sargent | FR | 12 | 19:13.4 |
| Erin O'Connell | SO | 23 | 19:38.5 |
| Erica Gray | JR | 27 | 19:46.8 |
| Bailey Balmer | FR | 42 | 20:05.1 |
---

6. Assumption

When we were in Kentucky for the NCAA XC Championships, we wished we had some time to pop over to see the Assumption girls. Then again, we'll probably have next year. Their top five will all return (they're all juniors), plus their sixth girl is a sophomore. The lone girl leaving this Finger Lickin' good team is their seventh runner, Olivia Boughey.

They just squeaked by Tatnall girls at the NXN Southeast Regional by one point (92 to 93) to earn their automatic bid.

NXN Southeast Regional Championships
| | | | |
| --- | --- | --- | --- |
| Name | Class | Place | Time |
| Bailey Davis | 14 | 6 | 17:44.8 |
| Katherine Receveur | 14 | 10 | 17:52.5 |
| Emily Bean | 14 | 27 | 18:29.9 |
| Kate Crawford | 14 | 34 | 18:38.4 |
| Kenzley Defler | 14 | 60 | 19:07.3 |
| Abbie Wright | 15 | 94 | 19:29.1 |
| Olivia Boughey | 13 | 105 | 19:37.2 |
---

7. Tatnall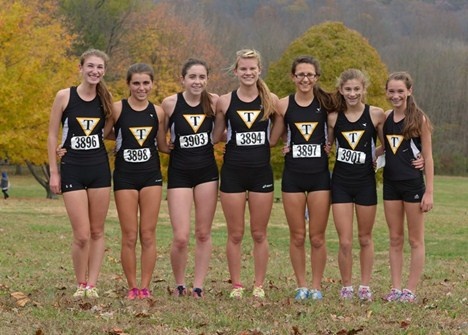 Joe Biden, tax-free shopping, and the Tatnall School.
Photo: tatnall.org

They're not in the Slower-Lower part of Delaware because they're in the Faster-Upper (doesn't have the same rhyme to it). The girls from Wilmington, DE took third last year at NXN after winning a sixth girl tiebreaker. This team has a lot of experience with seniors Regan Anderson and Julie Williams leading the charge. While they're going to lose four of their top seven, they'll still have cornerstones to rebuild upon. One sophomore and two eighth graders certainly helps that process.

Their squad is pretty evenly dispersed, which is why eighth grader Caroline Foley and senior Rebecca Salter are even more important. The two, who finished fourth and fifth for Tatnall at their regional championship, have the potential to make up the most ground. If they're both on key, then they'll not only jump Assumption, but maybe some other big names as well.

NXN Southeast Regional Championships
| | | | |
| --- | --- | --- | --- |
| Name | Class | Place | Time |
| Reagan Anderson | 13 | 12 | 17:59.5 |
| Julie Williams | 13 | 18 | 18:15.5 |
| Kieran Hanrahan | 15 | 29 | 18:33.5 |
| Caroline Foley | 17 | 38 | 18:49.4 |
| Rebecca Salter | 13 | 41 | 18:53.9 |
| Quinn Teklits | 17 | 69 | 19:10.9 |
| Amy Gaito | 13 | 107 | 19:38.9 |
---

8. Carmel

The Carmel Distance Project is another team that will be even stronger next year. The ladies from Indiana will only lose one runner from their top seven and will look to repeat at the Indiana State Championship and NXN Midwest Regional Championship.

They posted a 42-second spread at their state meet, but lowered that down to a mere 23-seconds at the NXN regional championship. Keep your competition close, but your teammates closer?

NXN Midwest Regional Championships
| | | |
| --- | --- | --- |
| Name | Place | Time |
| Kelcy Welch | 22 | 19:02.5 |
| Gina Genco | 23 | 19:03.7 |
| Haley Harris | 26 | 19:04.7 |
| Ellen Schmitz | 37 | 19:16.3 |
| Samantha Dauby | 51 | 19:25.5 |
| Anna Schmitz | 58 | 19:29.0 |
| Kelsey Harris | 106 | 20:02.2 |
---

9. Davis

It was tough to pick a final team for our top-9, but Davis XC has made their case and we like it. So far this season, they've finished 1st at the Bob Firman Invitational, 2nd at the Stanford Invite, 1st at the early Utah State Championships, and 1st at NXN Southwest.

The squad is lead by the solid duo of seniors Shea Martinez and Ellie Child, who finished sixth and seventh overall at NXN Southwest.

The rest of their scoring squad is also tightly knit. They might be far back at NXN from their other two teammates, but if they can keep each other motivated and move up, Davis should finish well.

NXN Southwest Regional Championships
| | | | |
| --- | --- | --- | --- |
| Name | Class | Place | Time |
| Martinez, Shea | SR | 3 | 17:34.68 |
| Child, Ellie | SR | 4 | 17:36.67 |
| Cox, Taylor | JR | 26 | 18:21.58 |
| Weir, Kenzie | JR | 30 | 18:27.57 |
| Dixon, Kami | SR | 31 | 18:28.17 |
| Boyd, Joanna | SR | 41 | 18:38.85 |
| Wood, Mikell | SR | 68 | 19:04.35 |
Honorable Mention: Coeur D'Alene, Fort Collins, Pine Creek, and Naperville North.

---
Girl's Individuals

1. Sarah Baxter and 2. Mary Cain

It's one of the greatest cross country runners versus one of the greatest middle-distance runners. XC is Baxter's game, but Mary Cain is a very different runner compared to last year.

Our preview for these two titans can be found here.

3. Amy-Eloise Neale

She's been on fire in the cold Northwest all season long. It's been nothing but zeros in the loss column for Neale as she's notched victories at the Stanford Invitational, the Washington State Championships, Nike Borderclash, and NXN Northwest.

In the past, she's placed 14th, 3rd, and 5th at NXN. If we had to pick someone to challenge Baxter and Cain, it would be Amy-Eloise Neale.

4. Wesley Frazier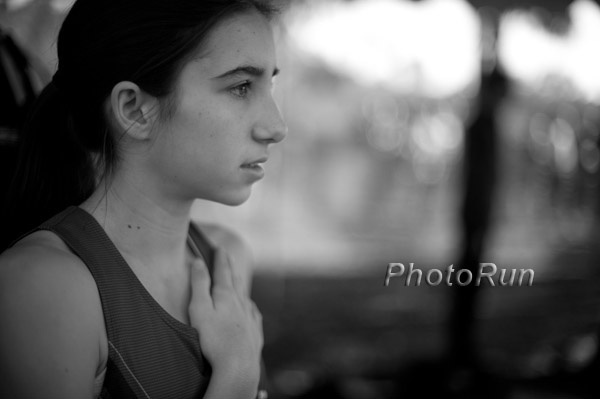 The 2010 Foot Locker photo gallery is by far the artsiest running photo gallery.

The senior from Raleigh, NC has some serious track credentials to her name. She's run 4:42.78 for the mile, 9:38.82 for 3000m, and 16:46.15 for the 5k indoors. Oh, and a few New Balance Outdoor titles too.

While she's tearing up the track, cross country has been a bit different story. She finished 39th at the Foot Locker Finals in 2010 and didn't qualify the following fall. This season, she made the jump to NXN and took the title at NXN Southeast. Can she replicate her track championship form in cross?

5. Hagen Reedy

When all eyes are on Sarah Baxter, who's to notice second place in California? She might be second in California, but Hagen Reddy is among the nation's best. Reedy has won every race so far this season when Baxter has not competed. She ran 17:10 at the CIF California State XC Championship (for reference, Baxter ran 16:40) and 17:01.8 a month earlier at the McDonald's Rough Rider Invitational.

On the track, Reedy blitzed a 10:21.68 for 3200m at Arcadia Invitational to take fourth.

6. Karin Jochen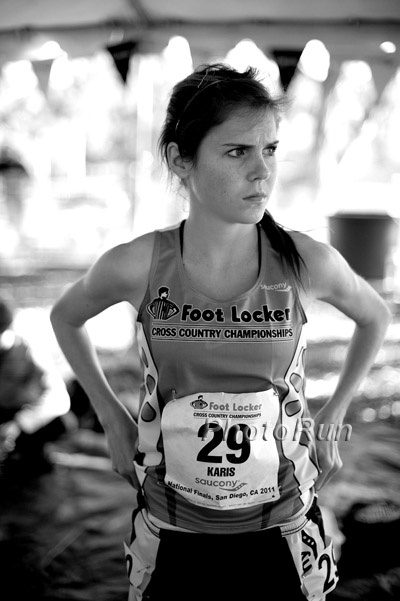 I stand by my previous statement.

Another harrier who's going for the NXN / Foot Locker double. Last fall, Jochen took 31st at NXN and then bounced back to finish 12th at Foot Locker. She won the Texas State XC Championship (17:18.10) and the NXN South Regional Championship (17:17.3) in convincing fashion.

She also has run 10:31.23 for 3200m. There's a lot of incredible two-milers in this field so it'll come down to who runs best in the mud.

7. Katie Knight

Experienced, tough, and mono-free: Katie Knight is always in the hunt. She's another harrier that has had to play second fiddle in her home state to Amy-Eloise Neale, but that doesn't mean she's not the real deal Holyfield.

Knight has placed 16th, 8th, and 3rd in her three previous visits to NXN.

Even though it'll be tough for Knight to improve on her finish from last year, it's not the end of the world.

8. Alexa Efraimson

Neale isn't the only harrier to take down Knight in the state of Washington. Sophomore Alexa Efraimson has had a huge season, but is unfortunately stuck in a state/region that has two of the top runners in the nation.

This fall, Efraimson took 2nd at the Stanford Invitational (to Neale), 2nd at the Richland Invitational (to Knight), 1st at the Washington 3A 4A Championship, 2nd at Nike Borderclash (to Neale), and 3rd at NXN Northwest (to both).

She's made huge jumps this fall, but that wasn't too farfetched after running a 4:42 mile last spring. Keep your eyes on Efraimson in the years to come.

9. Bella Burda

Another bridesmaid in her own state. The sophomore from Arlington HS has had to settle for second at the NYS Championship to freshman Megan Reilly and again at the NXN NY Regional Championship to Mary Cain. However, she notched her first big individual title at the NY Federation Championships.

Last spring, Burda ran 4:52.60 for 1500m and 10:18 for 3000m. We don't know her secret to success, but we can guess that a solid summer of training can attribute to her incredible rise this fall. She's also another sophomore that should be a joy to watch for the next few years.

Honorable Mention: Maria Hauger, Madeline Perez, and Elise Cranny

Who's your bet?