Event Hub
BOY'S NXN UPDATES - 2012 Boy's NXN Live Updates
    NXN Boy's Championship Race


2012 Nike Cross Nationals



Boys Updates | Girls Updates | Boys Race Video | Girls Race Video

NXN Schedule:
9:00am PST: Community Race
10:05am PST: Girl's Championship Race
11:35am PST: Boy's Championship Race

NXN Records:
Girls: Chelsey Sveinsson, 17:26.9 (2008)
Boys: Futsum Zeinasellaissie, 15:03 (2011)

Boy's Preview can be found here.

The Individual Favorites:
1. Nick Ryan This fall, he's run 12:05 at Van Cortlandt Park and the course record at the infamous Bowdoin Park. He took 5th last year and will most likely take the race out very hard.

2. Bernie Montoya - The Beast from Arizona placed 12th last year, but then went on to run 4:01 for the mile and 8:48 for two-miles. He has not been challenged once this fall.

3. Jake Leingang - He's running both NXN and Foot Locker again. Leingang placed 8th last year and then blitzed a 8:51 two-mile and 14:27 5k on the track.

4. Jacob Burcham - He didn't compete at NXN last fall, but placed 16th in 2010. He's run 4:02 for the mile.

5. Bryan Fernandez / Joe Hardy / Sam Wharton - Too close to call. Check out the boy's championship race preview to make up your mind.

The Team Favorites:
1. Christian Brothers Academy - The defending NXN champions are poised to make history as no boy's team has ever successfully defended their title. They've set numerous team records throughout the season, but has a small hiccup at the NXN NE Regional Championship.

2. Southlake Carroll HS - They took second last year to CBA by a mere five points and enter NXN ranked right behind them. Can the Texas and NXN South Region Champions reverse the results from 2011?

3. North Central HS - The boys from Washington are a big question mark with Kai Wilmot sidelined with an injury. If he's healthy, the NXN Northwest Champions could vie for the title.

4. American Fork HS - They've finished 8th in 2008, 8th in 2009, and 6th in 2011. The current squad has NXN experience and they've looked incredible throughout the fall.

5. Arcadia HS - The California State Champions have always performed well in the mud at NXN.

Past NXN Results: http://flo.mx/UyrgDv


---

AND THEY'RE OFF! It's the last race of the day and it's going to be a muddy one.



---

Burcham, Leingang, and Ryan are up front. No secrets here.


---

Joe Hardy from Washington to the lead. One of the splits was 2:29 and we assume it's at 800m (not 1k).



---

Ryan and Hardy lead the pack through 2k in 6:45. No team scores yet.



---

Estevan De La Rosa from California to the front. Team scores are below. CBA likes to move late in the race so hang tight.




---

Connor Olson from Wayzata breaks the race open. It's time to move. American Fork still in the lead, but CBA is closing.



---

De La Rosa broke it open, but was reeled in by Sam Wharton. Again, the race has been broken up with a mile to go.



---

Team scores from 4k. It's still American Fork, then Arcadia, then CBA.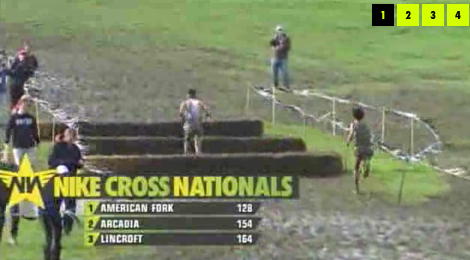 ---
SAM WHARTON IS YOUR NXN CHAMPION. UPSET CITY.



---

Estevan De La Rosa is speechless. Second place at nationals will sink in in a bit.

"How do you feel?"
"... I don't know."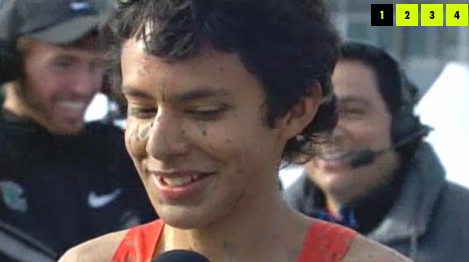 ---

Sam Wharton was second at both Foot Locker and NXN regional races. Not today. Sweet eye black, though.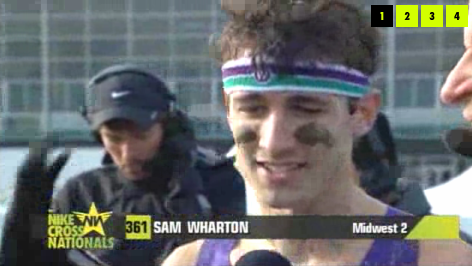 ---

We're still waiting on team results. Last year, they brought the top two teams on stage and then announced the winner. There are some sweet interviews with Andrew Wheating and Chris Solinsky.

"Go home and take a long shower." - Wheating. That guy is beyond cold right now.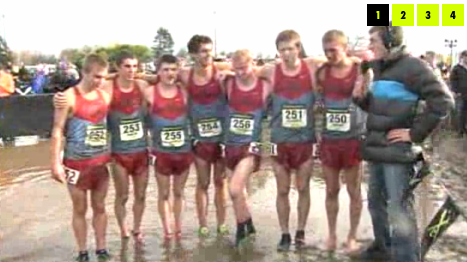 ---

Here we go. North Spokane (North Central) takes third with 146 points. Kai Wilmot has only run three miles twice in the last six weeks. It's all about the team. Baller.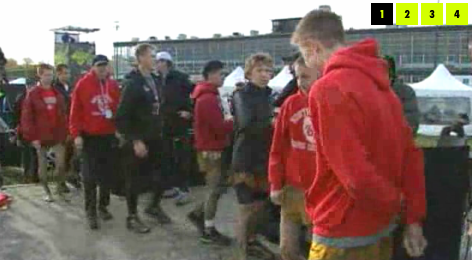 ---
The top two teams are on stage... IT'S ACADIA HIGH SCHOOL. THE 2010 NXN CHAMPS ARE BACK.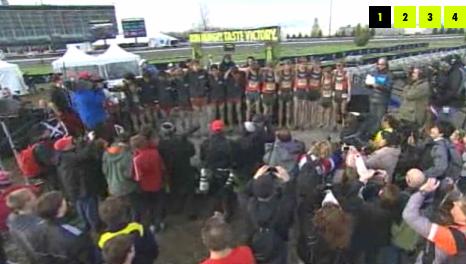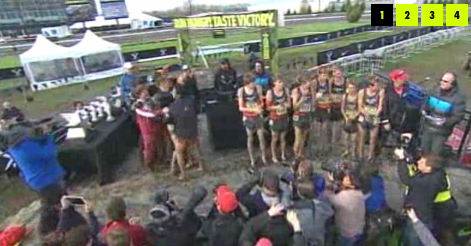 ---