Event Hub
Favorites and the Pitfalls of Predictions from NXN
In the first race, everything went according to plan. The race that followed was a different story.

The 2012 Nike Cross National Championships was filled with drama, surprises, and most importantly, mud. Although there were a few moments of disbelief, the girl's championship race went as expected. The sense of confidence among analysts was immediately destroyed as all predictions were thrown out the window during the boy's championship race.

The Community Race had both a humorous and concerning message. The image that best fits both descriptions was one competitor who chose to race in goggles.

Once everyone had finished with a hearty early morning chuckle, thoughts about the condition of the course grew. How bad was it out there?

When the race went off, the sweeping shot of the start really painted an accurate picture. The all-terrain lead gators were wheel deep in puddles 100m into the race. It was going to be a strategical slopfest.

The early favorites initially tucked themselves near the front. In any type of championship race, it's important to get out hard or you'll be caught dodging runners in the back. There was a fine line for that strategy: How much energy do you sacrifice to get a good position?

If you're the Fayetteville-Manlius girls, staying back means not winning with 15 points through one kilometer. When the first split of team scores were announced, it looked like FM's to lose.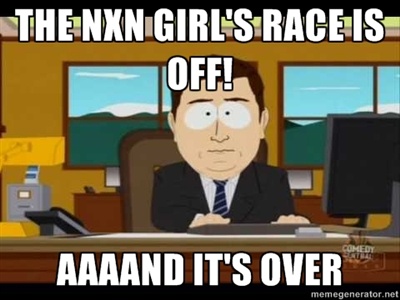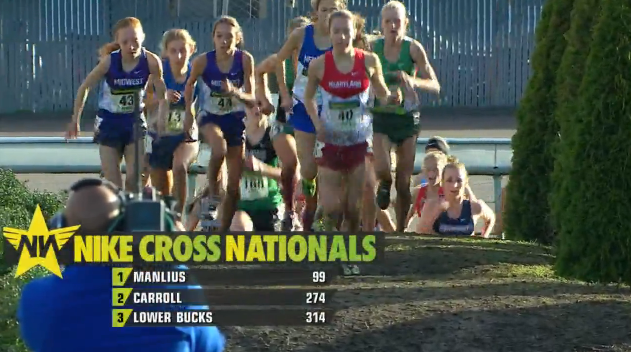 They moved up. A lot.

By 2k, the race for the individual title started to become more clear. The defending NXN champion Sarah Baxter, the 1500m specialist Mary Cain, and the always dangerous Katie Knight started to make their way towards the front.

From that point on, Baxter took a page out of FM's playbook as it was her race to lose. Even though Cain was only a second back from Baxter at 3k (Baxter split 11:18), it still looked like an uphill battle for the Bronxville junior. While people traditionally scoff at Californians who try and run in the mud, Baxter was in the zone.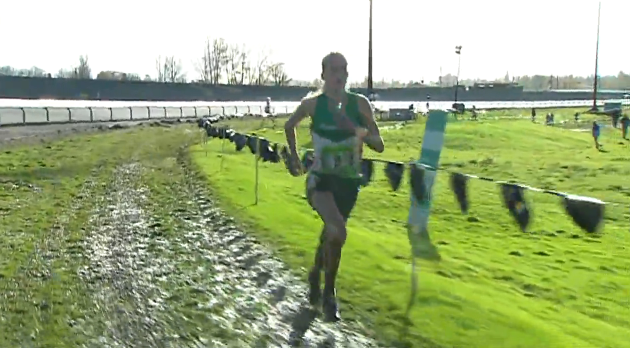 If Cain could keep it close until the end, there may have been a huge upset. But with under 1k to go, Baxter started to wind it up and slowly pulled away from Cain. At the finish, Cain seemed to muster her finishing kick, but Baxter was out of range.

Sarah Baxter crossed the line in 19:17 and became the first prep to defend an NXN individual title. Cain took second in 19:21.

What's next for Baxter? The Simi Valley junior told Runnerspace.com that she had planned to take a month off from training. "A month?!" some consecutive day running aficionados said in surprise.

The longevity is sure helping Baxter. She took things easy her freshman year and even after winning the California state title, she chose to not compete at NXN. Bernard Lagat takes almost a month off between training cycles and rests on Sunday. Sometimes rest is the key to longterm success, which should be Baxter's long term plan.

Not far behind her were two Washingtonians who are always in the top three. Katie Knight, who missed some training due to mono, took third for the second year in a row. 

Behind her was sophomore Alexa Efraimson, who's challenged Knight and fellow Washington native Amy-Eloise Neale throughout the season. She finished third at the NXN Northwest Regional (to Knight and Neale), but took fourth at nationals.

I'm in a New York State of Mind

Whether it was Frank Sinatra's New York, New York or the New York's more modern victory anthem of Empire State of Mind, NY once again dominated the team competition. Actually, there are a lot of songs we could have used.

FM maintained their position to take the win with 54 points and a 37-second spread. That was pretty much as expected.

But New York wasn't done there. Two more teams from the Empire State placed in the top five, but they weren't in their usual order.

Aurora High School came up huge and took fourth place over intrastate rival Saratoga Springs High School. Aurora, who were considered the fourth best team in NY after taking second to the Academy of Holy Names at the NYS Cross Country Championship, ran out of their minds.

Since then, these girls have been on fire. The managed to secure a well deserved at-large bid from the NXN committee with a third place finish at the NXN NY Regional Championship.

At the NY Regional, Manilus won with 28 points, Saratoga took second with 59, Aurora was third with 123, and Academy of Holy Names placed fourth with 132. But Aurora's cinderella story wasn't done yet.

Similar to Knight and Efraimson, the Aurora girls have to compete in a tough state. Even though they may had been ranked fourth in NY at some point, they took fourth at NXN with 212 points. Saratoga took fourth with 218.

Senior Megan Baritot, who was Aurora's fourth runner at the regional championship, was their number two at NXN. Their 2:25 spread from regionals shrunk to a mere 48-seconds at nationals. Sometimes you just have to believe.

That may have been the case for Shelby Chapin of Southlake Carroll. Even though SLC was projected to finish second (which they did), Chapin stepped up big time to ensure the silver medal finish. Chapin was SLC's fourth girl at the NXN South Regional, but finished as their number one at NXN.

Full NXN results.

Why No One Makes Bets on Cross Country Races

The air of excitement about defending champions soon died down in preparation for the boy's championship race. Christian Brothers Academy looked ready to be the first team their NXN title while the individual race was wide open.

There were still favorites that should've been in the mix. Early on in the race, Nick Ryan, Bernie Montoya, Jake Leingang, and Jacob Burcham were up front. Totally normal.



Makes sense, right?

For the last race of the day, normalcy and predictions would not taken into account. The course was so chewed up from the two earlier races that hanging back off early pace would be the most wise strategy in the end.

That's why the team title was so tough to call early on. The first team split at 1k had Southlake Carroll in the lead with 227 points. The 200+ team score was a testament to the depth of the field and conditions of the course.

The real challengers started to emerge in the next few kilometers. Eventual NXN champion Sam Wharton and soon to be second place Estevan De La Rosa started to move up to the front. It was still hard to tell who was going to take the crown.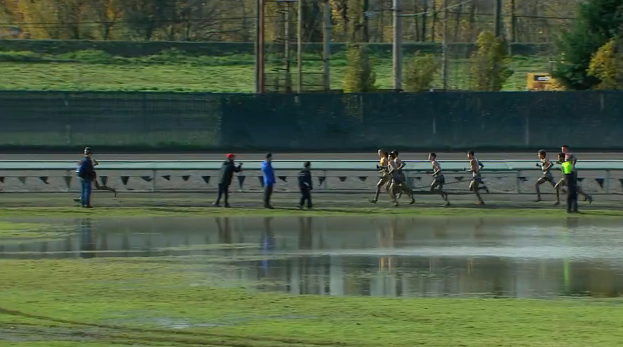 The team battle was also still in question. American Fork had moved into the lead with 107 points to North Central's 170. SLC had fallen to third.

American Fork maintained their position as they went through 3k with 125 points. Christian Brothers Academy, who moved late in the race last year to take the title, started to move up and were now in second with 162 points. North Central was now in third with 168.

Even though the team race hadn't been broken up yet, the amorphous individual race was starting to shape up. Connor Olson made the first big surge to break the field open, but he was tracked by Arcadia's Estevan De La Rosa.

The individual race became more definitive as the team race remained unknown. At the 14-minute mark, Sam Wharton made a move to the front and never looked back. Wharton had finished second at both Foot Locker Midwest and NXN Midwest, but wouldn't be denied on Saturday.

The 21st place finisher from 2011 was not concerned about the competition or course.

Even though he would never relinquish his team, Wharton said that he only knew he was going to win "two steps before the line."

Prior to the finish, it wasn't CBA that was moving up, but Arcadia High School. The 2010 NXN Champions were stalking then first place American Fork with less than a kilometer go until the finish.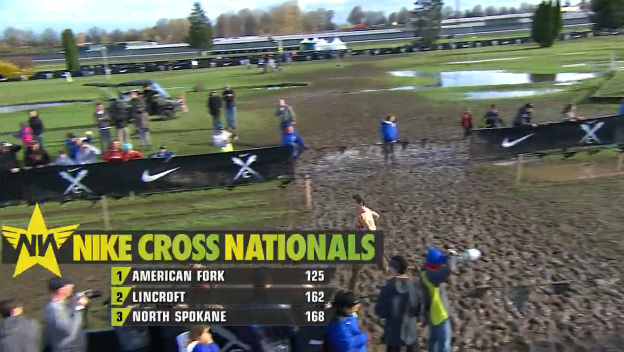 Arcadia rolled in the last kilometer to come home with the win with 108 points. American Fork was second with 122 points, North Spokane was third with 146 points, and CBA finished a disappointing fourth with 167.

Everyone loves to rag on Californians for not being able to run in the mud. Then again, Sarah Baxter had just defended her national title and Arcadia had taken their second title in three years.

How does a team that never runs in the mud compete so well in these conditions? Strength training.

Coach Jim O'Brien told the Los Angeles Daily News, "Every single one of these guys ran more than 1,000 miles during the summer and it paid off today." Strength, not speed, definitely paid off on Saturday."

Physical strength wasn't the only factor for the top three teams. Junior Kai Wilmot from North Central had been sidelined with an injury since October and "had only run three miles once prior to this race" in the last few months. Without him, North Central would have finished in fourth to CBA.

The Midwest, but more importantly, Ohio

When they were in the lobby of one of Nike's many buildings, the boys from the Midwest looked upon the display of posters of previous champions. The last two winners, Lukas Verzbicas and Futsum Zeinasellaissie, had been from the Midwest. The Midwest boys made a promise to continue that tradition and it was fulfilled through Wharton.

Recently, the road to the championship was just as difficult as the actual course. The Ohio High School Athletic Association had ruled that athletes could not accept any funding for postseason competitions or they would be forced to forfeit their amateur status.

Thankfully, Wharton's parents paid his way to Portland. Imagine if Wharton was unable to compete?

The Course and Cross Country

There's been a lot of backlash about the conditions of the course. Some say it was unsafe for the athletes while others feel that it was true cross country conditions.

The times were slow, shoes came off, and athletes were covered in coats of mud. This may have been an extreme example of "what cross country is all about." However, what was the alternative? Should Nike have moved the course or covered it with tarps to prevent the rain from turning NXN into the 2012 Tough Mudder High School Nationals?

Course conditions is still a big issue in the U.S. The best example comes from a few years ago when Galen Rupp pulled out of a cross country race because of the quality of the course. This spawned a meme about different courses being "Rupp Certified." If they weren't perfected manicured golf courses, some runners would chose not to run.

Things could have been worse. USA Cross Country Nationals and the IAAF World Cross Country Championships have been held in snowy conditions.

The famous Cinque Mulini cross country race in Italy is literally run through the town of San Vittore Olona, Italy.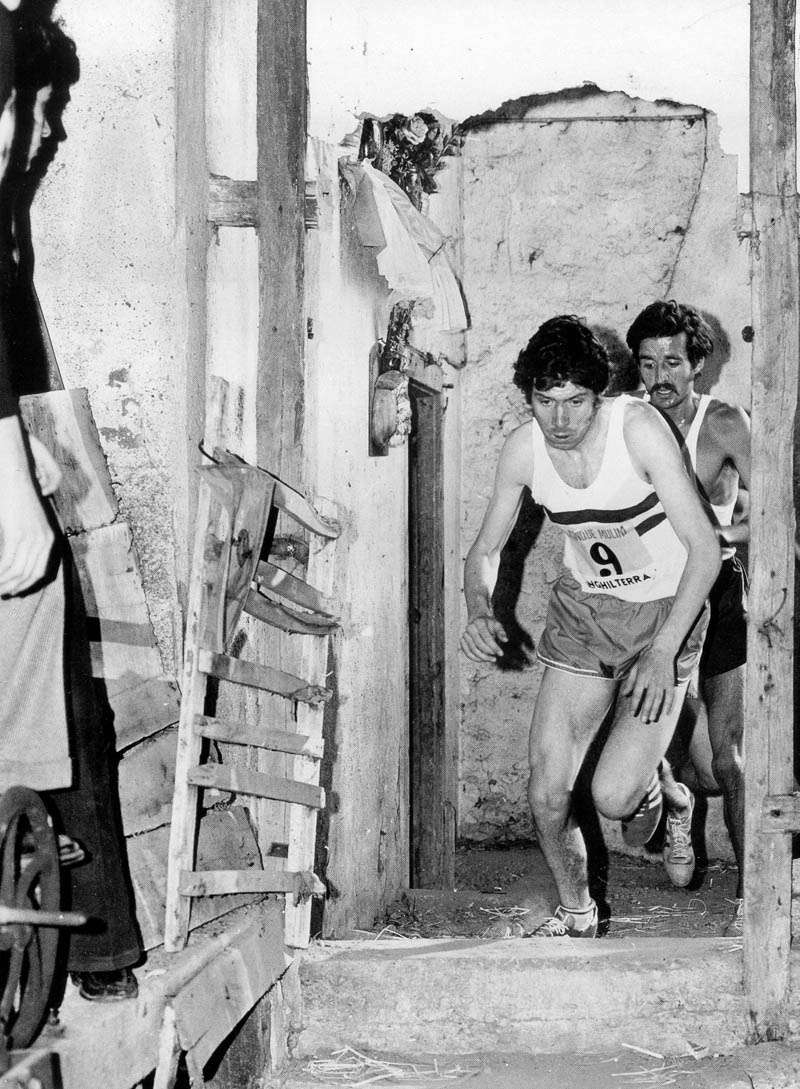 Frank Shorter, not really caring about footing.

Whether the course was dangerous or favored different types of runners, everyone still had to compete in the same conditions.

In the girl's race, that didn't affect the favorites. In the boy's race, it certainly made things interesting.