Elite 50 Recap: Foot Locker West
Cross country isn't over yet. While some west coasters were powering away for NXN gold, some were punching their ticket to the other national championship.

The legendary Mt. SAC course hosted the Foot Locker West Regional, which was the final qualifying meet for the Foot Locker Finals.

Although the winner in the girl's and boy's race used distinctly different strategies, both are new faces in the national scene.

In the girl's race, Marissa Williams went to the front and never looked back. The sophomore from Palisades High School in California went wire to wire to break the tape in 17:46.

Marissa Williams - 2012 cross country
| | | | |
| --- | --- | --- | --- |
| Race | Place | Distance | Time |
| Foot Locker West Regional | 1st | 5000m | 17:46 |
| CIF California State XC Championship | 18th | 5000m | 18:11 |
| Mt. SAC Invitational |   | 3-miles | 17:07 |
| Asics Clovis Invitational | 2nd | 5000m | 17:15 |
| Woodbridge XC Classic | 13th | 3-miles | 17:08 |

This win is a huge improvement from last year where Williams finished 75th at the CIF California State Cross Country Championships.

Julia Maxwell of Branson HS in California and Makena Morley of Bigfork HS in Montana gave chase, but were about ten seconds back at the mile. Maxwell would finish second in 18:15 and Morley third in 18:17.

The boy's race was a bit more of a tactical affair. The eventual winner, Benjamin Saarel of Park City HS in Utah, would wait until late in the race to make his decisive move to the front.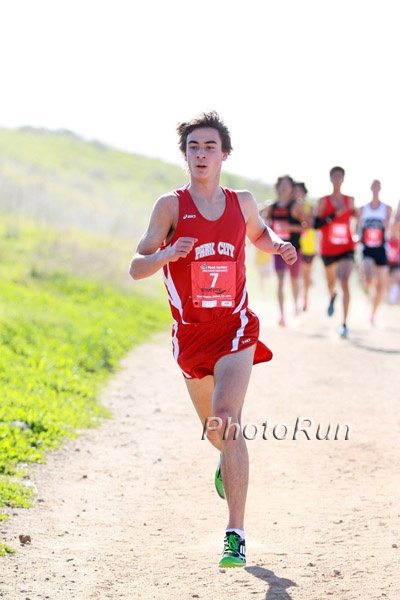 The Utah State Meet is like the Iowa Caucus.

Saarel may have drawn some inspiration from last year's Foot Locker West Regional where he finished 11th and did not advance to the national championship. He wasn't going to cut it close this year.

Ben Saarel - 2012 cross country highlights
| | | | |
| --- | --- | --- | --- |
| Race | Place | Distance | Time |
| Foot Locker West | 1st | 5000m | 15:28.00 |
| NXN Southwest | 2nd | 5000m | 14:52.40 |
| Utah State XC Championship | 1st | 3-miles | 14:56.70 |
| Utah Region 10 XC Champs | 1st | 3-miles | 15:02.00 |

Zach Perrin Flathead HS in Montana lead the field through both the one and two miles. Perrin finished eighth overall.

Troy Fraley of Glacier HS in Montana, who placed 29th at this meet last fall, took second in 15:37. John Lawson of Sir Francis Drake HS in California was third in 15:37.

Now three-time Foot Locker Finals qualifier Andrew Gardner of Mead HS in Washington finished 5th in 15:42. Gardner is the third returnee from last year's FL Finals where he finished in 6th.

The winners weren't the only surprising thing about the Foot Locker West Regional. 

Following the madness of the boy's team results at NXN, Californian and Flotrack contributor Kevin Liao made note of who was on the West's team this year for Foot Locker.
Just ONE California boy on the Foot Locker west region team. #sad

-- Kevin Liao (@RunLiao) December 1, 2012

Foot Locker is the original national championship for cross country. Until 2004 when Nike created the Nike Team Nationals (now NXN), there wasn't an alternative for postseason cross country races. Since there was no team title, all runners competed as individuals out in San Diego.

While there were 129 runners from California in the boy's seeded race, John Lawson of Forest Knolls, CA was the only athlete from the Golden State to finish in the top ten.

Below is the number of Californians who have represented their home state at the Foot Locker Finals in the last ten years:

2012 - 1
2011 - 7
2010 - 6
2009 - 2
2008 - 5
2007 - 4
2006 - 5
2005 - 5
2004 - 7
2003 - 3

Why was 2012 so low? It's really a matter of convenience for California. Since the California state meet doubles as the NXN California Championship, athletes and teams might as well kill two birds with one stone by running NXN if they can qualify.

This year, it just so happens that top runners such as Estevan De La Rosa and Mitchell Pratt, were on top teams such as the new NXN champions Arcadia High School.

Other top runners in the state may have just chosen to compete because it made sense in terms of scheduling. Why run an extra race at the end of the season if you can double dip?

This could seem like an NXN versus Foot Locker argument, but the number of California girls who qualified remains the same. This Saturday, five girls from California punched their ticket to the big dance at Balboa Park.

The field for the final high school cross country race of the season is finally set. We've already crowned two national champions, but there are two more trophies to hand out from the Foot Locker Finals