Lucky Headbands, Crazy Dogs, and NXN titles with Sam Wharton
He's been close a few times, but Sam Wharton finally picked up a big win. It just so happens that it came at Nike Cross Nationals where he not only overcame the mud, but some of the best runners in the nation. Wharton and coach Byron Kimmel credit his success to hard work, rest, and his lucky headband. Now he's among the Ohio greats and is slowly becoming a household name in the running world.
---

Has Sam Wharton, 2012 NXN champion, finally sunk in it?

I think it has slowly dawned on me since.  At the meet, everyone there was a runner and while it was a great achievement, it was the same attention that you would receive anywhere else.  Once I got back home and more and more people took notice of this accolade, especially those who might not follow cross country as closely, it really hit home and made me realize how great this honor is.  

Last year at NXN, you took 21st. What's been the biggest change in the last year for you?

Last year, I was extremely pleased with my finish, it had been my goal coming in to try and get that All-American status as a junior.  The huge difference this year was that last year I was content with meeting my goals, not daring to shoot any higher (runner-up at state, 5th place at Nike Midwest, didn't compete in Footlocker because I had already made a national meet).  This year I went for it all.  I didn't want to leach off of others and just run impressive times, I wanted to crush competitions that I could and develop my own racing style throughout the season, and when it came to the postseason I was ready to put it all out there.

After the New Balance Outdoor 5k, did you start to believe that you could have a season like this one?

After the New Balance Outdoor 5k, I was a little shocked that I finished that well, given it was my first 5k on a track and I really had no clue what paces to hit.  I was extremely glad with my finish and I knew that I would hopefully have a very successful season in Ohio and hopefully be a contender for a state title.  As for the postseason, I was confident after my experience at Nike last year, but I knew I couldn't be too confident, because if you lose focus for a moment in those races, you remove yourself from a qualifying position, with all of those great competitors present.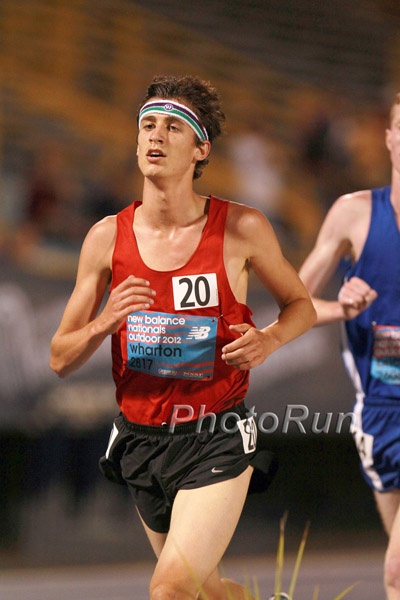 I bet we see a 300% increase in Wimbledon handbands.

When did you decide to run both NXN and Foot Locker?

I decided I wanted to do both if possible at the end of last XC season.  I had talked to some of the guys that did both and immediately felt upset that I didn't at least take a shot at qualifying for Footlocker last year.  My coach agreed with my decision as long I was healthy and up for the challenge and adjusted my training schedule accordingly.

How did your team, other coaches, and fans react to your decision to start your season late?

My team understood, given that they knew my aspirations for the postseason.  It ended up working out very well, because our other top runners had shots to win races and give them confidence that they might not have been able to have if I had been racing.  Many other coaches were just curious and maybe hypothesizing that I was injured.  I usually showed up to the meets, cheered my teammates on, and got a good workout in.  The hardest part was watching them race and knowing I could too, but having to hold back.  

What's your training block been like this summer and fall?

This summer, I took 2 weeks off after NBON and afterward just logged base mileage until my first meet of the season which was a little later than the rest of my team's, due to my rigorous postseason schedule.  I hit 70 miles for one week and had a few at 65, but I tended to average around 55 for the better part of my base training.

Into this fall, I sat the first few meets and debuted in mid-September.  Early on in the season, my coach had me doing a lot of tempo/threshold work in addition to some light core workouts and maybe some hill sprints.  Nearing the State Meet, we worked on some race pace workouts and some faster than race pace 400s.

Now later into the season, we tried to get a little threshold back into my workouts and now we are tapering and doing some speed work.

Favorite and least favorite workouts?

My favorite workout has to be the 2-minute drill.  We did this workout right before the state meet.  We ran 400s on the two minute and I was hitting 73s rather consistently, which is right where my coach wanted me.  I tend to recover pretty quickly so I think that the rest in between might have been too long, maybe switch to the 100-second drill.  We did 16 reps and on 15 heading into 16, I hit a 72, then went straight into a 60 closer which gave me some confidence in my finishing speed if it came down to that.

My least favorite was definitely the one we did last Sunday after Footlocker.  I had done the same one earlier in the season, but with slower goal times.  The idea was to simulate a race.  It starts with an 800 at race pace (2:20 positive split), followed by a two mile tempo (10:20), followed by another 800 (even split), with another 2-mile tempo after that, and closing with a final 800 (negative split).  There was no rest at all, just a continuous 5.5 miles of torture.  I did well enough the first time but struggled quite a bit on Sunday, missing some of my later goal times.

You were pretty happy with your second place finish at NXN Midwest. Did the two regional qualifiers give you an added boost of confidence heading into nationals?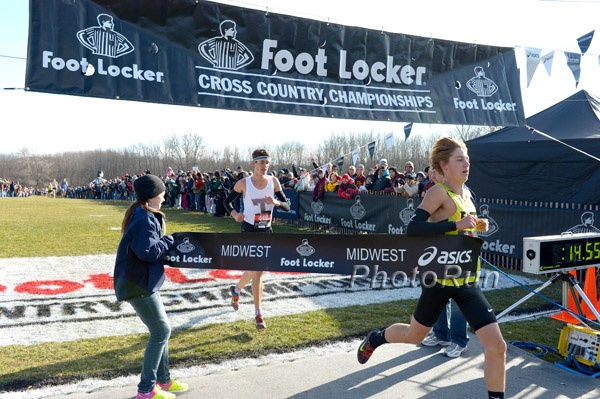 I was undefeated going into NXN Midwest and I told myself that qualifying was the most important part, so as long as I did that, I was okay with losing my undefeated streak.  I wasn't prepared for the tough finish and made my move a little early where I was caught by a monster kick from none other than Alex Riba. I was just happy to get the opportunity to travel back to Portland.  Qualifying meets are much more nerve-racking than the national meets, because once you get to nationals, you can relax and enjoy it, but prior to that there is a lot of stress.

Footlocker was an amazing race and breaking that 15-minute mark really helped boost my confidence and reassure myself that I can still run fast times.

Even before we talk about the race, how did you financially get to NXN?

After Nike Midwest, we were alerted that there might be a financial issue in competing at NXN.  Last year, I had my travel, lodging, and dining expenses paid for by Nike, but still was only able to receive up to 200 dollars in merchandise, with the option to purchase more.  This year it was brought to the OHSAA's attention that in doing so, this might prohibit athletes from competing in any further high school sports, and revoke NCAA eligibility, based on OHSAA Bylaw 4-10-2.  Along with another individual girl that qualified automatically, another Ohio female and a boy's team were able to qualify based on at-large bids.  The issue was raised to them and again to myself and the other two guys that qualified out of Ohio with me to Footlocker.

Many questions were raised by people all over and the OHSAA was forced to give their interpretation of the rule in specific consequence to these National Meets.  They determined that the rule did in fact apply to these meets, and that if we wanted to compete, we would have to pay all of the previously aforementioned expenses personally.  Luckily this year, all of the qualifiers were able to fund their trip, and after getting to know all of them very well, we all had a blast.  

What were your first thoughts when you got to the course?

When we got to the course on Friday, many people weren't sure whether to run the course or run on the roads outside of the stadium and with the exception of me, the Midwest guys had never ran the course before so we decided to check it out and get a little muddy! Just warming up we were muddy and drenched but it was an awesome experience.  On raceday, we warmed up outside in a futile attempt to stay dry, but after putting my spikes on, they were already waterlogged by the time I made my way over to the start line.  I was a little worried about the mud just sapping my strength and decided to play it very conservatively.

How did your race strategy play out?

My race strategy was based off of how it went last year and a conjecture that the times would be rather slow given the conditions.  I wanted to get out quickly to avoid the initial hubbub of the start and get out in front of anyone who wanted to go swimming in the first puddle.  After that, I just sat back and tried to conserve my energy waiting for some of the favorites to jump so I could counter their moves.  I pretty much consistently kept myself in between 2nd and 5th the entire race until I decided to make a move.  

What was going through your mind when you made your decisive move to the front?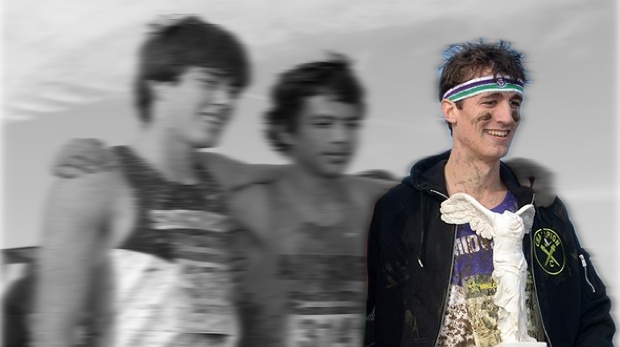 I was thinking, "What are you doing idiot? Did you learn nothing from Nike Regionals? You are making the exact same move at the exact same point".  But then I told myself that I could gut out those last 50 meters where I lost it at Terre Haute, given it was Nationals and such.

What set you apart from everyone else last Saturday?

My Wimbledon headband. I am quite confident no one else was sporting one that day, but if by some chance someone else was, I would have to say it would be my ability to stay focused, not get discouraged, and keep pushing myself even after the pain threshold.

Your season isn't over yet as you're running Foot Locker in a few days. Again, what's your travel situation?

I leave early Thursday morning to head out west to Footlocker in San Diego.  It is a little bit rough, jumping all of these time zones, but I love flying so it works out.  Again, my family will finance this trip out as well, including flights and lodging at the Hotel Del Coronado.  I do find the rule a little strange just based upon the fact that all other state associations are fine with this and the NCAA doesn't mind either, but for now I'm just grateful I still have to opportunity to race and participate in all the activities along with the other runners.

The last two years, not only has the NXN champion been from the midwest, but he's done the NXN/FL double as well. Verzbicas took both titles in 2010 and Zeinasellaissie was first (NXN) and second (FL). What are your goals heading into Foot Locker?

Yeah, the Midwest guys noticed the 10-foot banners hanging in the game room at NXN and we had a joke going that we couldn't let the tradition die, so I am quite proud to say I helped continue the streak and I wish the best of luck to the Midwest guys next year, no pressure.  I also roomed with Futsum last year and this year my roommate did quite well, better than I did as a junior and he will be returning most likely (no pressure Kyle!) so there might be a little tradition there as well.

But at Footlocker I would be absolutely honored to do as well as my predecessors, but I know that there will be some ferocious competition.  I am certainly not taking anything for granted and it will be a great opportunity no matter what the outcome on Saturday.

After Foot Locker, what are your short-term and long-term plans?

After Foot Locker, I am definitely treating myself to some luxuries I have had to enjoy in moderation throughout the season (Halloween Candy, Thanksgiving Feast, and Christmas Cookies in particular) and taking a week off of all physical activity in a weak attempt to reach a healthy level BMI.  Then I will start swim team where I hope not to drown and be at least better than a few swimmers on the team, even if they are girls.  Then I will start running after another week and keep a low base mileage going, around 30 miles a week, just to have a little bit of fitness for track.  I might consider running either the Brooks PR meet, or some meet at the new SPIRE Institute in Ohio for indoor track, but certainly not peak or do anything special to prepare or peak for those.

My main focus will be on spiring track.  I might travel to a few larger meets such as Arcadia and Eastern Relays, but we will see what my schedule looks like and again, the main focus would be for a state title and anything after that if my college coach wants me to continue running.  I plan to participate in Div 1 XC and Track and Field and have been whittling down my decision in the past weeks.

What's the craziest thing to happen to you on a run?

This fall, my two friends and I had missed practice due to a conflict and so we had to run on our own.  Around 9, we realized we hadn't run yet and it was getting rather dark.  So we set off and made our way through our neighborhood.  About 4 miles in, on our second loop of our development, we were running into a perpendicular intersection that we had run by many times and we were supposed to turn left after it dead ends.

From the house directly facing us, we can barely make out a dog that came rushing out of the garage.  At first I was frightened but then felt reassured that the electric fence would stop it.  It charged straight through it if it even had one!  With about a 30 meter head start, we turned around and started booking it the other way.  I was on the outside and we were all looking back gauging the distance and not looking where we were going.  We ended up sandwiching our friend in the middle and he went down, and hit the pavement hard picking up a few war wounds.  The dog stopped and it was only a medium sized dog wanting to play.  It realized it was probably about to be in trouble and trotted away, leaving us feeling pretty humiliated and glad no one witnessed it.