Event Hub
The Oregon Women - Team of the Year, Best of 2012
Familial structures are a constant debate among all cultures. Some love one another, some may bicker, and some are known for winning NCAA titles. The Oregon women aren't just dominant, they're a tightly knit family.

The last three NCAA championships have had four* winners and two* of the trophies are now in Eugene. That's why they're our Best Team of 2012.

The Ducks possess a deadly combination of tenacity and compassion that would even make The Brady Bunch a bit jealous (because Oregon is breaking records, not noses).

"The Oregon women function as a full track and field team all year long and I think this is what sets them apart from our peer institutions," said assistant coach Maurica Powell. "These women don't wait for the Pac-12 meet to roll around to become invested in each other's performances.  They work together and dream together beginning in October."

In the past year, the Oregon women won the team title at the NCAA Indoor Championship, taken second at the NCAA Outdoor Championship, and a few months ago, captured the NCAA Cross Country Championship.

One of those titles was awarded immediately, one was delayed, and one is never coming.

Almost one year ago, the current Oregon seniors continued their winning tradition indoors with a third consecutive NCAA Indoor crown.

Oregon Associate Athletic Director Vin Lananna told goducks.com, "It was a great 'team' win. Our team delivered big performances multiple times throughout the night."

The emphasis for the entire year would be on this "team effort."

Olympian, Bowerman finalist, Oregon graduate Brianne Theisen explained how the team developed an absolute winning mindset. "When the Oregon women's program became an NCAA champion caliber team, we realized how good it felt to win," Theisen told Flotrack. "Not only did winning feel good, but being part of something where each person was an essential part and was needed and counted on also felt good. We felt like we were not only doing it for ourselves, but for one another."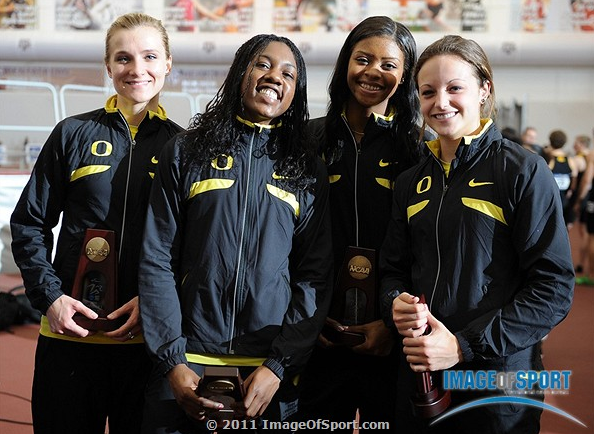 Luckily for the Ducks, Theisen would set the tone at both the Indoor and Outdoor Championships as her discipline lead off both meets. This mentality carried over to nearly every event from the 60m to the 3000m.
Theisen would take home her third consecutive NCAA crown in the pentathlon with 4,536 points. That was only 19 points off her NCAA and Canadian record. With that victory, Theisen became the second three-time pentathlon champion in NCAA history.
You're not a Bowerman Award finalist for nothing.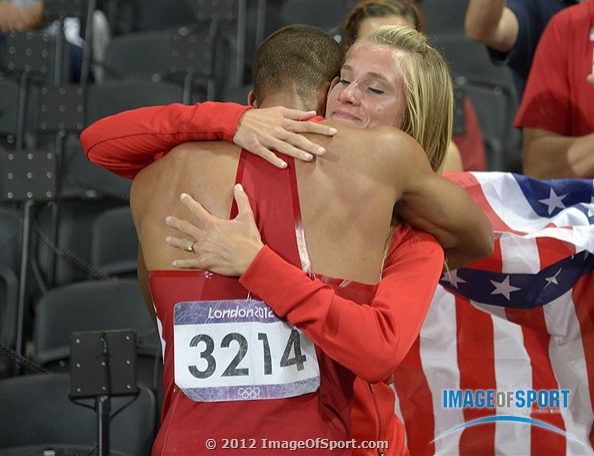 Some girls just have it all.
Following up that near record performance was then freshman English Gardner, who won the 60m in 7.12. That was a Jacksons Indoor Track (Idaho) stadium record and the fourth-fastest 60m in collegiate history.
The Ducks also scored points in the mile, the 3000m, the DMR, and the 400m. In the 1500, Jordan Hasay would take 3rd (4:40.09) and Becca Friday would place 4th (4:40.24). Anne Kesselring would also feature in the race finishing outside of the points in 10th (4:47.66).
Even though those aforementioned Ducks run different events, they're not solitary from one another.
Powell added, "Anne Kesselring knows English Gardner's PRs and Jordan Hasay knows what Phyllis Francis is trying to accomplish in the 400m. This is not a team with several satellite units - they operate collectively across event areas. I credit coach Robert Johnson for fostering this environment."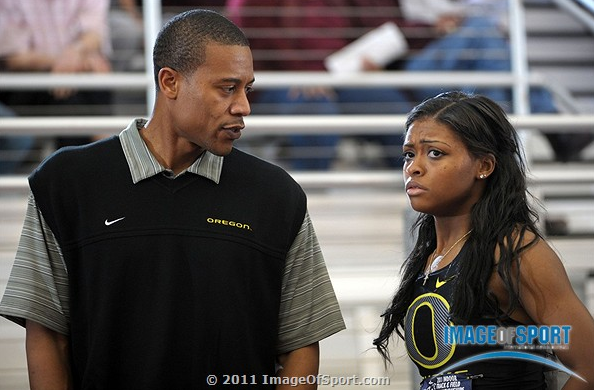 "There will be a quiz on this later."


Hasay definitely knows that then sophomore Francis ran an indoor personal best of 53.01 in the 400m to take fourth overall. That time was the second-fastest time in Oregon history.
To add to the theme of "doing it for one another," Oregon took second in the DMR on the first day of competition. The DMR is a shining example of how sprinters, distance runners, and teammates have to depend on each other to succeed.
The Ducks totaled 49 points, which was well clear of second place Kansas (30) to take their third consecutive indoor title. Oregon joins LSU as the only school to win three straight indoor national titles (LSU did it twice in 1993 - 1997 and 2002 - 2004).
These two perennial champions, LSU and Oregon, would once again go toe to toe at the NCAA Outdoor Championships.
When the weather became a bit warmer (in Eugene?) and the girls headed to Hayward Field everyday for practice, the atmosphere was still the same.
Theisen said, "We didn't all practice together, or didn't always practice at the same time, but when outdoor season came around, we always made an effort to do a team lap together everyday. When the majority of the team was out on the track on a warm afternoon, everyone cheered for one another and the atmosphere was very supportive."
They first gave the Hayward Faithful a team title at the inaugural Pac-12 Conference Championships. The Ducks would lead the entire meet and finish with 200.5 points. Stanford would finish way back in second with 123.5 points.
"I didn't imagine we would score 200 points, even in my wildest dreams," Lananna told
goducks.com
. "I hadn't anticipated that at all; I thought we would get around 170."
Hayward Field must have been a bit dusty because Ducks brought out their brooms and swept both the 200m and 800m. The Ducks also cleaned house in almost every event from the 100m to the pole vault.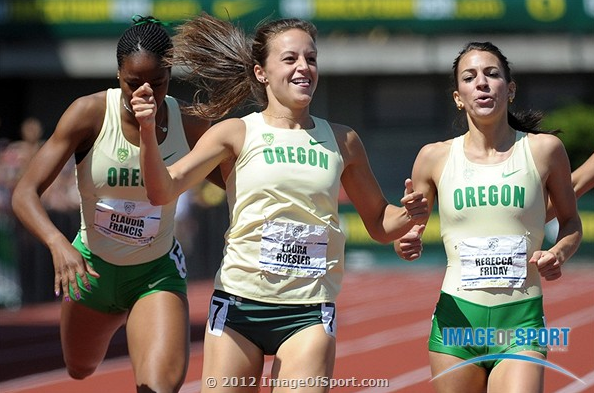 Results from their Pac-12 championship can be found
here
.
The Oregon women carried this momentum into the NCAA Outdoor Championships where even though they would score a school record of 62 points, they would fall short to LSU.
It wasn't that Oregon underperformed, it's just that LSU had a near perfect meet and finished with 76 points.
While Theisen lead the Ducks on the first day of the heptathlon, it was Allie Woodward who was the first to score points for the Ducks. Woodward finished fifth in the 10,000m in 32:56.94, which was the second-fastest time in Oregon history.
However, it's only apt that the majority of Oregon's points came from the relays. The team of Gardner, Chizoba Okodogbe, Laura Roesler, and Francis won a scintillating 4x400m in 3:24.54. That time wasn't just enough to take down LSU, but was the second-fastest time in collegiate history.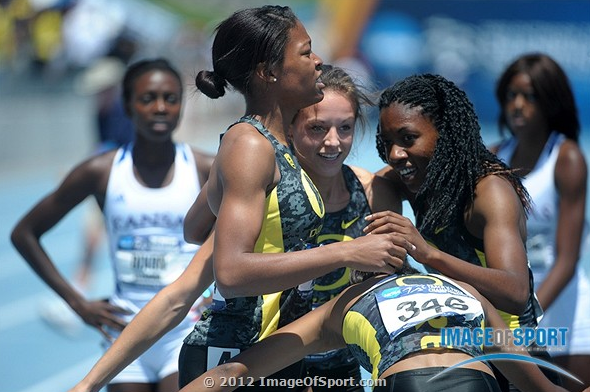 A lot of high school boys teams just took a moment.


There was more school history for Gardner. Earlier in the meet, the New Jersey native would become the first Duck to win a national title in the 100m.
The 4x100m, which again featured Francis and Gardner, plus Lauryn Newson and Amber Purvis, ran 43.58 to finish fourth.
The team effort wasn't just confined to relays, but spread across all disciplines.

Theisen won her third NCAA heptathlon title, which was good for the 2nd best points total of all-time). In the 800m, Roesler and Kesselring would finish four-five to score nine valuable points. Melanie Thompson finished sixth in the steeplechase, but it came with some support.
Theisen, who said, "I am not the type of person who is a cheerleader... I saw myself more as someone who was there as a support if anyone needed me, and just wanted to do my job of scoring points for the team."
With the national championship on the line and every point counting, Theisen "shout[ed] her on
while awaiting the start
of the heptathlon 800m." If anyone ever needed support, it's at the end of a grueling 3000m steeplechase where every place mattered.
Thompson's sixth place finish was the best-ever placing in the steeplechase by Oregon woman.
Hasay would once again be involved in a thrilling 1500m final, which saw her again finish third in 4:14.03 behind Katie Flood from Washington and Emily Infield of Georgetown.
Unfortunately, LSU had to vacate their title after senior sprinter Semoy Hackett tested positive for the banned stimulant Methylhexaneamine. The 2012 NCAA women's outdoor track and field title will remain unclaimed.
Ironically, by the time the information came out, they were poised to receive news about yet another delayed NCAA championship.
This time, it didn't take months, but only a few hysteria filled minutes.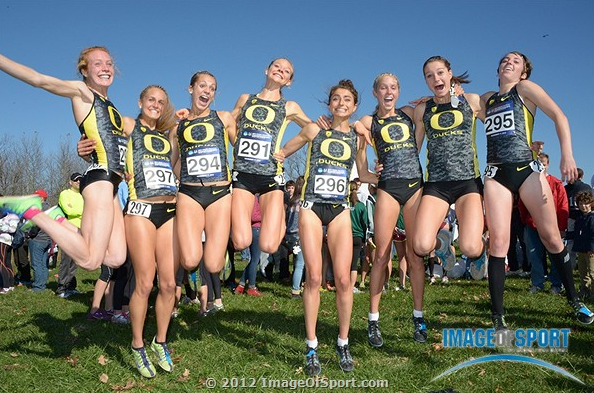 Followed by jumping.


It seems as it's a feat for a track team to come together. Sprinters and jumpers cheering for distance runners, that's unheard of! But cliches and stereotypes are not commonplace in Track Town, USA.
That's why it's not the biggest surprise that their cross country team is so close.
"In all honesty, I felt that every woman on the team brought something different and critical to the dynamic this fall." Powell explained, "We were successful because these women truly cared about how their performances impacted the collective effort. I feel really lucky to have been along for the ride with these ladies and I wouldn't trade a minute of it."
There are parallels between the composition of both the Ducks' track and field teams and their cross country team. If you look at their fall roster, not every girl is a pure distance runner. A large amount of the ladies are running out of their comfort zone and even still, only one of them had NCAA championship experience.
"This group was an interesting mix of milers, steeplechasers, 800m runners, and 5k/10k athletes and each of the women brought a different strength to the table." Powell added, "As a result, every woman was challenged by her teammates in some way and perhaps because this was normal in training, it was also normal for our lineup to shift around at meets."
When early race reports emerged from the Pac-12 championships, we were a bit surprised. Allie Woodward was up front and Hasay and Pappas were hanging back? What was going on at the Robinson Ranch Golf Course?
"Probably the most dramatic challenge we had was at the Pac-12 meet.  Jordan [Hasay] caught a nasty case of gastroenteritis that left her pretty sick on the starting line and really, really sick for about 4 days afterwards.  The women rallied around one another in a way that can't be taught," Powell explained.
"Allie [Woodward] got out front and was determined to shake up the form chart and get a low stick.  Alexi [Pappas] ran side by side with Jordan the entire race and talked her through it.  Jordan could have easily bailed at any point and instead made a charge for the win over the last 400m.  Sarah [Penney], Annie, and Katie [Conlon] each knew exactly how many people she had to pass in the last 800m and executed well.  Abbey ended up as sick as Jordan later that afternoon and had her best race to date."
Oregon's win made them one of the favorites to win the NCAA Cross Country title, which would have been their first cross country national championship in 25 years.
There was also one other Duck vying for a first: Hasay was trying to become the first female Foot Locker champion to win an NCAA individual cross country title.
In a finish that mirrored the thrill from 2011, Hasay would be outkicked by champion Betsy Saina from Iowa State and Abbey D'Agostino from Dartmouth. Upset about her individual effort, Hasay regained herself as she said that would have rather of won the team title than the individual one. She would be rewarded, but not immediately.
The next hour was more intense than the race itself. Yelling and commotion ensued as the live results showed different results that omitted runners from some of the top teams. When the official results finally came out, Providence had been declared the winner.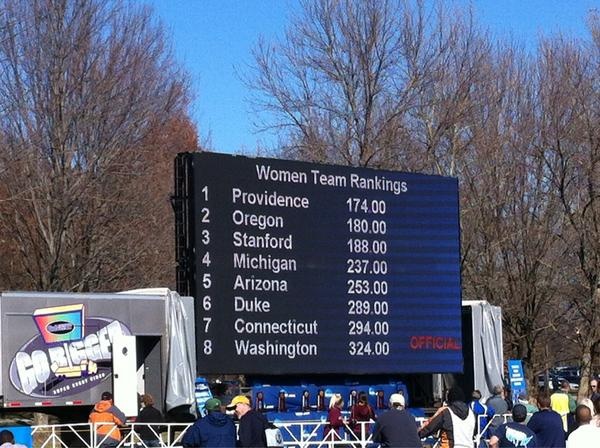 So, that happened.
However, after the protest period ended, it was found (and obvious) that the chips from some of the Oregon runners had not be picked up by the timing mats. After some quick math and apologies, the Oregon women sprinted back from "
being knee deep in baked goods
" to huddle around the finish area and accept their national title.
In the end, the best team in Louisville raised the national title. Even though there's an asterisk next to the outdoor title, the women of Oregon were absolutely dominant throughout the entire year.
Afterwards, Powell said, "These women had as much fun running mile repeats as they did winning the NCAAs. They completely bought into the process of improving every week and they were present in every step along the way. On race day, the Ducks were trying to be a little better than they were last week [and] that was the mantra all year."
In the most simple form, you could determine team of the year by adding up each of a team's places from the three national championships and whoever has the least amount of "points" is declared the winner.
That's why the USTFCCCA's Terry Crawford Program of the Year award is one of the only unbiased awards in a sea of postseason subjectivity. The Oregon women scored an award record low eight points (5th in 2011 cross country, 1st in indoor, and 2nd in outdoor) to win over Stanford (29.5 points) and Washington (35 points).
It's one thing for a team to have a heroic season, but it's another to leave a legacy. The defending indoor and cross country champions will most certainly have a target on their back as the indoor season starts to kick into gear.
"Cross country was a great kick off to the year but, as you know, Eugene is Tracktown. We've got the indoor season coming up, followed by the outdoor season, and the NCAA championships at Hayward Field.  We've got a group of seniors who haven't yet lost an indoor NCAA meet, so defending that title will be the priority over the coming months.  The outdoor season, however, will be the primary focus of the year so we'll make decisions regarding the indoor season as they best suit us over the long haul."

If this year is anything like the last one, the Oregon women will be back as the best team in the NCAA.