Event Hub
Fighting Irish Getting Help From Track Stars Heading Into National Championship
In just a matter of days, Alabama and Notre Dame are set to face off in the college football national championship down in Miami. While the two are storied powerhouses in college football, some Fighting Irish track athletes are also contributors to the football team's current success. 

Under Brian Kelly, Notre Dame has done a good job of bringing aboard versatile recruits that can play multiple sports. Although many times it may not translate as well as expected, football speed has been kind to the Fighting Irish from the likes of running backs to cornerbacks. 

First alphabetically on the Notre Dame track and field roster is George Atkinson III (Running Back). Last year, he participated in six of Notre Dame's meets during the indoor and outdoor season. Most recently, he is Brian Kelly's third option at running back. 

With 59 carries, he's collected 361 yards for five touchdowns on the season. His best game came in Chicago, when the Fighting Irish routed Miami 41-3. Atkinson III rushed for 123 yards with one touchdown to show for the night. 

His talents should be on display in February, when the Fighting Irish host the classic Meyo Invitational. 

This is a team that won the Big East Indoor and Outdoor Conference Championships. During the indoor season Atkinson III earned All-Big East honors in the 200-meter dash, where he was third (21.47) at the conference championship.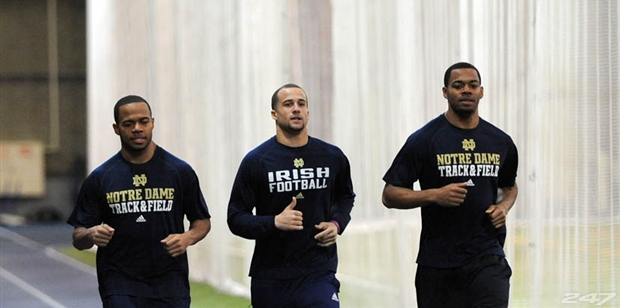 Left to right: Josh Atkinson (CB), Bennett Jackson (CB), and George Atkinson III (RB). 

Atkinson comes from a football family, where his dad won a Super Bowl with the Oakland Raiders. GAIII is not alone on the team as his twin brother, Josh (Cornerback), also ran track in 2011-2012. He was on the same outdoor 4x100-meter relay that finished fourth at the Big East Championship. He finished just ahead of his brother in the 100-meter dash (10.39) as he placed fourth. 

Bennett Jackson (Cornerback) was a high hurdler and sprinter at Raritan High School in New Jersey. He only participated in indoor track for the Fighting Irish in 2011-2012. He qualified for the Big East Championship in the 60-meter hurdles and finished sixth overall. He had nine tackles against Michigan on September 22nd, six of which were unassisted. Add to that line, he intercepted Denard Robinson, who once claimed he could content against Usain Bolt in a race. 

Now those are the only three Fighting Irish players that were listed on the 2012-2013 track roster, but there are a few freshmen that could join them this season:

KeiVarae Russell (Cornerback) ran track at Mariner High School in Everett, WA, where he was a standout running back.Last outdoor season, Russell ended his senior year with personal bests of 11.03 in the 100-meter, 22.12 in the 200-meter, and 50.86 in the only time he ran the 400-meter dash. 

Davonte' Neal (Wide Receiver) considered attending Arkansas and possibly could have played football and sprinting there. He held the fastest 200-meter time in his age group as a 15- and 16-year old. He qualified for the U.S. Track and Field Junior Olympics, but that's when his attention turned towards focusing on making his high school varsity football team. 

When schools were looking at him, they saw a player very much like Ted Ginn Jr. with his speed. In his freshman season, he has seen playing time as a punt returner. Heading into the national championship, he has 18 returns for 44 yards. 

Chris Brown (Wide Receiver) scored 34 points single-handedly at the South Carolina State track meet, which put him ahead of 22 schools at the meet. He won the triple jump as a junior and senior, while also claiming second place finishes in the 100-meter (10.81), 200-meter (21.6), and high jump. It is almost inevitable that he will be with the track team once the football season wraps up. Brown was the No. 1 nationally ranked triple jumper in his class and was a member of Team USA in the summer of 2011 at Junior Nationals. He was teammates with former Notre Dame commit Ronald Darby, who decided to attend Florida State and won the ACC Defensive Rookie of the Year award as a cornerback for the Seminoles. 

The chances of seeing Neal and Brown join Jackson and the Atkinsons on the track team seems very likely.

Another possible freshman jumper to keep a tab on would be CJ Prosise, who won the long jump at the Virginia Independent Schools Athletic Association. His personal best in indoor season was 22'4.00. He finished second in the 100-meter dash (10.99) at the same meet. 

Just to be clear, the names of these freshmen are not officially on the track roster yet. At the end of the season, the football coaches would most likely decide who will run track in the offseason. An updated roster should be up before the Meyo Invite. 

As for Alabama, looking at their track and football roster, last year's team did not have any football player double up with track. That is not saying that coach Nick Saban is against the idea. He did allow some of his players to run track, when he coached at LSU from 2000 to 2004. 

The Southeastern Conference is known for its killer speed and the Notre Dame defense will have a lot on their hands on Monday night regardless of whether or not some of Saban's players will see time on the track.