Event Hub
The Odd Couple, Meb and Puskedra Battle in Houston
The American contingent at the Houston Half-Marathon is a classic "Old School versus New School" battle. Despite their stark differences, the tale of the tape between the top two competitors says it all.

In this corner, the savvy and seasoned veteran Meb Keflezighi stands tall. The bastion of the old guard, Keflezighi always comes through in the clutch.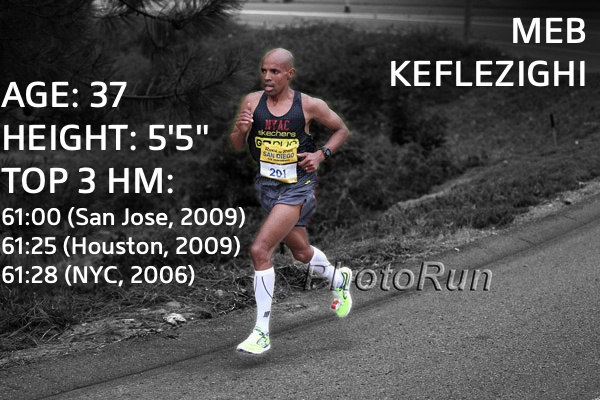 Ever since his 2004 Olympic marathon silver medal, we've been convinced that Father Time would force Meb to step down from his spot as the top American threat on the roads. We doubted him in NYC in 2009, the Olympic Trials in Houston one year ago, and at the Olympic Games this past summer.

When the man says something, it's not taken with a grain of salt, but with full faith. After the cancellation of the NYC marathon, he silenced an entire room full of elites with his impromptu and heartfelt speech.

Earlier this week, Meb told Competitor that he wanted to win the upcoming Boston Marathon. If you believe him, then he's going to have to be in incredible shape during his build-up. Then again, if you doubt this consummate professional, then we're not sure what to believe in the running world.

But Meb isn't the only American doing some talking before the gun goes off. Another American has made his intentions very clear and he stands tall, perhaps too tall, in the opposite corner.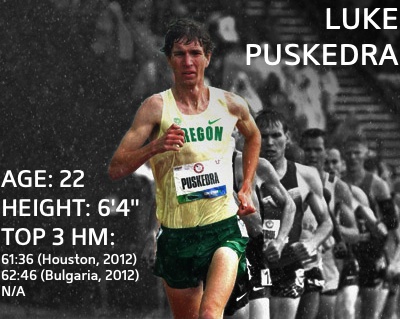 Luke Puskedra is everything Meb is not, with two exceptions. The young, tall, unsponsored, and unexperienced road racer told Runner's World that he hopes to break 1:01 this upcoming Sunday.

The first exception is that Puskedra also isn't afraid to make his goals known. In a Twilight Zone-esque period in American distance running, competitors are actually being bold in interviews and even still, backing up their talk with a little walk (or in this case, a lot of running).

The second exception is that even though Puskedra may not have the same level of experience as Meb, it doesn't mean his resume is any less impressive. Call it beginners luck, call it finding his niche, but Puskedra has found incredible success on the roads since leaving the University of Oregon.

In his first half-marathon, Puskedra posted his current personal best of 61:36.

Where did he run his first race? The same place that Meb ran 61:25 back in '09 - Houston, TX. Neither competitor is a stranger to the the southern hospitality offered by the quick Houston course.

It's as if when they reach the first mile marker at Houston, one will turn to the other and say, "We're not so different, you and I." They may not be able to work together towards netting the $50,000 jackpot for breaking the world record, but sparks will fly between the two this Sunday.

Flotrack will be in Houston this weekend and will have complete race footage of the men's half-marathon.