Event Hub
LIVE UPDATES: 2013 Men's Houston Half-Marathon
Men's Half-Marathon Quick Hits
2013 Chevron Houston Half-Marathon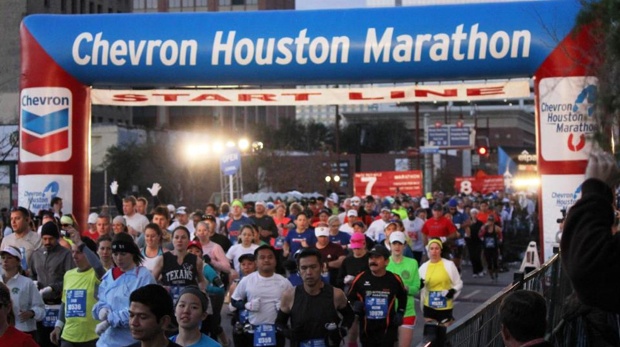 Marathon / Half-Marathon Schedule:
Men Start: 7:00am CST

Marathon Records:
World Record - 58:23 - Zersenay Tadese (ERI) 21 March 2010
Houston Record - 59:22 - Feyisa Lilesa (ETH) 15 January 2012
American Record - 59:43 - Ryan Hall (USA) 14 January 2007

The Favorites (non-Americans):
1. Feyisa Lilesa (ETH) - The defending champion and course record holder looks to make it two in a row in Houston. Lilesa crushed a 59:22 to win last year and ran 2:04:52 a few months ago at the Chicago Marathon.

2. Wilson Eurpe (KEN) - The once relatively unknown Eurpe look down other more accomplished Kenyans at the 2012 Seoul Marathon with his 2:05:37 course record win.

3. Deriba Merga (ETH) - It was hard to tell in the press conference, but Merga seems confident heading into the Half. Last year, he took 2nd at the NYC Half (59:48) and dropped out of the Dubai Marathon after going through the 13.1 miles in 1:02:21. His personal bests of 59:14 and 2:06:38 date back to '08.

Note: Atsedu Tesfaye will not compete. Unofficial reports indicate an issue with Tesfaye's management.

The Americans:
1. Luke Puskedra - This is his third half-marathon, but Cool Hand Luke has already run 61:36 and 62:46. He says that his workouts have been smooth, his mentality is different, and he's ready to dip under 61-minutes.

2. Aaron Braun - The 5th place finisher in the Olympic Trials 10,000m is making his half-marathon debut in Houston. The former Adams State, now McMillan Elite team member, had a "good" season last year where he finished 2nd at two national championships and posted a 27:41 personal best in the 10,000m. Most recently, Braun won the Manchester Road and tied the course record.

3. Ben True - Also flying under the radar and making his debut in the half-marathon is True. Braun and True share nearly identical personal bests, which makes it even more difficult when trying to guess who will finish in front of the other. Since Braun did beat True in the Olympic Trials 10,000m (plus he blogged and did an interview with us), we'll give him the nod. However, you can never count out the former Dartmouth standout.

Past Houston Marathon and Half-Marathon Results: http://flo.mx/V1QCMV


---

And we're underway in Houston! World record attempt on the cold Houston course? Which American will finish first?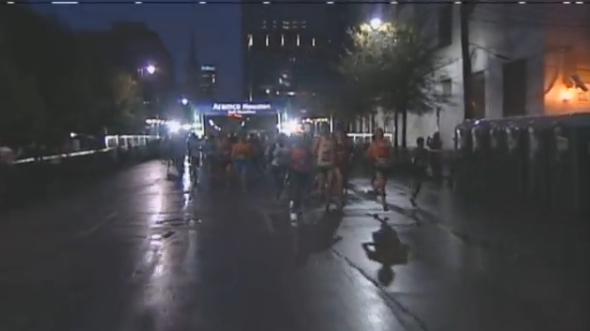 ---
Mile 1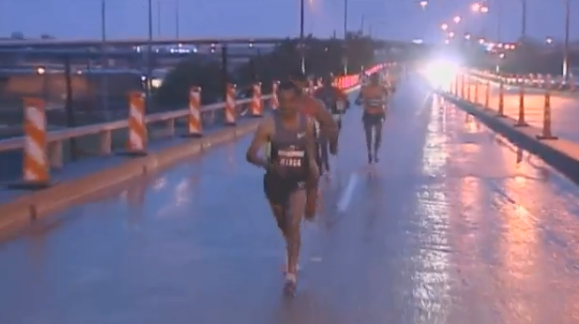 There was supposed to be a pacemaker for a world record attempt, but Deriba Merga is out by himself. Even though it's raining, they he still blitzed the first mile in 4:26. When Tadese set his record, he ran most of the race without rabbits. We'll see.

Split - 4:26
Pace - 58:04


---

Mile 2



Split - N/A
Pace - N/A

No split at 2-miles because there's no clock or announcer. It's Lilesa and Merge up front in these conditions. It looks like they're going for it because the gap between them and the chase pack.
 
---

Mile 3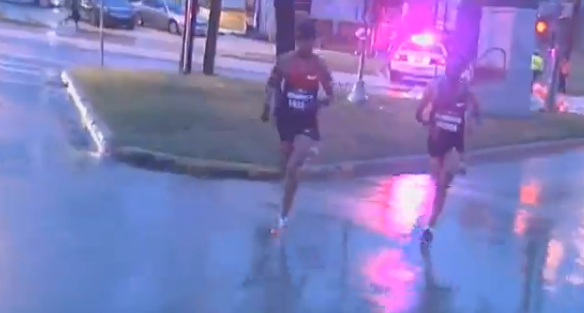 Split - 14:33 (5k split)
Pace - 61:29

The weather has taken a toll on the two Ethiopians as the pace has slowed. The top American right now, Aaron Braun, split 14:48 at 5k.



---

Mile 4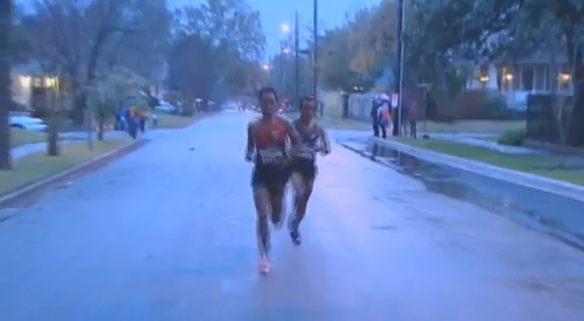 Split - 4:37
Pace - 60:41
Lilesa sheds his drenched hat as the two carry on. The pace has quickened a bit, which is commendable in the current conditions. No word yet on the American pack.
 
---
Mile 5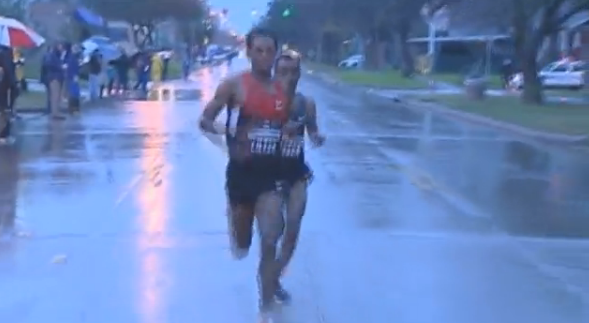 Split - 4:44
Pace - 25:26

Merga keeps trying to tuck behind the taller Lilesa, but Feyisa keeps swining a bit wide. It's going to be a lonely battle for the next 8 or so miles.

---

Mile 6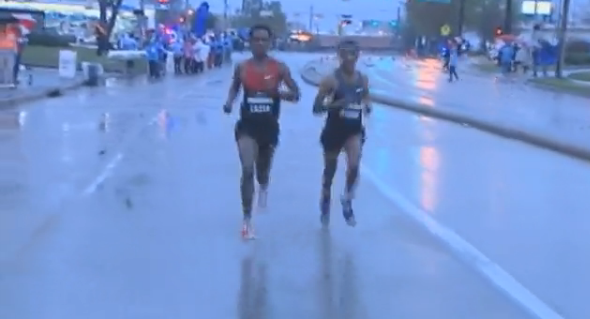 Split - 29:02
Pace - 61:20
It's going to be a battle for the cash prize for these two. Erupe is back in 29:20 and Aaron Braun is still the top American (29:32 split).

 
---
Mile 7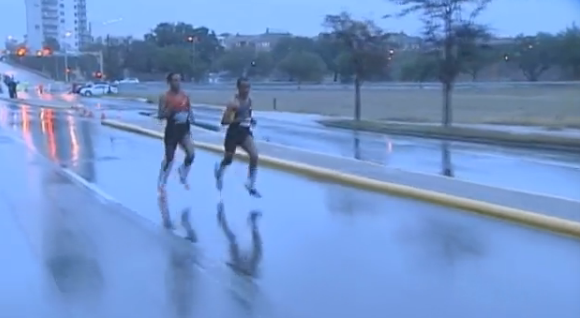 Split - 4:50 (32:52)
Pace - 61:30

How many times can we post the same picture (answer: Probably a few more times). Word in the media center is that a lot of Americans have dropped out. No one can find their splits and the only camera is on the lead pack. SOMEONE MAKE A PHONE CALL!

---

Mile 8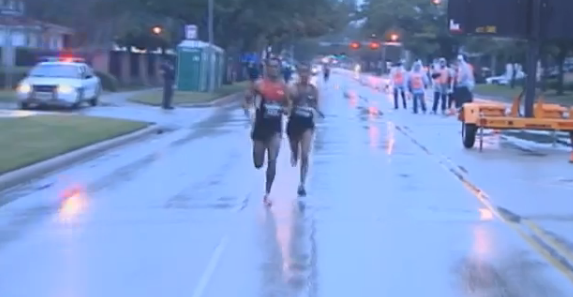 Split - 37:17
Pace - 61:03

If we posted the same picture twice, would anyone notice? The two still lead over Eurpe, who is roughly 20-seconds back.
 
---
Mile 9
Split - 42:06
Pace - 

---

Mile 10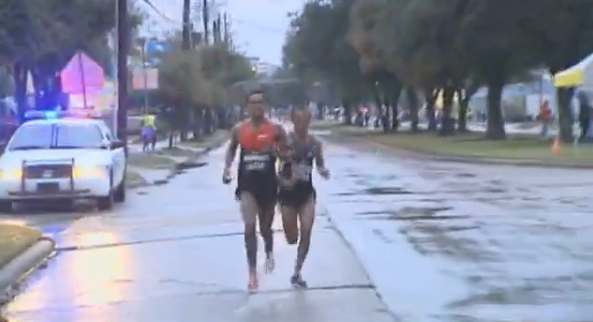 Split - 46:52
Pace - 61:23
Still nothing on the Americans. At this point, we might as well just wait until the race is over to find out.
---
Mile 11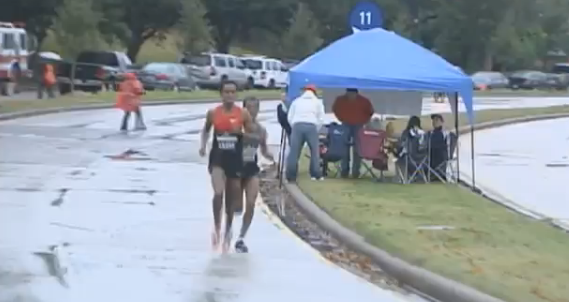 Split - 51:47 (4:49 split)
Pace - 61:40

Not much more real estate in this race and Merga is still sitting in Lilesa's pocket.


---

Mile 12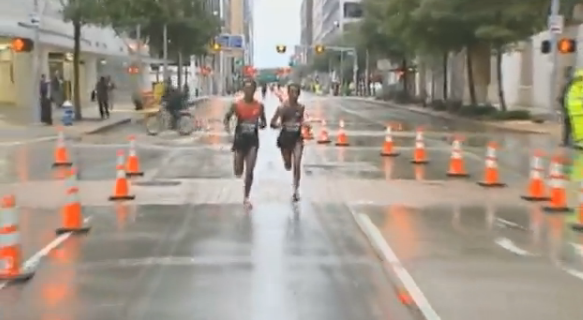 Split - 
Pace - 

---
Finish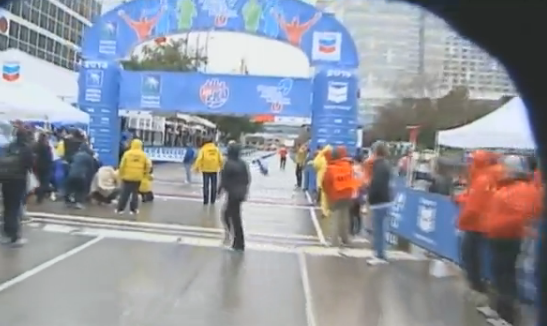 FINISH - 61:52

Lilesa pulls away FTW in 61:52. Not quite his 59:22 from last year, but a win is a win, right? Merga second, Eurpe third, and Shadrack Biwott was the top American in 4th (62:22). The former Oregon Duck was followed by Luke Puskedra in 62:22 and Braun faded to finish 62:51.