Event Hub
LIVE on Flotrack Pro: BU Terrier Invitational and New Balance Games
Watch the BU Terrier Invitational LIVE

The Boston Terrier Invitational   
Boston University | Boston, Massachusetts   
1/25/2013 - 1/26/2013
Watch the New Balance Games LIVE
New Balance Games
The Armory | New York, New York
1/26/2013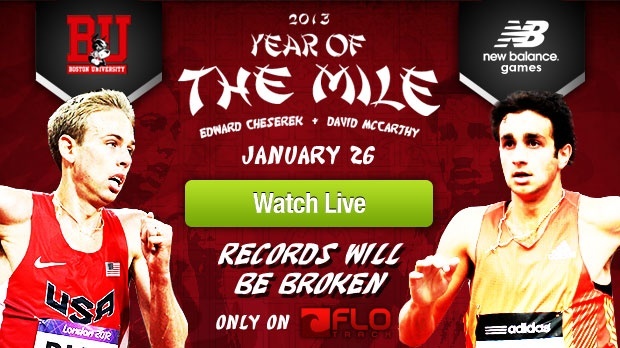 ---

Boston University Terrier Invitational
Boston, Massachusetts
January 25th and 26th, 2013
The BU Terrier Invitational is the place where dreams of sub-4 miles come true.
Broadcasting live for two days from Boston University, Flotrack will bring one of the fastest races in U.S. right to your computer. Last year, four athletes broke four minutes in the mile at this meet. This year, there are twice as many guys whose personal best is already below that mark… and one Olympic silver medalist who is looking to run the American record.
The initial start list includes sub-4 milers Galen Rupp (3:51.87), David McCarthy (3:55.75), Rich Peters (3:57.83), Riley Masters (3:58.17), Eric Jenkins (3:59.18), and Tim Ritchie (3:58.49).
Flotrack is proud to be able to bring family members, friends, and fans the ability to watch their children, friends, and heroes under our Flotrack Pro format. Sign up for Flotrack Pro today to watch some of the best track and field 
---

New Balance Games
New York, New York
January 26th, 2013

Over the years, the Armory has been home to numerous American records from the sprints to the distances. The New Balance Games is the first major event at the legendary cathedral in New York, New York and records will be broken. Both the high school boys' and girls' mile high school records look to go down, plus the expectation of U.S. number one marks.

The New Balances Games will feature the top high schoolers in the nation shooting for national leading times, four Millrose Games Mile automatic qualifiers, and high school indoor records.



Flotrack is proud to be able to bring family members, friends, and fans the ability to watch these athletes under our Flotrack Pro format. Sign up for Flotrack Pro today to watch some of the best track and field