Event Hub
SH*T HITS THE FAN - The Final Nine Meters, Vol. 2
The mile took center stage this past weekend. The performances of Galen Rupp and Mary Cain were phenomenal and won't soon be forgotten, but let's not overlook some of the strong mile races by collegiates. 
A total of 12 men broke four minutes, half of which took place in the remarkable Razorback Invitational mile on the fast Tyson Indoor Center oval. Patrick Casey of Oklahoma set an NCAA-leading time of 3:56.28, over three seconds better than his previous PR set two years ago. 
But what really stood out from the race was the fact that four men from Oklahoma State broke four minutes. That's right, FOUR. Tom Farrell, 3:58.20. Kirubel Erassa, 3:58.24. Fabian Clarkson, 3:59.47. Shane Moskowitz, 3:59.48.

We've asked around and so far haven't found another instance when four teammates have ever run sub-four in the same race. It's a real testament to the great work Dave Smith is doing down in Stillwater. The Cowboys are definitely not just a cross country program anymore.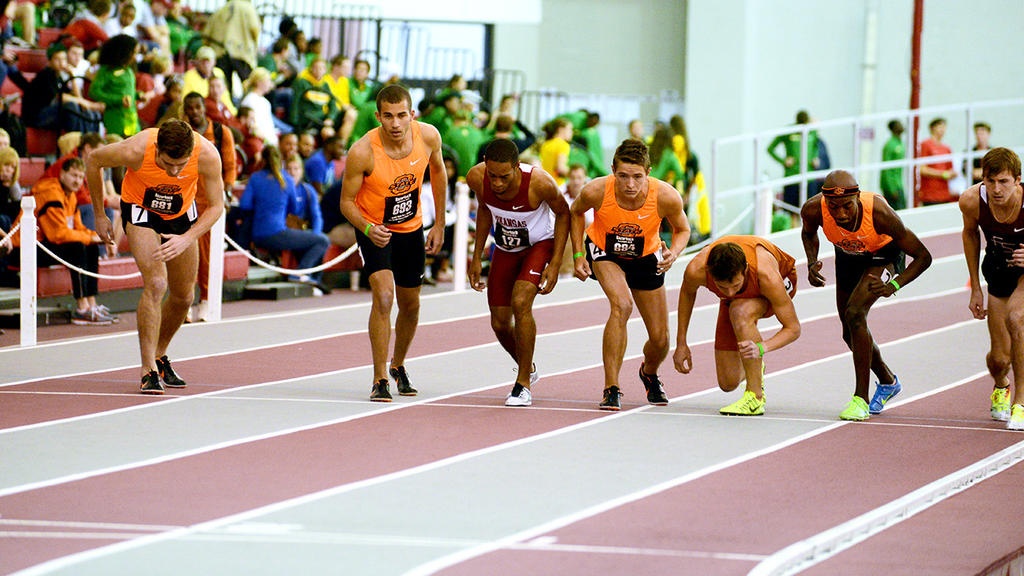 Cowboys lining up in Fayetteville
A few other notes of interest from the weekend:
In the midst of the madness of the BU Terrier Classic, Iona's Matt Gillespie couldn't even get in the fast heat with Rupp et al. but still managed to run a solo 3:58.55. No word on how long he rolled on the ground in agony afterwards.
NCAA cross country champ Kennedy Kithuka broke four for the first time, running 3:59.53 at the Texas A&M Mondo Challenge. Not bad for a guy who claims to not have much speed.
Kithuka's rival from cross country Lawi Lalang busted a solo 7:42.79 3k in Fayetteville. He's entered in the Millrose Games mile in three weeks where Matt Centrowitz will be aiming for a sub-3:50 time. If Lawi can hang with Centro, he will have a great shot at Miles Batty's collegiate record of 3:54.54.
Amanda Winslow of Florida State won a fast mile at (guess where?) Arkansas in 4:33.22, the #2 time in the NCAA so far this season. Abbey D'Agostino is the national leader, but if she opts not to contest the mile at nationals, the race should be wide open with Winslow a contender to win.
The Meyo Invite at Notre Dame and Armory Colleigate Invitational are the two meets to keep an eye on this weekend. Also, the Camel City Indoor Mile will feature a couple top collegiates though Ryan Hill has withdrawn having opted for the Millrose mile.