Event Hub
Stockholm 3000m Preview - Galen in Galan
He's been close, he's been challenged, but he hasn't had competition like this in a while. Galen Rupp will once again dabble in the 3000m, but American records will be an afterthought.
For Rupp, victory is anything but guaranteed in Stockholm. The field at the IAAF XL-Galan includes four East Africans (and one Azerbaijani) who could very well snatch another victory from the clutches of the Olympic silver medalist.

Galen Rupp, USA
Here's @luguelinsantos working out in Stockholm as @g_rupp cools down between sets @trackalerts @flotrack @spikesmag twitter.com/sprint_mgmt/st…

-- Kris Mychasiw (@sprint_mgmt) February 19, 2013

Ranked atop the world mile list and a close second in the 3000m, Rupp has a had a superb indoor campaign. After a weakened field lead to the cancelation of the 5000m in Birmingham, Rupp quickly decided to race elsewhere.
He unfortunately didn't select Millrose, but XL-Galan is the next best choice. The non-race in Birmingham has left Rupp without yearning for two things - an American record and an international win.
Again, both will be hard to come by in Stockholm. While we can't speak of the exact pace, one of the rabbits (Vincent Rono) took the Ghent 3000m field through the mile in quick 4:01.
How does the pace fair for Rupp? Actually, pretty well. When he went through the first mile in Boston, he was at 4:02.51. While he did fade over the later stages of that race, it wasn't anything too hot for him to hold onto.


But the pace isn't the issue, it's his competitors. Let's take a look at the five men who will be in the hunt for the win.

First, we look at the Dusseldorf 3000m.

Caleb Ndiku, KEN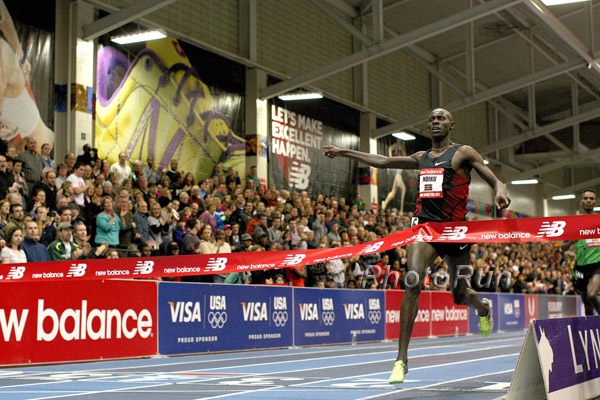 Rupp's main challenger will be the former World Junior 1500m champion, Caleb Ndiku. In his only indoor race this reason, Ndiku won the 3000m in Dusseldorf in 7:38.77.

He's also more than familiar at the distance; last year, Ndiku ran 7:35.42 indoors and 7:30.99 outdoors.

Ndiku's resume has speedy personal bests of 3:32.02 (1500m), 3:49.77 (mile), and 3:52.66 (indoor mile). If he's close at the bell, Rupp may be in hot water.
Albert Rop, KEN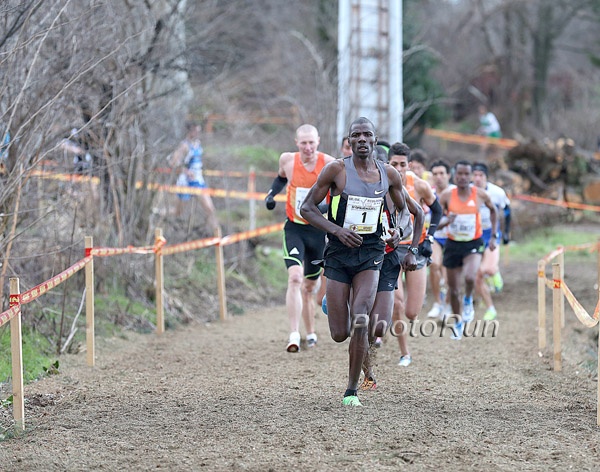 We'll then travel not too far west to Ghent, Belium and the IAAF Flanders Indoor Meeting. The winner in Ghent, Albert Rop (7:39.59), is the next in line for the potential crown. While he took the win the race above, Rop had to settle for second behind Ndiku in Dusseldorf.

The weird thing about that race? It was only two days after Ghent.
Things get a bit more peculiar as Rop wasn't done with his European adventure. Perhaps he is enamored with running the 3k with short rest because two days after Ghent, he took third at the Val-de-Reuil in 7:41.53.

But more on Val-de-Reuil in a bit.
Paul Koech, KEN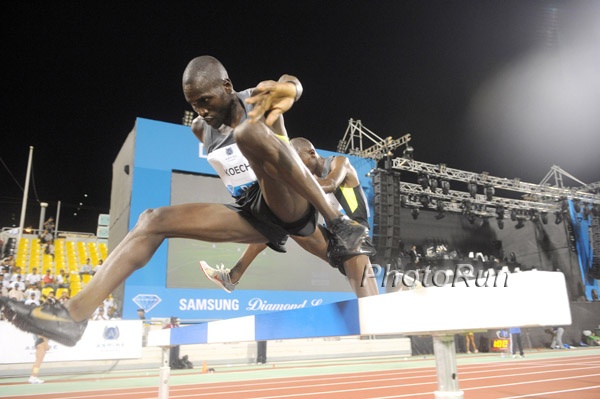 The third-fastest 3000m steeplechaser of all-time, Paul Koech, took second behind Rop in Ghent in 7:39.75. Although him and Rop slowed after the rabbit dropped out in Belgium, his personal bests indicate that there was more in the tank.
Even though it's only a hair faster, a seasonal best is still a seasonal best. Only two days later at the Val-de-Reuil, Koech took the win in the 3k in 7:38.61.
Stockholm has been fairly kind to Koech as his indoor 3k personal best of 7:32.78 was set at the XL-Galan two years ago.
Hayle Ibrahimov, AZE
In this short game of connect the dots, the last big contender in this upcoming race took second to Koech in the Val-de-Reuil 3000m. Even though he took second, Azerbaijan's Hayle Ibrahimov 7:39.79 finish was an indoor personal best.


Aman Wote, ETH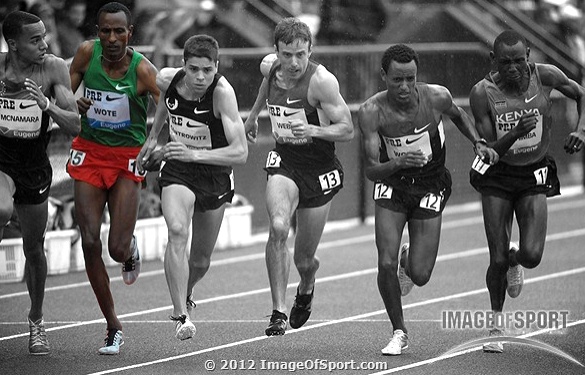 A dark horse of sorts that could make this race interesting is Ethiopia's Aman Wote. In the past, his bread and butter has been the mile (3:53.02), but a move up to the double distance could kick things up a notch.

Wote is also in phenomenal shape after posting a personal best (indoor or outdoor) in the 1500m of 3:35.31 earlier this month in Moskva.

Here's the rest of the XL-Galan 3000m field:


Benson Seurei KEN (pace)
Vincent Rono KEN (pace)

Whether he wants the record or the win, Rupp will have his hands full in Stockholm. He's tried to break two American records this indoor season, but is the third time the charm for Galen?