Event Hub
The Breakdown of Eric Jenkins' Disqualification
Before we recap the historic doubles by Arizona's Lawi Lalang and Dartmouth's Abbey D'Agostino, the NCAA indoor 4x400m record set by the Arkansas men to put an exclamation point on their team title, or talk about how the Oregon women scrapped for every point to win their fourth consecutive consecutive title (the repeat is for a reason, but more on that later), we'll take a look at what has a lot Twitter and message board users fired up.

Eric Jenkins' disqualification in the men's 3000m.

Flotrack feels like due to this disqualification, Jenkins' run may go unnoticed. If Jenkins were to pursue post-collegiate running, shoe companies and agents would be unaware of the mark and his ability as the result no longer exists. Officially, 7:46.21 is the third fastest all-time for an American (if you don't count Ryan Hill's oversized 7:43.08) and ninth fastest individual in collegiate history.

Jenkins has now run faster than the following NCAA athletes: Joe Falcon (7:46.42, Arkansas), Bernard Lagat (7:46.45, Washington State), Chris Derrick (7:46.81, Stanford), and German Fernandez (7:47.97 oversized, Oklahoma State).

The only two Americans ahead of Jenkins on the all-time collegiate list are Galen Rupp (Oregon) and Adam Goucher (Colorado), who ran 7:44.69 in 2009 and 7:46.03 in 1998, respectively.

Jenkins talks to Flotrack before finding out that he was DQ'd

After talking it over with the guys at Letsrun.com, I think we can agree that #FreeJenkins may unfortunately be in vain.

While we can't post any highlight videos from the meet, we'll break down those three seconds that moved Jenkins from second to not even in the results.

At the bell in the men's 3000m, Jenkins tries to move inside. We're not sure why he was trying to slide into lane one with a clear opening on the outside, but it's a moot point. We're primarily concerned (maybe too much) with what happened next.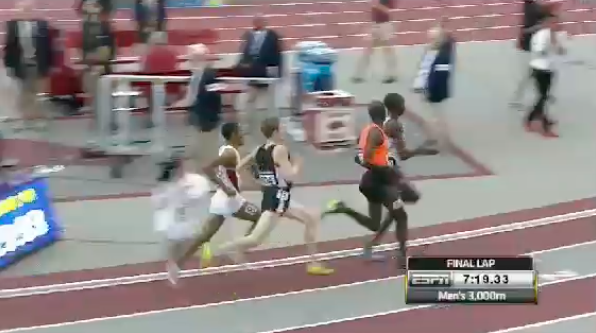 Jenkins tries to move inside and Arkansas' Kemoy Campbell gives him a nudge with his right arm. It's natural as 
Campbell was protecting his space.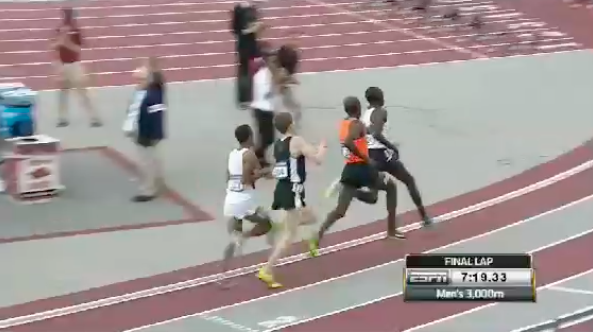 This bump causes Jenkins to lose some balance. The awkward momentum forces him to extend his hand to find some stability, which just so happens to land on Oklahoma State's Kirubel Erassa's back.




This is where everything becomes incriminating. Jenkins then tugs on Erassa's jersey, which pulled him backwards ever so slightly.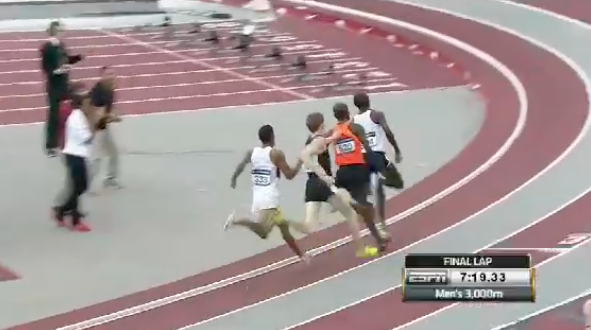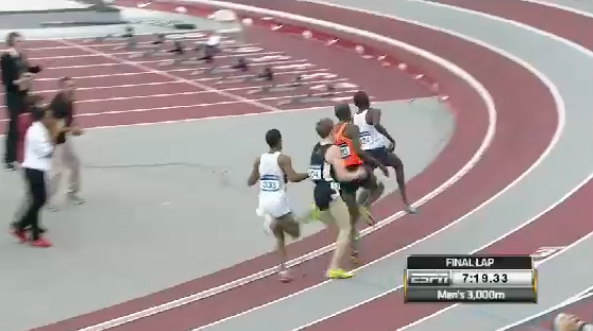 In the next few strides, everything seems fine as Jenkins swings outside and Erassa takes two more steps. But the loss of momentum caused Erassa to slow down, which was bad news for Campbell, who was still in full stride.

One could argue that Erassa wasn't impeded, but the next chain of events wouldn't have happened without the initial jersey grab by Jenkins.

Campbell's right foot catches Erassa's heel, which causes the actual tumble that was seen on ESPN3.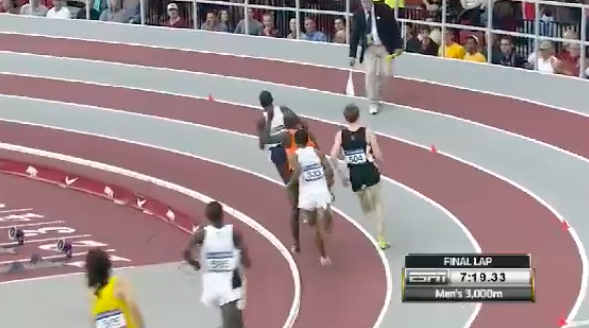 Erassa recovers to finish fourth*, Campbell scored valuable points for the Razorbacks with his third* place finish, and Jenkins gave Lalang a scare as he charged home for second*.

Northeastern and Jenkins filed an appeal, but it was denied. We know that some good-natured coaches helped write it and since we're not sure if we can publish their names or not, they're currently omitted. Who says NCAA coaches don't have good hearts?

I've seen athletes disqualified for much worse. I've seen athletes not disqualified for much worse.

It wasn't dirty, but if you're going by the book, then it's a DQ. It's unfortunate for Jenkins because he not only has had a stellar season, but he was our Under the Radar pick for the men's 3000m.

For a guy who only started running his senior year, second* place at nationals is something special.

Whether his name is in the results or not, the NCAA can't take away the fact that Eric Jenkins is a contender. He's no longer under the radar, he's the one everyone should be watching.
Men 3000 Meter Run
=========================================================================
 Final only.  Two waterfall start, two turn stagger.  (11,5)
    American: A 7:32.43  2/17/2007   Bernard Lagat                             
  Collegiate: C 7:38.59  2/14/2004   Alistair Cragg, Arkansas                  
   NCAA Meet: M 7:46.03  3/14/1998   Adam Goucher, Colorado                    
    Facility: F 7:38.30  2/14/2004   Boaz Cheboiywo, Kenya                     
    Name                    Year School                  Seed     Finals 
=========================================================================
  1   324 Lawi Lalang         JR Arizona              7:42.79    7:45.94M 
  2   333 Kemoy Campbell      JR Arkansas             7:53.61    7:46.95  
  3   520 Kirubel Erassa      JR Oklahoma Sta         7:50.92    7:49.17  
  4   505 Diego Estrada       SR Northern Ari         7:50.44    7:49.53  
  5   585 Henry Lelei         SR Texas A&M            7:47.91    7:49.80  
  6   429 Andrew Bayer        SR Indiana              7:51.75    7:51.51  
  7   624 William Mulherin    SR Virginia Tec         7:52.54    7:55.08  
  8   433 Zachary Mayhew      SR Indiana              7:51.61    7:55.14  
  9   591 Kennedy Kithuka     SR Texas Tech           7:50.26    7:56.28  
 10   634 Maverick Darling    SR Wisconsin            7:50.97    7:58.43  
 11   501 Ryan Hill           SR North Caroli         7:49.20    8:00.44  
 12   603 Anthony Rotich      SO UTEP                 7:53.43    8:03.76  
 13   521 Thomas Farrell      SR Oklahoma Sta         7:51.77    8:04.14  
 14   376 Aric VanHalen       SR Colorado             7:53.74    8:05.85  
 15   328 Nick Happe          JR Arizona Stat         7:52.18    8:14.46  
 --   504 Eric Jenkins        JR Northeastern         7:50.44         DQ   Impeeded
Jenkins' Splits:
31.34 (31.34)
1:03.15 (31.82)
1:35.41 (32.26)
2:07.72 (32.32)
2:38.61 (30.89)
3:10.24 (31.63)
3:41.63 (31.40)
4:13.14 (31.52)
4:44.26 (31.12)
5:15.77 (31.52)
5:47.36 (31.59)
6:18.77 (31.41)
6:49.74 (30.98)
7:19.53 (29.79)
7:46.21 (26.69)
Lalang's Splits
30.91 (30.91)
1:02.38 (31.47)
1:34.94 (32.57)
2:07.00 (32.06)
2:38.23 (31.24)
3:09.54 (31.32)
3:41.39 (31.85)
4:12.68 (31.30)
4:43.99 (31.32)
5:15.47 (31.48)
5:46.88 (31.41)
6:18.32 (31.45)
6:49.27 (30.95)
7:19.35 (30.08)
7:45.94 (26.60)
Erassa's Splits:
31.23 (31.23)
1:02.95 (31.73)
1:35.63 (32.68)
2:07.98 (32.35)
2:39.08 (31.11)
3:10.60 (31.52)
3:41.93 (31.33)
4:13.74 (31.82)
4:44.82 (31.08)
5:16.01 (31.20)
5:47.64 (31.63)
6:19.02 (31.38)
6:49.50 (30.48)
7:19.38 (29.88)
7:49.17 (29.80)
Update: Sunday 6:15pm CT
Eric Jenkins' teammates have started a campaign on twitter to #FREEJENKINS. James Hall (
@jameshall23
) tweeted out this picture so show their support.