Event Hub
Payton Jordan Men's 5k Preview: Stacked is an Understatement
Men's 5000m (Section 1) - 4/28 @ 8:50pm PT
Enter our Men's 5k prediction contest here.  Watch Payton Jordan LIVE here.  

This is a race that needs no introduction. Even with a few scratches, the men's 5000m field at Payton Jordan is still loaded.


| | | |
| --- | --- | --- |
| Name | Team | PR |
| George-Byron Alex | Unattached | 13:35 (thanks Kevin Jones) |
| Sam Chelanga | OTC | 13:09.67 (Eugene, '12) |
| Paul Chelimo | Unc-Greensbo | 13:21.89 (Palo Alto, '12) |
| Bobby Curtis | Hansons-Broo | 13:18.97 (France, '10) |
| Maverick Darling | Wisconsin | 13:36.65i (College Station, '11) |
| Chris Derrick (rabbit) | Nike/Aurum | 13:12.00i (New York, '13) |
| Diego Estrada | Northern Ari | 13:26.94 (Palo Alto, '11) |
| Arne Gabius | Unattached | 13:13.43 (Oslo, '12) |
| José Mauricio González Gonzá | Colombia | 13:32.44 (Walnut, '13) |
| Garrett Heath | Saucony/Auru | 13:27.07 (Palo Alto, '12) |
| Dan Huling | nike | 13:24.72 (Walnut, '10) |
| Evan Jager | nike | 13:22.18 (Eugene, '09) |
| Eric Jenkins | Northeastern | 14:04.56i (Boston, '12) |
| Leonard Korir | Global Sport | 13:19.54i (New York, '12) |
| David McCarthy | Unattached | 13:42.11 (Walnut, '09) |
| Hassan Mead | OTC | 13:28.45 (Palo Alto, '09) |
| Girma Mecheso | Oklahoma Sta | 13:34.83 (Palo Alto, '12) |
| Byron Piedra | Ecuador | 13:23.72 (Belgium, '12) |
| Zane Robertson | Unattached | 13:58.37 (Chiba, '11) |
| Jeff See | Saucony | 13:40.96 (Raleigh, '13) |
| Chris Solinsky | nike | 12:55.53 (Stockholm, '10) |
| Ben True | Saucony | 13:20.53 (Belgium, '12) |
| Aldo Vega | Unattached | 13:39.37 (Palo Alto, '12) |
| Alan Webb | nike | 13:10.86 (Germany, '05) |

We could write individual pieces on almost everyone listed above. Where to begin?

The Old School

Alan Webb
Oh. Oh wow. It's been a while, huh. Compared to his normal race schedule from the last few seasons, Webb has been very quiet this year. Except for some road races in September, he's been behind closed doors.

Back in January, Ryan Fenton did a three-part Skype with Webb when no one really knew what was going on with his training. Where was he? Who was he training under?

Our speculation was confirmed when Webb told Flotrack that he had indeed made the move to Portland to train with the Schumacher group. It seemed like a good fit for someone who had generally been a "lone wolf" for the majority of his career.

The only other peep we've heard of him since then was in this excellent piece by Matt McCue for Competitor Magazine. McCue catches us with Webb, but also gives us some small insight to his training with one of the best distance groups in the U.S.

We've provided a small excerpt below. There's much more to Webb (the piece is aptly titled "Alan Webb 2.0" and if you have time, you should check it out).

Although he was hindered a bit by some nagging pain and soreness over the winter, Webb has so far been able to keep pace with Schumacher's stacked group. "He brings a rare intensity to each session, so he is always ready to work hard," says Solinsky. "We have had to remind him that we do not try to hit home runs everyday in workouts like the hard and fast workouts milers do regularly, rather we try to consistently put the ball in play and keep men on base. The baseball analogy aside, he has since gotten used to our medium hits for workouts rather then real hard sessions.

We honestly have no idea what he's going to run. I won't even tell you what I thought he was going to run for 5000m at the Olympic Trials because it's borderline embarrassing. This is definitely the sort of thing we let the community decide.
Chris Solinsky
A hearty welcome back should be in order for Chris Solinsky, too. Even though he's run some summer road races, the former American 10,000m record holder hasn't stepped on the track since 2011. This winter, Solinsky finally returned to competition with a 8:05.38 win at the University of Washington.

While Webb is an unknown unknown, Solinsky is known unknown. Follow?

While we have no idea what to expect out of Webb, we know that Solinsky isn't going to run something beyond our wildest dreams. Following his win in Washington, McCue spoke to Solinsky about his comeback. Solinsky explained that, "the theme for the year is to build momentum and if I can do that week to week I'm on the right track."

We also don't know what Solinsky will run. The last time we were in the dark for him was at Payton Jordan, when he ran 26:59.60.

Since we didn't put out a guess for Webb, I'll say a conservative 13:40 for Solinsky.

The New School
No school like the new school, right? We'll start with the young guns.

The collegians in the field who have run under 13:40 includes Paul Chelimo (UNC-Greensboro), Maverick Darling (Wisconsin), Diego Estrada (NAU), and Girma Mecheso (Oklahoma State).

The only other collegian is also the slowest of the field. On paper.

Northeastern's Eric Jenkins will make the coast-to-coast trip and looks to drop his modest 5000m personal best of 14:04.56i. Before Flotrack went to the pre-Boston Marathon press conference, we woke up bright and early to catch a strong workout from Jenkins and the Northeastern distance crew.

After running 7:46.21*, we're sure that Jenkins can run between 13:20 - 13:30. Hopefully he'll make full use of the "Jenkins Glove" (patent pending) so that he'll actually be in the results this time. Confused? Then watch his Workout Wednesday.

The Schumacher Boys Run Another 5k All Together

The group that trains together, races together. The former OTC crew ran an invite only 5000m at the Armory this winter and look to once again work together this spring.

The other "Rip City TC" (not their actual name, but it should be considered) in the field includes Evan Jager, Chris Derrick, and new addition, Dan Huling. Rather than forget to count laps, Lopez Lomong just forgot about Payton Jordan all together this year as he already has his "A" standard and indoor American record from the Columbia Final Qualifying Meet.

The other three that are absent from the Payton Jordan 5k includes Elliot Heath, Matt Tegenkamp, Andrew Bumbalough (who's in the 10k), and the ever-absent German Fernandez.

Imagine a race with all of them?

Since his move from Reebok to Nike, Huling has been biding his time. Huling's only indoor mark comes from when he rabbited the crew during the aforementioned indoor meet at the Armory, where he ran 7:53.46 for 3000m.

It won't be Huling that'll be on pacing duty, but his teammate.


@flotrack @cderrickrun Derrick will be rabbiting the 5000. #PaytonJordan

-- Dan Lilot (@Lilot1TrackMind) April 26, 2013
The always informative Dan Lilot, everyone.

That leaves Jager. This indoor season, Jager has been fairly fearless in his racing, which has produced mixed results. At the Millrose Games, he hung with the eventual winner Bernard Lagat, but the wheels started to come off with two laps to go. Still, he hung on to run 8:14.95, which was good for fourth.

When he traveled with the group back to the Armory, we thought he had a legitimate shot at running the "A" standard in the 5k. However, Jager had an off day and faded over the latter stages of the race to run 13:33.37. It's the 12th fastest American indoor 5k mark of all-time, but it was still a bit disappointing.

Before his switch to the 3000m steeplechase (which was probably a good choice; yes this is sarcastic), Jager was primarily a 5000m guy. It'll be interesting to see what happens if he has a good day.

Speaking of the old OTC glory days, remember this scene?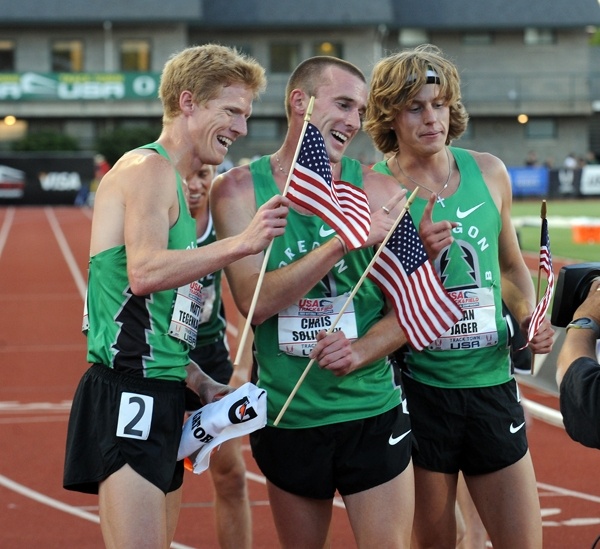 That Includes, Well, Everyone Else
So with an already star-studded field, the quality will start to dwindle, right? Wrong.

We still have OTC's Sam Chelanga, who is coming off a strong half-marathon personal best from New York (61:26).

Then there's the new recruit in the Hanson-Brooks group, Bobby Curtis. After moving up to longer distances, it's good to see Curtis drop back down to his bread and butter from his days at Villanova (anyone remember when he won the NCAA outdoor 5k?).

While Garrett Heath's indoor season consisted of a 3k in Boston (7:53.37) and a mile in New York (3:55.55), he's coming off a good tactical victory in the USA 1 Mile Road Championships. He ran his 5k personal best last year at Stanford.

Side note: Why is a U.S. Championship race on a Tuesday? Just seems odd.

Hassan Mead has had a quiet outdoor season back in Eugene. In March, he ran 7:58.43 for 3000m and then in April, he clocked a speedy personal best in the 1500m (3:41.03).

His 5k personal best (13:28.45) is from the '09 Payton Jordan race where he kicked down Jager, Derrick, and Fernandez en route to the win. Hopefully he can channel some of that nostalgia this Sunday.

David McCarthy is hopefully looking to go sub-13:30, Jeff See is coming off a new 5000m PR from the Raleigh Relays, Leonard Korir also ran the NYC Half in fine fashion (61:19), and Girma Mecheso had a solid showing at NCAA Indoors.

But there's one guy in the field who has been hyped up as of late and deserves every bit of praise. Ben True lead Team USA at World XC and then came to Mt. SAC to run the fastest time of the day in the 1500m.

A jack of all trades, a master of distance running.

He already has the IAAF "A" standard from finishing in the top fifteen at World XC, so we assume he's running the 5k because it's his second love.

Only a handful of people picked Ben True to win our Running Warehouse Prediction Contest at Mt. SAC. How many will pick him to win this Sunday?
The non-Americans are Legitimate
They may not be household names, but watch out for the guys who are making the trip from all of the corners of the world to soak in the Stanford magic.

The guy with the second fastest PR of the field, Arne Gabius had an impressive 2012. Last year, the European Championship silver medalist set personal records in the 3000m, two miles, 5000m, 8000m, and 10k (road).

There's also Ecuador's Byron Piedra, who took third last week at Mt. SAC in 13:28.81.
The Scratches
OSU's Tom Farrell and Nike's Cam Levins are the big scratches. Farrell missing out is disappointing not just because we love to see him at Payton Jordan, but because he's in a tough spot. Last year at Payton Jordan, Farrell took fifth in 13:15.31, which was the Olympic "A" standard.

The standard this year? 13:15. Woof.

If he wants to represent Great Britain (and maybe make the cover of Athletics magazine again), he'll have to find another fast 5k.

It also would have been great to see Levins in the mix. Levins' recent partnership with coach Alberto Salazar may not have an immediate impact, but like Farrell, it's exciting to see Levins at Payton Jordan. Last year, he pulled away from OTC's Sam Chelanga to win the thrilling 10,000m in 27:27.96.

There's also a subtle divide between the Salazar and Schumacher camps. While the majority of the Schumacher boys are at Payton Jordan, we'd venture to guess we'll see some of Salazar's crew at the Oxy High Performance Meet.

It'll be hard to avoid one another, especially at the U.S. Outdoor Championships (except for Levins and Mo Farah, obviously).
Prediction
This one is tough. There's a lot of "guarantees" being thrown around the Flotrack office, but it could really be anyone. I think the better question is how many "A" standards will be run?

We'll put the over/under at three.