Event Hub
New Kid On The Block: Who is Eli Krahn?
Eli Krahn, of Stillwater, MN has just set the freshman national record for 1600 meters, running 4:09.38 on June 8th at the Minnesota State Meet.  He's the new kid on the block, but who is Eli Krahn? 

He comes from a high school that has a history of strong distance running.  In the late '90s, the Stillwater Cross Country team was so good, they were selected by USA Today/Harrier poll as the No. 1 team in the country and were given the nickname, "The magnificent seven." 

Justin Britton was able to interview Krahn and give us a better insight about the next up and coming star in high school distance running.


---
Justin Britton: Who is Eli Krahn and how did you get involved in running?


Eli Krahn:  Well I'm Eli Krahn. I'm a gangly freshman at Stillwater Junior High (moving up to the high school for sophomore year next year) who has spent his whole life living in eastern Minnesota with his mom, dad, and siblings (older sister, older brother, and younger brother). Neither of my older siblings or parents ran in high school, but they encouraged me to join cross-country in 7th grade cause I had always done well in school at running and so I decided to try it. I did pretty well, not the best, but I got a taste for the sport and that winter when my friend convinced me to join a half marathon I decided running was my sport and quit club soccer to run.

I really started running when I bought a Runner's World half marathon training guide and followed it religiously until I set the 7th grade school record in the mile in 4:53 and later ran a 1:40 half-marathon (on a different day). That sucked so much that I then gave up all marathoning aspirations and decided I would be a miler. The next year in 8th grade I ran for the high school XC team and you have all the times from there.
JB: In 8th grade you ran 4:26 and now you've dropped down to 4:09 as a freshman, what's helped the most in that jump?
EK: The thing that has helped me the most in my jump was the incredible senior class we had this year. We had Wayde Hall, who won the state XC title and ran 4:10 and 9:06; Eric Colvin, who qualified as an individual for NXN and ran 4:15 and 9:03; and Sean Bjork, who is a 1:54 800 guy and 4:20 miler. Working out with these guys everyday made all the difference because it really meant that everyday was taken to the max, rain or shine, and if you didn't bring your best you were getting dropped.

As an eighth grader I wasn't good enough to compete with them in workouts but over the winter I worked hard and once the season started I found I was able to push myself with these guys every day and it made all the difference in my training improvement.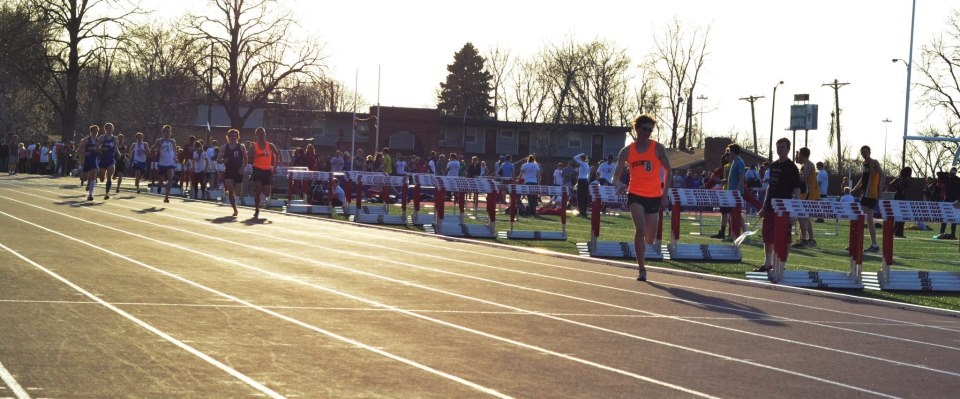 Photo: Eli Krahn

JB: You're now the freshman national record holder for 1600m after you ran 4:09.38 to win the MN State Meet.  You also ran 8:58.67 to place 2nd for 3200m. After running those marks, is Elliot Heath's 8:42.81 3200 State Record & Rob Finnertys' 1600 3:59.70 state record on your mind?
EK: I've thought about those but only as targets to aim for moving down the road towards junior and senior year. Right now, my real goal is to keep my work ethic up and just keep shaving off seconds because I don't think they'll come as easily now. I just have to keep my head up and slog on and mentally.

I've already shifted to cross country because our team will be going for the third straight title and we're going to need every point.




JB: The 2013 season finished and you're on a team that won the cross country state meet as well as having a strong distance squad on the track. With you (8:58.67), Eric Colvin (9:03.86) and Wayde Hall (9:06.71), how much have they been a factor in how well you've ran this year? 
EK: Like I said earlier I think that it made all the difference in my times having those incredible guys to work with everyday. You couldn't slack off in the slightest when those guys were around and it really challenged us all to move up to the next level of competition.

It also helped prepare us for the brutal type of competition in racing because yes, racing was allowed in the workouts and especially in the last rep of each interval workout, which our coach lovingly refers to as the "Widow Maker" because it may possibly kill us in its everything-you-got-to-the-end all out sprint to try and beat each other.
JB: I broke down your progression over the your last two outdoor seasons:
2012                (8th grade)
May 1              10:28.19 3200m
May 4             10:03.59 3200m
May 8             4:36.44 1600m 
May 18           9:53.75 3200m 
May 24          4:26.84 1600m
2013                 (9th grade)
March 30      4:25.86 1600m
April 26         4:18.59 1600m
April 30        2:02.69 800m
May 18            4:14.76 1600m
May 23           9:08.64 3200m
May 30           4:16.96 & 9:11.50 double
June 7/8       4:09.38 & 8:58.67 (2nd best by a frosh, behind only Lukas Verzbicas)
You're on a hell of a roll, what's the secret behind the success of Eli Krahn? 
EK: The secret to success is my coach, Scott Christensen. He's a man who knows what he's doing out there and we just show up everyday and run what he tells us and we push each other and it seems to work out. He makes plans a long way down the road and makes sure that we're set to win when the big competitions come. He's seen enough and knows more than  any of us possibly could and applies that knowledge to improving every member of the team.

There's an article about our training HERE.
JB: Do you participate in any other sports other than cross country / track & field?
EK: I used to ski, but when cross country goes into December with NXN and Footlocker (neither of which I made last year, but I'm leaving my schedule open this year) and track training takes priority, I think I may have to be done with skiing as well as anything other than low impact cross training. But I play a lot of outdoor stuff with my neighbors during the summer like capture the flag, pick up basketball, soccer, and a lot of boot hockey in the winter.
JB: How is it training through the winter in Minnesota? How layered up do you have to get when you run outside? 
EK: Generally if I have to go anything past tights and a long sleeve top, I go down to the treadmill in my basement. This year, we had snow until mid-April and couldn't workout on the track until long after the season started. It really limited what we could do as a team, but our coach was creative in making up workouts to make sure that we got what we needed to improve. Lots of road work outs as substitutes. 
JB: Ben Blankenship, current Oregon Track Club Elite / Nike athlete & former Minnesota Golden Gopher ran at your high school. Does that motivate you that a professional runner attended Stillwater?
EK: Yeah, I mean my eighth grade year of XC he came back and was our assistant coach and it was really cool for all of us because he's a sub-4 miler. It's just cool to be able to say, "I know that guy!" when we see him in the big pro races.

The alumni are great because we have 3 other sub-4 guys and sometimes they'll come back and run a workout with us. That's a lot of fun to do with some of these big names who are normally just names and times, but now these guys are actually flesh and blood (and crazy fast). It motivates us to try and join that Stillwater Legacy.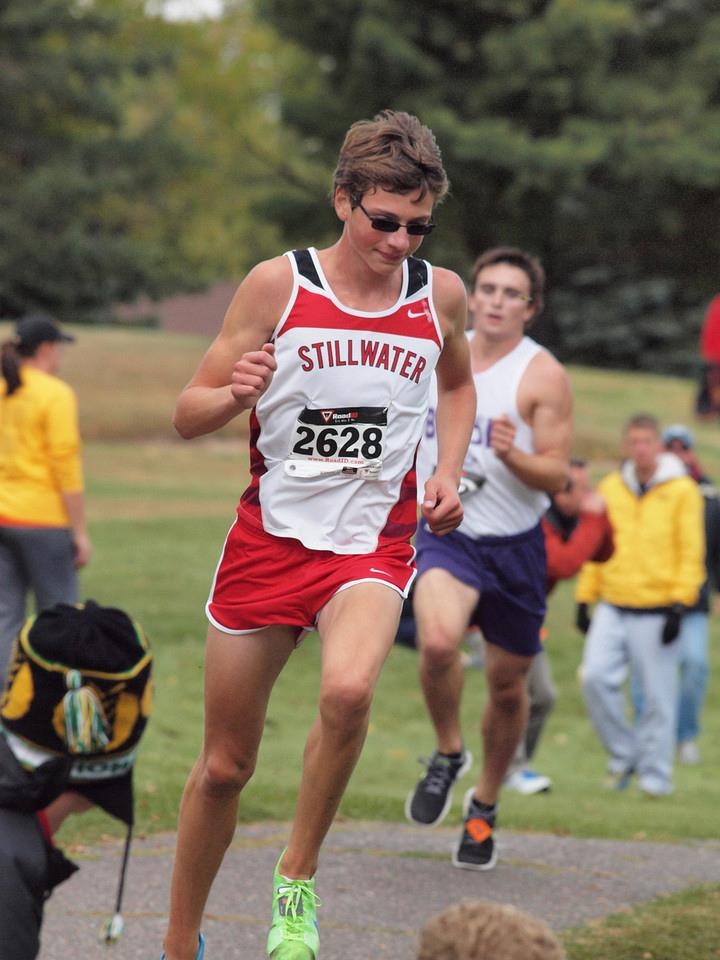 Running Aside 
JB: What's your favorite movie? 
EK: Favorite movie has got to be Inception, cause Leonardo Dicaprio is so awesome.
JB: What's your favorite type of cereal?
EK: Quaker Oatmeal Squares. We always have at least three boxes open all over the house and I just munch on them as I walk around. 
JB: What do you do in your free time?
EK: Well my friends told me to make up a crazy hobby, like collecting teeth, but really my running and school along with getting to bed early for both take up most of my time and the rest of it is filled with hanging out with said friends, like Sam Hanson.
JB: Do you have a nickname?
EK: Well, there is some confusion here because my legal name is David Elias Krahn and my nickname really is Eli, but that's what I go by on everything and no one any where calls me David.

Most of my other nicknames stem from the fact that no one at meets can pronounce my name so Crayon is a popular one because that's how most people say Krahn. Just to let you know its Krahn like rhymes with brawn and Shaun. 
EK: And one last thing, I made a bet with my friend (Sam Hanson) before the mile race that if I won state he would have to wear a tie with rubber ducks on it to anything formal for a year and I told my other friends I would mention it in here somewhere so there was no chance he could try and back out of it because now it would be online forever. So is there a chance you could slip that little story into there somehow? It would make our week.

Justin Britton