Event Hub
The Chase is on for Tara Erdmann, Part Two
The chase concludes July 19th in Portland, OR. We'll finally know who's on the World Championship team. It's about time.

Who: Tara Erdmann
What: The Chase for 10k A Standard (31:45.0)
When: 9:30pm PT (race starts at 9:45pm PT)
Where: Jesuit High School, Portland, OR
Why: Really? To make it to the World Championship Team
How: Watch live on Flotrack Pro

Tara Erdmann will take her shot at the IAAF "A" standard in the 10k so that she can join Shalane Flanagan and teammate Jordan Hasay in Moscow for the World Championships.

If Erdmann, like Hasay, runs the "B," it that won't be enough. The fourth place finisher from the U.S. Championships, Amy Hastings, will go because she has the "A" from last year. The U.S. can send two "As" and one "B."

Editor's Note: We like that Erdmann is running on July 19th and not the next day. The window to chase the standard closes on July 20th. Is it like that the old college deadline where you can hand in a project at 11:59pm on July 20th and it'd still be accepted that day? Or do you have to run it before that date?

If so, is the time the window closes the Monaco local time? That's where the IAAF headquarters is located and it's also conveniently the location of Friday's Diamond League meeting.

Back to Erdmann. Both her and her coach Alberto Salazar seem confident that she can run sub-31:45.

"[Hasay and I] know we're both fit another to hit the 'A' standard, we don't really want to run faster than what we need to," Erdmann told Flotrack last week. "I think we're in better shape than the 'A' standard, but this isn't the race that we're peaking for, so we're just trying to get by the standard and leave it at that."



The original plan was for both Hasay and Erdmann to race together. However, a slight achilles injury left Erdmann not on the track, but on the infield cheering for Hasay as the former Oregon star took her own shot at the mark.

Hasay missed the "A" by nearly one second. Heartbreaking to come so close after 25 laps, but there's a silver lining to this chase.

"Now it's up to Tara," Salazar said shortly after Hasay's atttempt. "Tara's going to have to get out there and get that 'A.' She's capable of doing it. We'll close this door behind us and move forward."

The solo attempt generated some discussion about the concept of The Chase. What would have happened if the Oregon Project members ran together? They certainly could have pushed one another.

But The Chase isn't about the fans. It's an event with extraordinary circumstances. In past years, there hasn't been a "chase" because the window to run the IAAF qualifier is closed at the end of the U.S. Championships. That's why races, such as Kim Conley's dramatic 5k finish at the '12 Olympic Trials and Amy Yoder-Begley's win in the 10k at the '08 Trials, were so appealing. Mind you, those races were against competitors, not teammates.

This year, athletes are were permitted nearly an extra month to run specific times.


---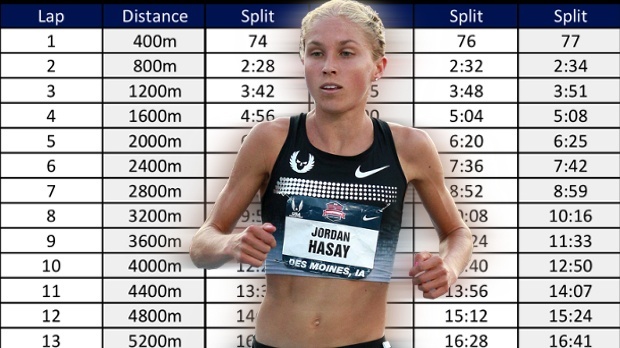 Pace Charts for Erdmann's 10k: We made this Hasay, but by some
fortunate series of events, it still applies for Friday night.


---

Where else could Hasay and Erdmann run a competitive 10k? In 2013, only 15 women in the world have run under 31:45 for the 10k. Nine of those marks came from Ostrava, which was seven days after the race in Des Moines. Plus, there's only one American woman (Shalane Flanagan) in that group. It's tough to scrap together a legitimate race.


Could Salazar have waited to run Hasay and Erdmann together? Probably. But that decision is based on information that only the coach and athlete possess (still, it's a good debate).

Yes, with the changing dates and venue, it's not super fan-friendly. But that's not why it's not for the fans. Two teammates have one shot to make their first World Championship team. They should put themselves first, not the fans. We're just here to cheer, spectate, wait, and cheer again if they make it to Moscow.

That's why Flotrack will to return to Portland, OR and broadcast the second half of The Chase. You can watch Erdmann go up against the clock Friday, July 19th.

The race will occur some time between 9:00pm - 10:00pm AST. Alberto Salazar Time? Alberto Standard Time? I'd just be home (the times are actually in Pacific).

It's also some form of poetic justice that Erdmann will be alone Friday night. She's been overshadowed all year by her more high-profile teammates and now, it's just her.

Erdmann's Oregon Project 2013 Racing Schedule

| | | | | |
| --- | --- | --- | --- | --- |
| Meet | Distance | Time | Place | Prominent Billing |
| UW | 3k | 9:02.96 | 2nd | Mary Cain (1st) |
| Boston | 3k | 9:39.48 | 5th | Mary Cain (3rd) |
| Oxy HP | 5k | 15:47.41 | 7th | Treniere Moser (2nd) |
| Portland | 5k | 15:42.39 | 4th | Moser (2nd), Cain (6th) |
| USAs | 10k | 32:24.16 | 3rd | Jordan Hasay (2nd) |

To be fair, all of those races except one were under-distance for Erdmann. "I love the 10k," she said. "I was running a lot of 3s and 5s, where it's not really my race and I'm a lot more confident in the 10k. So when I was on the line in Des Moines, I knew I could get top three."

When we've made predictions for those races, we didn't think that Erdmann could beat any of her teammates. Now we're full of confidence and picking her to run the "A." Why is that?

"I was kind of hurt after indoors. I had to take an unexpected six weeks or so, basically completely off," she said. "I was doing everything in the pool. I couldn't even run on the Alter-G, so I was just aqua jogging and stuff."

"Finally when I started running, Alberto and I kind of had to do an accelerated crash-course training plan to get ready."

Now she's back to full-strength and come Friday evening, she'll have the Portland spotlights (both literally and metaphorically) shining right on her.

"In her solo debut, Tara Erdmann will release a studio album with the number one hit single, The Portland Roughrider 10k Chase, Part Deux." - Alex Lohr