Event Hub
Symmonds and Solomon will medal in Moscow, but in what order?
One of them has the fastest time in the world this year and the other has beaten him two times in 2013. Can Duane Solomon and Nick Symmonds both medal at the IAAF World Championships in the iconic two-lap race?
Last summer at the London Olympics, they placed 4th and 5th in the 800m final with absolutely stunning performances that had both of them leaving the Games with personal records. It was so astonishing, that Beijing and London Olympic announcer and Moscow World Champs broadcaster, Ato Bolden said, "The 800m was my favorite event of the entire Olympics." That says a lot coming from a sprit analyst and 4-time Olympic medalist in the 100m and 200m.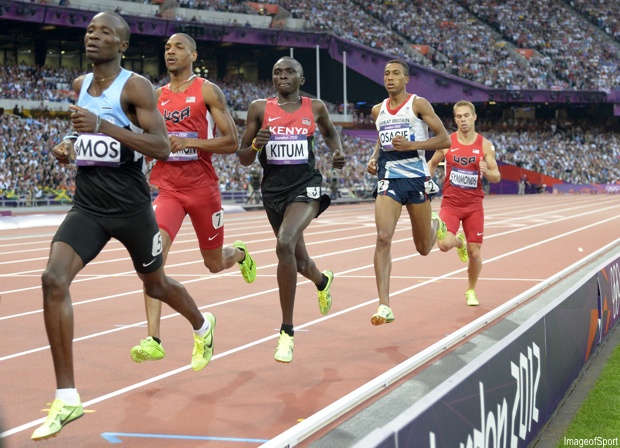 Olympic 800m Final


Despite how incredible the 800m was in London, things won't look the same one year later. The Kenyans, David Rudisha (absolutely untouchable last year) and Timothy Kitum who captured the Olympic gold and bronze medals in 2012 respectively, will not be competing in Moscow.
Nineteen-year-old silver medalist, Nigel Amos of Botswana (the first Olympic medal for Botswana) also will not compete in Moscow due to an injury.
That leaves the American duo as the top returners from the Olympic Games. But just as quickly as someone can be off the podium one year, new medalists can step in.
Enter Mohamed Aman of Ethiopia. In 2012, he broke 1:44.00 on seven separate occasions. Solomon, Symmonds and the third American to compete in Moscow, Brandon Johnson, have each only broken 1:44.00 twice this year.
Although Aman consistently ran really well last year, when it came down to the most important race of his life... he dropped the ball (sixth place). If Aman replicates his championship fiasco from last year, one of the Americans will have a much better shot at gold.
One the other hand, if Ethiopia's finest half-miler learned from whatever went wrong in London, he is dangerous, mainly because he knows how to win.

Aman has raced ten times in 2013. One indoor 600m race, an outdoor Distance Medley Relay and eight 800m races. He has won every single race except for the Diamond League 800m in Doha. In comes the irony. The one who beat him was David Rudisha and since Rudisha is out of Moscow due to an injury, the last time anyone in the Moscow 800m field beat Aman, was in the London Olympics.

At the Prefontaine Classic, he defeated a star-studded field including both Symmonds and Solomon on June 1st. Five days later, Aman won the Rome Diamond League Meeting as Solomon came in eighth. Three days after Rome, Solomon was much closer to Aman but still fell short to a second place finish.

 


Solomon has fallen to Aman three times this season, is there hope for the man with the best American finish in an Olympic 800m since his coach, Johnny Gray (1992)? Yes. Here is why . . .
Solomon has raced a lot. Many people may think that could hurt him down the road, but for Solomon, it has given him confidence.
Going into the U.S. Championships, the Saucony sponsored athlete ran four 800m races that season (not including RE:Run Sand Diego because it was not IAAF certified). While he only came out victorious in one of those races (the only non-international one), he lowered his season's best time each race.
Solomon then advanced through the two strategic semi-final rounds in Des Moines and busted out a world-leading time in the final to beat Nick Symmonds and be crowned the National Champion. He's taken care of business when it counted.

His next few races he remained competitive, with a fast 1:43.72 win in Monaco followed by a lose to Symmonds in Edmonton by .05 seconds and again in London by .45 seconds.
Aman has just been demolishing everyone he comes across all season. As dominant as he has been this year, he looked equally incredible last year. In the 2012 outdoor season, he ran ten 800s and only lost two, one of those being the Olympics.

So, I pose the question again, will Aman run out of gas come time for the 800m final in Moscow?
Even if he does continue in his incredible form, there are two medal spots to be filled. The only other person who is a legitimate threat to the break up the American tandem has to be Ayanleh Souleiman of Djibouti.

We have not heard the official report if he is completing the 800m/1500m double in Moscow. If he is and the 1,500m is run before the 800m then the Americans inch that much closer a top the medal stand.

This morning, the heat sheets for the 800m were released and Souleiman will double in the 800m and 1500m. He's mainly a metric miler, but he has incredible speed as seen by his 1:43.63 winning time at the Folksm Grand Prix. That's the third fastest 800m in the world and only his second 800m race all season.

We haven't even mentioned Brandon Johnson's chances though. He definitely is not projected to beat Symmonds or Solomon, but maybe this is the time he steps out of the shadows of the other top Americans and he beats one of them.

It is too outlandish to say there will be a USA sweep in this event, but don't be surprised if you see two American flags raised at the men's 800m medal ceremony. If so, that would double the amount of 800m medals the USA has ever won at an IAAF World Championship. 

Flotrack Prediction

Symmonds over Solomon, but what color are their medals? Symmonds gets gold, Aman is in an American 800m sandwich as Solomon grabs bronze.