Event Hub
Usain Bolt Returns to 100-Meter Glory in Moscow
MOSCOW -- At the 2011 IAAF World Championships in Daegu, Usain Bolt drew lane five for the 100-meter final. The world record holder was denied his second 100-meter world title as he false started and was disqualified. On Sunday evening, he redeemed himself. Bolt won the gold medal at the 2013 World Championships in Moscow in 9.77 seconds.

In his usually playful character, Bolt improvised an umbrella before the thousands of fans in lane five of Luzhniki Stadium. Two years later, there would be no false start. 

Under the rainy conditions, Bolt didn't get out to a great start, which is atypical of him. American Justin Gatlin did the opposite.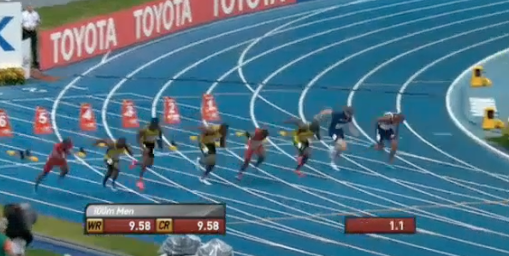 Gatlin led Bolt for more than half of the race and looked to repeat his race in Rome, where he upset the Olympic champion.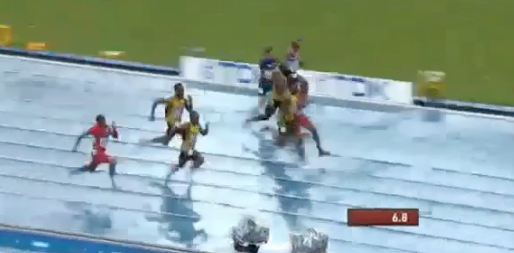 With less than five meters to go until the finish line, Bolt found himself in front but not without a charging Gatlin on his tail. The .08 second margin of victory was the smallest in a World Championship or Olympic final for Bolt, just another sign of him not running in top shape yet still winning in 2013.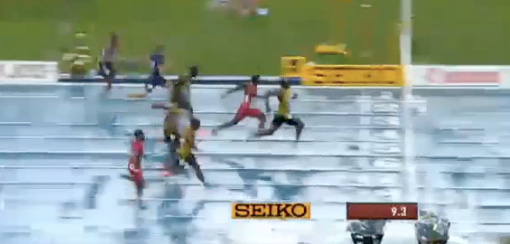 Bolt backed up his claim from Saturday, where he told Flotrack that the biggest battle would be for second place. 

"I'm never worried. I've got the greatest coach in the world in Glen Mills," Bolt said, "I think in the past four season's I've been hurt before championships, but he always finds a way. He knows my body. He knows what I'm capable of. He knows how to push me and how to work me, so for me it was great and I was always confident coming in."

Bolt's time of 9.77 is the fastest time of 2013 by an athlete that did not test positive for any performance enhancing drug on the year. Gatlin's 9.77 puts him at the second position on the worlds list. Nesta Carter placed third with his 9.95, which was slower than his 9.87 in Madrid on July 13.

The rest of the Jamaican contingent of Kemar Bailey-Cole (9.98) and Nickel Ashmeade (9.98) in the race would all finish before the next American. Mike Rodgers took sixth in 10.04 after exchanging a look with Bolt at the finish of the semifinal round.

Bolt now has six world titles and six Olympic gold medals to his name and that's all before he even steps on the track to try and add another two more gold medals in the men's 200-meter dash and men's 4x100-meter relay. The heats of the 200-meter dash will begin on Friday, August 16. Bolt will have four days to rest.  
Chris Chavez is a staff writer for Flotrack and a journalism major at Marquette University. He once beat Joey Fatone of NSYNC in a half-marathon. Feel free to to reach him with any questions, comments, or feedback on Twitter or by email.