Event Hub
Sarah Baxter makes an assault on the record, runs 16:11 #2 all-time at Mt. SAC
She owns three class record on the Mt. SAC course. Sarah Baxter won her fourth consecutive Girl's Team Sweepstakes in 16:11, which broke Amber Trotter's senior class record of 16:16 from 2001.

The mark was previously shattered by Baxter, who scorched the Mt. SAC course last year with her historic 16:00 win. Baxter's time this year is the second fastest ever recorded at the nation's largest cross country invitational.


Baxter's Mt. SAC XC Career
Freshman Year (2010) - 16:41
Sophomore Year (2011) - 16:59
Baxter's sophomore record was broken by Davis' Fiona O'Keeffe (16:54) in the Girl's Individual Sweepstakes, which was the race before the Girl's Team Sweepstakes.
Junior Year (2012) - 16:00
Senior Year (2013) - 16:11

Though Baxter had already rewritten the record books, she was not content with her run last year. The Simi Valley senior - who has never lost a cross country race in her prep career - made her usual hard move from the gun and had one mythical barrier in mind: sub-16:00.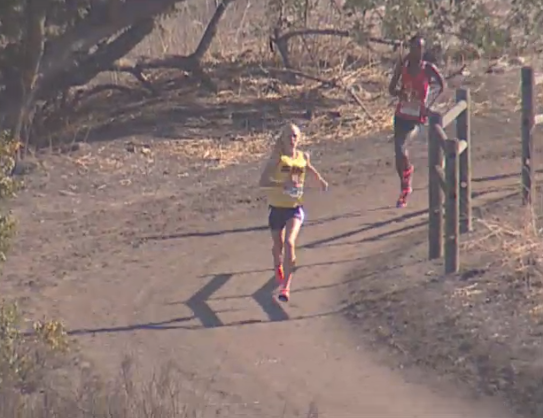 Her blazing opening splits of 66-seconds for the first 400m, 2:24 for 800m, and 4:58 for the mile showed that she meant business. In comparison, Baxter ran 5:08 for her first mile last year. While her motives were clear, the only question was whether she could hold on to what some people described as a "suicide pace."

Her next split came at the Crossover in 8:42. Still, Baxter looked like her usual, calm self. There was no signs of slowing down.

When she hit two miles in 10:48, there was a little cause for concern. The early pace may have been too hot on a warm day in Walnut, CA. It looked as if Baxter could challenge the 16:00 barrier, but the senior no longer looked as smooth as she has at the end of previous races.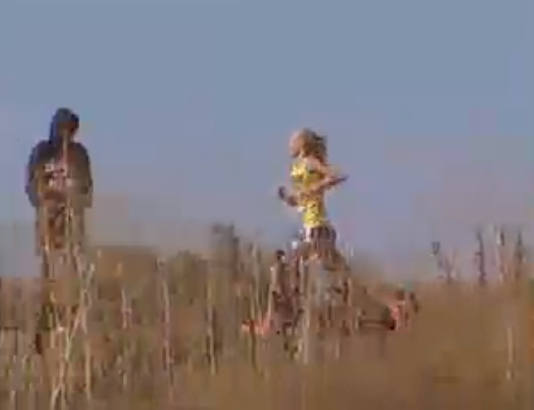 When she finally made her lone turn onto the airstrip, Baxter was at 14:55. It seemed that the ghost of Baxter's former self was slowly pulling away. She made the turn to the Gauntlet in 15:30, where fans seemed to be trying to uplift Baxter to make one final assault on the record.

But her opening splits were just too ambitious. Baxter would come up the hill right before the finish, cross the timing mats in 16:11, and collapse in a tired heap.


Those 12-seconds aside, she's still the greatest ever to run the Mt. SAC cross country course. She may have missed doing the near-impossible for a second year in a row, but Sarah Baxter walks away from a storied Mt. SAC cross country career that saw her rise to the number one spot in California cross country running history.