The most consistent marathoner in American history is not retiring at the age of 38. 2004 Olympic silver medalist Meb Keflezighi has re-signed his contract with Skechers through 2016.

Want more Meb? So do we. We're excited to announce that @runmeb will continue on our team. #GOMeb #GOLIKENEVERBEFORE pic.twitter.com/56VkvqSwco

-- Skechers Performance (@skechersGO) November 5, 2013
"Our relationship with Meb has been instrumental in elevating Skechers Performance and GOrun into the award-winning line that it is today," Skechers President Michael Greenberg announced in a press release. "Meb's hands-on approach, tireless commitment and genuine love of the brand and products have further solidified our partnership, and we are looking forward to future successes, both for Skechers and Meb, in the years to come."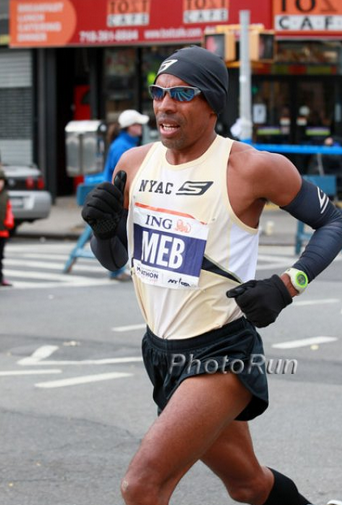 Keflezighi is coming off a 23rd place finish at the 2013 ING New York City Marathon, where he ran 2:23:47 while stopping and recovering from a recent knee injury.

The new contract runs through 2016, which could allow for Keflezighi to attempt and make his fourth United States Olympic team. He was the 12th place finisher in the 10,000-meter run in the 2000 Summer Olympic Games. He finished second in the 2004 Olympic marathon and then followed up his 2012 U.S. Olympic Trials victory by finishing fourth in London.

Keflezighi joined Skechers after his contract with Nike expired in 2011. He serves as a model for other athletes looking for sponsorships as he is partnered with Skechers, Powerbar, Generation UCAN, Krave Jerky, Elliptigo, Oakley, NYAC and others.  

His personal best in the marathon is 2:09:08 and on Sunday he told reporters that he still believes he may have a personal best in him. 

"I think I still have a PR in me," Keflezighi said. "It's just going to happen when it's going to happen." 

On May 5th, Keflezighi will turn 39. If he chooses to retire at any point during his contract, Skechers could move him into an ambassador role for the company much like is arranged with Usain Bolt and Puma.

Keflezighi was scheduled to run the 2012 ING New York City Marathon prior to its cancellation and then run the 2013 Boston Marathon in the spring. He withdrew from the April 15 race with a calf injury. Elite fields have not been announced for the 2014 Boston Martahon yet.

Keflezighi told reporters several times on Sunday that his performance at the New York City Marathon was not about him. He was determined to push through his pain and reach the finish line for New York, Boston and the United States.