Event Hub
PREVIEW: The women's American 1k record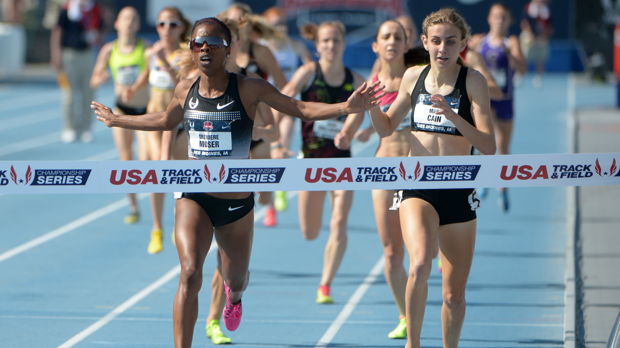 The first of seven American record attempts will feature a quartet trio duo of Nike Oregon Project members. Shannon Rowbury, Treniere Moser, and Mary Cain will try and erase Jen Toomey's American 1k indoor record of 2:34.19 from 2004. Because this is the first record race at Boston University, but also in the name of chivalry, we'll breakdown if the 1k will fall and who'll be the one to do it.

Update: Rowbury is not running the 1k, so just 
disregard everything I said about her.
Let's start with what we know about the record. In her first and only indoor 1k run, Toomey finished second in Birmingham and broke the previous American record of 2:35.29, which was held by Regina Jacobs. Prior to making the trip to the United Kingdom, Toomey was in the midst of a busy indoor season. Here's what she had run prior to the record:
| | | | | |
| --- | --- | --- | --- | --- |
| Race | Place | Time | Venue | Date |
| 800m | 1 | 2:01.42 | Boston, MA | January 4th |
| 800m | 1 | 2:02.8h | Boston, MA | January 11th |
| Mile | 1 | 4:30.9h | Boston, MA | January 11th |
| 800m | 1 | 2:00.34 | Allston, MA | January 18th |
| 800m | 1 | 2:00.77 | Boston, MA | January 31st |
| 1500m | 3 | 4:17.81 | Millrose | February 6th |
| 1000m | 2 | 2:34.19 | Birmingham | February 20th |
Two notes: (1) the 1500m at Millrose was fairly tactical and (2) nine days after Birmingham, Toomey would go on to run 4:09.82 and win the U.S. Indoor National 1500m title.
Neither of those races would be difficult by any stretch of the imagination for either Rowbury, Moser, or Cain. The tricky part is that unlike Toomey, the first two Oregon Project ladies have been silent since the summer and the youngest one is just coming off an under-distance double that's not much of an indicator.
For those that don't know, Cain just ran 1:12.43 for 500m (#7 all-time for high schoolers) and then came back to run 2:08.51 in the 800m. But more on that later.
Since we can't use their buildup to draw any sort of conclusion, let's use the season where the tracks are 400m instead of the tightly banked 200m.
Below, we've listed Toomey's 800m and 1500m outdoor seasonal bests from 2003 and everyone else's marks from this last outdoor campaign.


| | | |
| --- | --- | --- |
| Name | 800m SB | 1500m SB |
| Jen Toomey | 1:59.75 (PR) | 4:10.11 |
| Shannon Rowbury | 2:02.64 | 4:01.28 |
| Treniere Moser | N/A | 4:02.85 (PR) |
| Mary Cain | 1:59.51 (PR) | 4:04.62 (PR) |
At a quick glance, it would appear that if the ladies of the NOP continued on the same improvement curve as Toomey, the record is up for grabs. All three women were much better 1500m runners the season prior and Cain ran faster than Toomey at both distances.
So what's the problem?
The 1k American record is Toomey's outlier. According to our conversion calculator, 2:34.19 is equivalent to 1:58.94 in the 800m and 4:03.63 in the 1500m.
Well, that makes things harder, huh.
But don't be jaded by the numbers just yet. One thing to consider is that Toomey was much more of an 800m runner than she was a 1500m runner. While she did win the '04 and '05 USA Indoor 1500m titles and was runner-up at the distance at the '05 USA Outdoor Championships, her lifetime PR was "just" 4:06.24.
Is there hope for the group? Of course. Would I encourage you to bet on it? Only if the odds are good.
Because Moser has been missing in action since her hamstring tear in July and this is Rowbury's first season with coach Alberto Salazar, we're hesitant to pick either one. Additionally, even though Moser had a banner year and Rowbury was close to her PRs last spring, neither ran particularly well indoors.
Actually, neither has run particularly well indoors, ever.

Shannon Rowbury and Treniere Moser's Indoor PRs

| | | | |
| --- | --- | --- | --- |
| Name | 800m | 1500m | Mile |
| Rowbury | 2:06.24 (2010) | 4:07.66 (2012) | 4:34.14A (2010) |
| Moser | 2:03.78 (2006) | 4:08.13 (2006) | 4:29.93 (2006) |
That just leaves Mary Cain. A rule we've developed over the last year is that when trying to predict if Cain will do something or not, that we shouldn't use logic. It's like she's some sort of advanced being sent from some far away galaxy to make us humble in running.
Here's the good news. We like that Salazar had Cain run an all-out 500m and then an 800m in her opener. Cain is obviously more distance-orientated, so a drop down to the 0.5k will be good for the upcoming 1k, which will again be a race out of her comfort. Then again, we said the same thing before the Prefontaine Classic 800m and who's laughing now (it's her).
So can Cain string together five laps at just under 30.84-seconds? We think she can, but perhaps not right now.
The Bronxville senior has plenty of footspeed, but does she have enough early season endurance to make history? We don't have her splits from her 500m run, but if she ran evenly, then Cain would have run 28.972 per lap.
If Cain wants to have a shot, she'll have to follow rabbit Fawn Dorr through mid-30.x splits and try and use that electric Boston University crowd to hang on for that last lap.
Here's the thing, though. Remember, back when Cain wasn't just breaking high school records, but winning USATF titles? Last March, when she won the USA Indoor 1500m title in a pedestrian 5:05.68, what was her last lap?
58.61 (29.27 followed by 29.24).
What about her final 600m? 1:31.15.
Sounds like she's capable of record pace to me.

Update: Morgan Uceny has been added to the field. The last time we saw her was back in September when she took second at the 5th Avenue Mile. After a disappointing 2013, could this be the start of her upswing?


Bear in mind, this was long before she broke 4:10 for the 1500m.