Event Hub
Rupp will break the American 5k record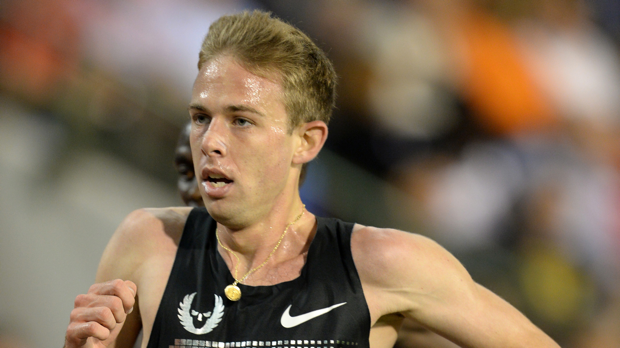 Let's play a little devil's advocate, shall we?
If you're an optimist, here's why the Nike Oregon Project's Galen Rupp will break the American indoor 5k record. If you're more of a realist (or, for some, a pessimist), here's why Rupp won't break the record. Choose a side.
If you just want the facts for why it'll be a successful record attempt, click here.
Rupp will be starting his assault on the record books this Thursday evening at Boston University. The first record stepping to the batter's box will be the men's 5k, followed by the two-mile on deck, and the men's mile in the hole. The descending order of distances works out pretty nicely, right?
Last winter, we saw Lopez Lomong circle the Armory for 25 dizzying laps and set the American indoor 5k record by the skin of teeth. The new mark, which is 13:07.00, is currently in Rupp's crosshairs.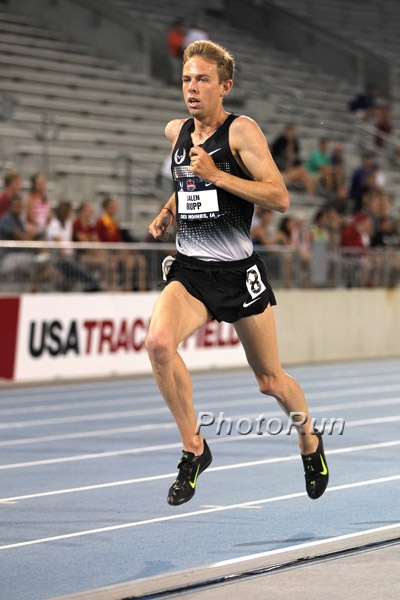 "The 5k is actually, I think, the easiest of the three [records] in terms of breaking an American record," coach Alberto Salazar told Flotrack.
"Easy" is a relative term. Statistically speaking for Rupp, he's taking his best shot at the record books first. Based on our conversion calculator, the men's two-mile is a little "better" than the 5k. The men's converted time for the mile might be "worse" compared to the 5k, but it's an under-distance and non-specialty race for the current American 10k record holder.
But taking a shot at the indoor 5k is familiar territory for Rupp. In 2009, he set the standard with his 13:18.12 run at the Tyson Invitational. A year later at the Reebok Boston Indoor 5k, Lagat would brush Rupp aside and set the new AR 13:11.50. In that race, Rupp would finish 4th in 13:14.21, which was four seconds faster than his AR from the season prior.
One year later, the 2012 Olympic silver medalist would get the title back with his 13:11.54 second place finish at the Aviva Grand Prix in Birmingham.
Then Lagat took it back, Lomong made the event a love triangle, and now we're just hours away from potentially another chapter in American running history.

---


If you skipped the background information and just want some facts to make up your mind, here's why Rupp will break the American 5k indoor record.
#1: For those that think it's too early to be running that fast, remember that Rupp ran 3:50.92 around this time last year

"It's too early to run a record attempt," the internet is screaming. If you read our talking points for why Rupp won't run the record, you'll notice that the fastest indoor 5k ever run in January was 13:10.98 by the great Haile Gebrselassie in '96.
So why does that not matter? BECAUSE HISTORY DOESN'T MATTER WHEN IT COMES TO RECORD ATTEMPTS.
That's literally the point of running records: to do something that no else has done before.
With that in mind, Rupp was in record shape last January. When he became the fifth fastest indoor miler of all-time, he did it on January 26th. Early shmearly.
This year, Salazar and Rupp are going with strength-based records first and building up speed for later attempts at quicker marks.
#2: He has to be in 8:04 - 8:09 shape soon
When we visited the Nike Oregon Project, Salazar mentioned that he thinks that Rupp "could be in there somewhere between 8:04 and 8:09" for two miles. That race will be next weekend at the BU Terrier Invitational, which means that most of the strength-based hay has to already be in the barn.
Like he said earlier, 13:07 is the "easiest" of the three records for Rupp to break. In a strictly objective world, 13:07.00 is worth 8:11.10 for two miles. If he's going to be in better (or faster) shape next week, most of the work should already be done.
Or, at least, that's what logic would dictate.
#3: He's pretty good at the indoor 5k
Below is where Rupp stands on the all-time indoor 5k record list. Currently, Rupp has the 24th, 33rd, and 39th fastest indoor 5Ks. For a point of reference, Lomong's 13:07.00 is at #14 all-time (via alltime-athletics.com).
24  13:11.44   Galen Rupp USA  08.05.86  2  Birmingham   19.02.2011
33  13:14.21   Galen Rupp USA  08.05.86  4  Boston       06.02.2010
39  13:18.12   Galen Rupp USA  08.05.86  2  Fayetteville 13.02.2009

#4: When Lagat ran 13:07.15 at Millrose, he had only run 4:00.92 for the mile beforehand
Buildup? What buildup? As stated above, Lagat had just one mile race under his belt before he put on a show at Millrose and it wasn't anything that made you scream "American record!"
Rupp is going into this one cold, though. Presumably, Salazar and company took note last year after Rupp ran his season opener and have made some adjustments. On January 12th, Rupp won the mile at the University of Washington in 3:57.16. 14 days later, he ran 3:50.92 in Boston.
If Rupp has already run something hard in practice to mimic last year's UW opener, then his fire has already been stoked.
#5: He's confident
"I had the two-mile American record before and I'm going to do my best to get it back this indoor season. I have the ability to run a hard last mile if I need to pick it up. If it's even, that's great. If we go out a little last that's okay too... put a little time in the bank."

That's about the two-mile, but we know. We're saying that it's not everyday that an athlete makes his or her intentions clear. In this case, it's doing something that no other American has ever done.

The chase is on. Hear the Nike Oregon Project talk about the upcoming record attempts below.