Event Hub
Galen Rupp and the indoor 2-mile attempt
Every year since 2011, the American Record for 2 miles has been broken by either
Bernard Lagat
or
Galen Rupp
. This weekend at the BU Terrier Invitational, Rupp will be looking to retake the record that Lagat broke last year at Millrose.
But first, let's play a simple game of "Who Said It?" Here are the two quotes:
"All the records are special, but this one is very special."


AND

"[All American records] are special to me, but this one definitely ranks up there..."

The first is from Lagat after his first professional indoor 2-mile where he ran the current American record of 
8:09.49.
 The second is from the video below of Rupp in the middle of his now signature post-race treadmill run.

The 2-mile is a special record for both Lagat and Rupp, but only one can have his name on the c
ommemorative record plaque.

Rupp's interview after breaking the 2-mile record two years later is very interesting, especially considering that soon after, Rupp medaled in London, and has since became the face of American distance running (if he wasn't already in 2012).

If you have a few minutes, take a look into the past and check ot the video below. Rupp's demeanor is much different compared to any interview in recent memory. But we'll get to that.



Before we evaluate why the 2-mile record will go down for another consecutive year, here are some cool statistics to note: 


- The fastest Indoor 2-mile ever in the month of January is Suleiman Nyambui's 8:18 from the Sunkist Invitational in L.A. in 1978. 


- Before Lagat broke the record in 2011, Doug Padilla had held the mark for 21 years for his 8:15.02 at the old LA Forum.

Ed. Note: Wood and Padilla were both deskmates at BYU.

- Do you remember when Andrew Bumbalough ran 8:13.02 at Millrose last year, beating Evan Jager and Cam Levins?


You're not here for fun-facts, though. Here are the top five reasons why Rupp will soon be breaking another American record this weekend.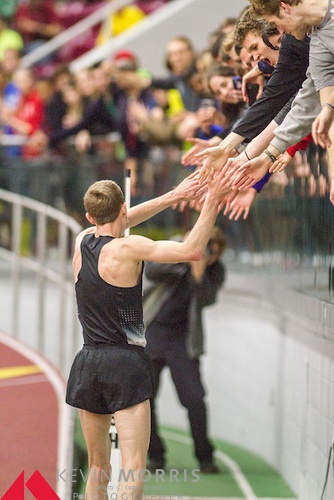 1. Rupp just ran 13:01.


Do I need to say that again? Think about that for a minute. In the middle of January, during a season that many people don't really care about, Rupp just crushed the American 5k record. He ran his last mile in 4:04 (you can check out all his splits
here
). Since the current record is 8:09.49, obviously that means all he has to do is run back-to-back 4:04s and he's got the record.
2. The calculator says so.


The conversion calculator says that a 13:01 5k effort is worth 8:07.53. Even if Rupp is feeling it in his legs just a little bit after his record breaking weekend, he has a few seconds of grace to still get the 2-mile record.
3. It would bring balance back to the running universe.

Since Lagat broke Padilla's record of 8:15 (from 1990) in 2011, running 8:10.07, it has switched off between Rupp and Lagat every year. So, it makes sense that Rupp would get the record back once again - kind of a "put the earth in peace and harmony" thing. 
4. Pacing is a lock and the rabbits are the keys.

As Flotrack's Mark Floreani said during Rupp and Levin's national indoor 5k records, Taylor Gilland should have beers for life in Boston after his quality rabbiting. The former North Carolina cross country state champion--who ran 8:11 in college and now works over 80 hours a week as a mergers and acquisitions analyst--towed the field through 2600m and hit the splits perfectly. The Nike Oregon Project liked him so much, they're bringing him back for the men's 3000m.
Look for the blue Boston Sharks singlet up front during the early laps. He may run 1000m, but the goal is to get to 1200m in 3:00. Yes, 60-second quarters.
The second rabbit was supposed to be the Jumpman-kit-wearing Joe Abbot, but he picked up a minor injury between now and his 1:49 win in the men's 800m this weekend at the UW Indoor Preview. In his place will be another winner from this weekend's meet at the Dempsey: Oregon Track Club's Patrick Casey.
If that's not enough, there's one final rabbit who'll take Rupp for quite some distance: Bethwell Birgen. If you need a quick refresher, he's the guy that ran the fifth fastest 1500m in the world last year after his fourth place finish at the Monaco Diamond League. Boasting a 3k PR of 7:37.15 as well, we'll venture to guess that he can probably run a few 30-second 200m splits.


5. He's FEELING IT


Just like the typical NBA Jam game we've all played, Rupp is heating up. When you're running well, you're running well, and Galen is about to be on fire.

Ed. Note: Technically speaking, that's after three successful attempts, but we'll let it slide.

--

I give Rupp 5:1 odds on breaking the American Record.

Official time prediction: 8:07.10

Why do y'all think he will or won't get the record this weekend? Hit me up on Twitter @isaacegbertwood.