Rupp to make mile world record attempt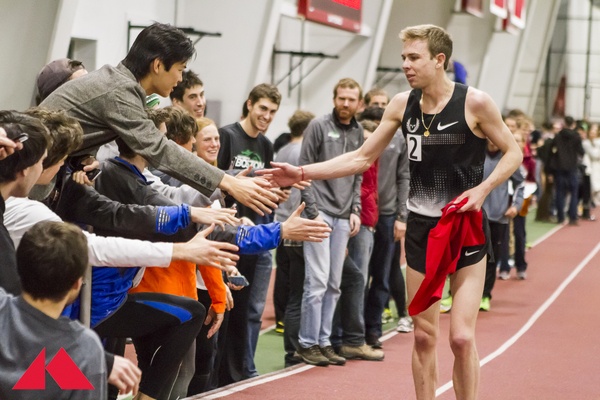 The rumors are true. The Nike Oregon Project's Galen Rupp will take a shot at the indoor mile world record on February 15th at Boston University's Scarlet and White Invitational.
I never thought I'd utter the names "Hicham El Guerrouj" and "Galen Rupp" in the same sentence, but the Moroccan's time of 3:48.45 is the goal for the newly minted indoor 2-mile and 5k American record holder.
"I can't predict Galen will break the world record, but we're not going to put all that work out there for 3:49," coach Alberto Salazar told Ken Goe of The Oregonian. "He might as well go for it."
Rupp was originally slated to make his attempt on February 8th during Boston University's Valentine Invitational. Instead, Salazar and Rupp decided to push the race back a week to give him more time to prepare.
"This will be the first race this year he has been properly rested for," Salazar also told The Oregonian.
Flotrack will be on hand for the BU Valentine Invitational and will also make the trip back to Boston to see if Rupp can go three-for-three in his chase for American records. It's certainly not an afterthought considering l
ast year's near miss
, but
Bernard Lagat's
American record of 3:49.89 set in 2005 will also be on the table.
It's an odd thing to make the American record the sub-header for this race, especially considering it's the hardest of the three events (5k, 2-mile and mile) for Rupp. That being said, "if you don't go after records, you have no chance of breaking records."
Below are the top 10 mile marks of all-time (via alltime-athletics.com):
1  3:48.45 Hicham El Guerrouj  MAR 14.09.74 1   Gent             12.02.1997
2  3:49.78 Eamonn Coghlan      IRL 24.11.52 1   East Rutherford  27.02.1983
3  3:49.89 Bernard Lagat       USA 12.12.74 1   Fayetteville     11.02.2005
4  3:50.6  Eamonn Coghlan      IRL 24.11.52 1   San Diego        20.02.1981
5  3:50.70 Noureddine Morceli  ALG 28.02.70 1   Birmingham       20.02.1993
6  3:50.81 Noureddine Morceli  ALG 28.02.70 1   East Rutherford  08.02.1991
7  3:50.92 Galen Rupp          USA 08.05.86 1rA Boston           26.01.2013
8  3:50.94 Marcus O'Sullivan   IRL 22.12.61 1   East Rutherford  13.02.1988
9  3:51.20 Ray Flynn           IRL 22.01.57 2   East Rutherford  27.02.1983
10 3:51.21 Lopez Lomong        USA 01.01.85 1   New York City    16.02.2013