Event Hub
Oiselle, Bates, & Efraimson in UW 3k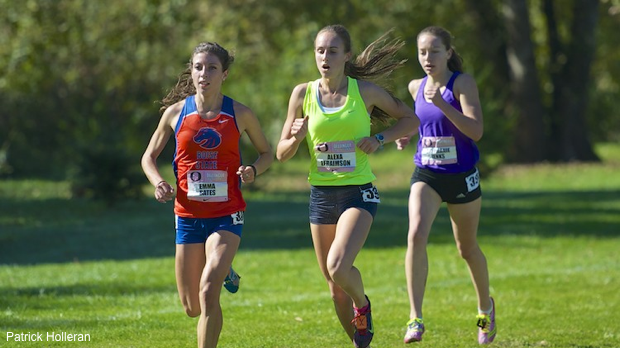 This weekend's University of Washington Invitational is bringing in some of the most fascinating runners in the country on the high school, college and professional level. There should be some very intriguing matchups and openers this indoor season. 
The women's invite 3k is so full of quality and proven runners that I don't know where to begin. If I had to start somewhere, I'm most excited for the rematch between Emma Bates and Alexa Efraimson, who ran 9:31.18 for 3k at this meet last year. In the early stages of the 2013 cross country season, Bates was beaten by the high school sensation and local Seattle product at the Bill Dellinger Invitational. Bates went on to finish 2nd at the NCAA Cross Country Championships while Efraimson ran a course record to take the win at Nike Cross Nationals.
Besides that story, Kate Grace returns to the same meet she finished 2nd in the 3k last year and ran PR of 8:55.06. The NCAA leader in the 3k, Mara Olson of Butler, will also be in the field looking to improve upon her 9:08.83 mark from last weekend.

Former Florida State stud Amanda Winslow, now running for Oiselle, will be in the mix along with everyone's favorite blogger, former multiple-time NCAA Champion and World Championships qualifier in the 5000m Lauren Fleshman, who will also be running for Oiselle. There's also Lauren Penney, a former Syracuse star and another Oiselle athlete who was down in Texas this winter, who'll be in the mix. There is a very large Oiselle contingent in Seattle this weekend.
Ed. Note: The birds are coming home to Seattle.
I'm also very interested to see how Arizona's Maria Larsson does in this race. This past fall, the Swedish steeple star played an important role in Arizona's 2nd place team finish at NCAA Cross Country Nationals. She ran 9:27 this past summer, but has improved greatly since her move to Tucson.

Ed. Note #2: Kate Grace is rabbiting.
Prediction: 
1. Kate Grace (Oiselle) - 8:58.99
1. Emma Bates (Boise State) - 9:00.23
2. Alexa Efraimson (Unattached) - 9:03.78
3. Lauren Penney (Oiselle) - 9:03.89
4. Mara Olson (Butler) - 9:06.12
5. Maria Larsson (Arizona) - 9:07.54


Click here to watch every second of the 
UW Invitational LIVE
 on Flotrack this weekend.