Sleeper of the Week: Sam Penzenstadler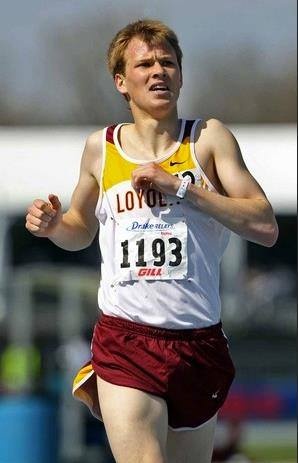 There are 66,083 people in the city of Oshkosh, Wisconsin. Loyola University in Chicago has an undergraduate enrollment of 9,154. What do those two things have in common? Both are places our "Sleeper of the Week" Sam Penzenstadler calls home.

Coming from a town in Wisconsin where winter training is near impossible and running at a Division I university that most running savvy individuals know only for 800 meter specialist Declan Murray, Penzenstadler is now making a name for himself.
Although many of us watched the Meyo Mile this weekend, we had no idea that this Loyola-Illinois junior was going to close like a freight train and beat everyone but Jeremy Rae. 
Coming into the Meyo Mile at Notre Dame this weekend, the only people who might have heard of Penzenstadler were those he beat at the Drake Relays 1500m last year or the people who read Mitch Kastoff's Men's Meyo Mile preview throughly enough to know that he was Mitch's "dark horse" pick. After talking to him, he has to be one of the most humble guys in the NCAA, and coming into the weekend his Mile PR he barely set a few weeks ago at Indiana's Gladstein Invite where he ran 4:07.28. 
Penzenstadler embodies all the good about work ethic, passion, and drive in track and field. Coming out of Oshkosh, Wisconsin, Penzenstadler told Flotrack he was more of a cross country guy who just happened to run track. His high schools PRs were 4:23 for 1600m and 9:44 for 3200m. Although these are respectable high school times, they are nothing that would be on every major Division I recruiting board. In fact, Penzenstadler told Flotrack that he was going to go Division I no matter the cost, so he jumped at the chance to go to Loyola in Chicago as they were essentially the first school to begin recruiting him. 
Going into this weekend, Penzenstadler thought he had a chance at the Meyo Mile. He told Flotrack that going into the race, he was going to go out conservatively, stay behind some people, and not do any work. Good thinking, Sam. He executed his plan perfectly, which you can watch here:
When Sam Penzenstadler crossed the line at the Meyo Mile this weekend in 2nd place and under the 4-minute mark, the look on his face was one of shock and amazement. It was the kind of stuff that dreams are made of. His post-race interview emboddies that:


In one race, Sam went from the random kid who won Drake Relays last year and a high school afterthought, to a national contender. Now the whole country knows about the Sam person from Loyola (Ill.), whose last name is way too long to spell out twenty times in an article. Get to know the Sleeper of the Week from Loyola (Ill.), Sam Penzenstadler.
Sam Penzenstadler, Jr. Loyola-Illinois

| | | | |
| --- | --- | --- | --- |
| 800m | 1500m | 1 Mile | 3k |
| 1:50.08 | 3:46.22 | 3:58.21 | 8:10.97 |