Event Hub
6 races to watch at the ISU Classic
Back when Flotrack was setting its initial indoor schedule, we had Iowa State University underlined and highlighted. It's not that we needed it to have extra attention or that we're organizational neat freaks. Both are true. We made sure to keep an eye on that weekend because, historically, Flotrack usually made that quiet trip to Ames, IA; however, for reasons I can't explain, we didn't go last year.
We promised we'd make it up to the Cyclones this year. In return, because they're from the Midwest and everyone from the Midwest is kind (according to Iowan Alex Lohr), they made this year's Iowa State Classic absolutely incredible.
The quality of teams and individuals pouring into the Lied Recreation Athletic Center is nothing short of national caliber. We're thankful we didn't say goodbye to the ISU Classic. We like to think of last year's hiatus as more of an "au revoir."
Men's 5k
This race alone makes the trip worth it. The field consists of 14 athletes who have gone sub-14, 11 All-Americans, some national contenders, some young sleeper picks, and one with some experience on the world stage.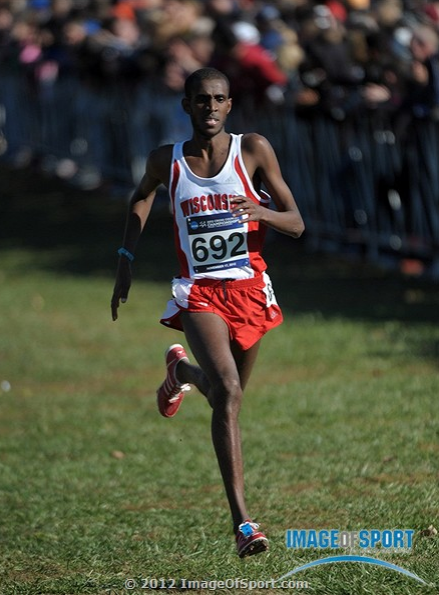 While Shadrack Kipchirchir (running unattached, but of Oklahoma State) has the top seed in 13:38.57, Wisconsin's Mohamed Ahmed is the big threat here. I mean, anytime you have a picture of yourself hanging on the heels of Mo Farah, you gain some credibility.
Last week at the Armory Collegiate, Ahmed had a "solid debut" in the 3k. He won 
handedly 
in 7:55.45 and the Badgers took home the team title. Both are all well and good, but what does that mean for this weekend?
If you're all about those conversion calculators (we are), his winning time from New York, NY converts to roughly 13:42 for 5k. Ahmed's 5k PR is 13:40.43, which is from last year's University of Washington Husky Classic. That time is #4 in Wisconsin's school history.

Editor's Note: It's also where Kipchirchir ran his seed time. You can watch the race here. Since 
Kipchirchir has yet to debut this winter, we're unsure of his fitness.
So let's talk records. Could Alistair Craig's (Arkansas) meet record of 13:45.51 from 2002 fall? It could go down.
Could Adam Goucher's (Colorado) facility record of 13:38.23 from 1998 go down? Perhaps, but it's a stretch.
What about Chris Solinsky's Wisconsin school record of 13:30.74 (from 2007 and oversized)? It should live for quite some time.

However, it won't just be a head-to-head match-up between Kipchirchir and Ahmed. There'll be company.


The flowing locks of North Carolina State's Andrew Colley will make his official return since his 7th place finish at NCAA XC. Earlier this indoor season, Colley ran a 4:12.25 mile at the Hokie Invitational.
It's also good to see Wisconsin's Reed Connor back in the mix, too. The Badger pulled double duty at the Armory College, running on the team's winning DMR (9:39.09) and finishing ninth in the mile (4:13.14). Connor's last 5k was at the NCAA Outdoor Championships, where he finished sixth in 13:50.70.
Not to just rattle them off like they're the "other guys running," but the field also includes Villanova's Patrick Tiernan, Auburn's Ty McCormack, Iona's Matthew Gillespie, the Northern Arizona's duo of Matt McElroy and Brian Shrader, Eastern Kentucky's Wade Meddles, Purdue's Matt McClintock, Eastern Kentucky's Ben Torotich, and Syracuse's Martin Hehir. Woof.
Rather than go through the whole feed and pick out who we think will win (it'll be Ahmed) or who's a wise dark horse choice (it's Villanova's Tiernan), the rest of the Flotrack crew previewed the meet here.


Women's Mile
Rather than stay home in Seattle, WA and run at the UW Husky Classic, the Brooks Beasts decided to make the trip halfway across the country to Iowa because when you have a travel budget, you might as well use it.
The three Brooks Beasts entrants are Deb Maier, Jessica Tebo, and Jamie Cheever . The trio opened their indoor season at the JDL Fast Track 3k, where they finished 1st (9:02.79), 2nd (9:04.52) and 6th (9:19.21), respectively. Tebo hasn't run the indoor mile since 2010 and Cheever has skipped the distance since 2009, so it's definitely time for a return to under-distance event for the two. That, or punishment from Brooks Beasts head coach Danny Mackey. As for Maier, we couldn't find any indoor mile marks, so this might be her debut at the distance. Have fun.

adidas Rogue TC Violah Lagat is a good pick here. The former Arizona Wildcat star ran 4:05.66 for 1500m last outdoor season and will be looking to better her indoor mile PR of 4:39.42. Last week, Lagat was in the mix at the New Balance Indoor Grand Prix 1k, where she finished 7th in 2:40.72.

There'll be some NCAA athletes in the mix, too. Watch out for Kentucky's Allison Peare, Duke's Haley Meier and Anima Banks, and Texas' Marielle Hall. 
Women's DMR
While we claimed that two weekends ago was #DMRmadness, the medley absurdity should pick up right where it left off this Friday. The women's DMR entries are lead by the Georgetown squad of Sabrina Southerland, Amanda Kimbers, Chelsea Cox, and Andrea Keklak and their seed of 10:55.95. Which, if you really think about it, is kind of crazy considering the NCAA's leading time in the DMR last year was future national champion Michigan and their 10:56.66 win from Notre Dame Alex Wilson.
The Hoyas will be again challenged by the Duke women. The two teams met at the Penn State National DMR, where Georgetown ran 11:04.79 to finish 4th and Duke ran 11:07.85, placing fifth. Both teams will have different lineups for this weekend.
Shout-out to Iowa State for their school record run of 11:11.93 at Armory Collegiate. They bring the same team back home and will look to improve on that time, which hopefully hasn't been chiseled into the record board plaque just yet.
Men's 3K
For those fighting for an NCAA berth, the goal here will be sub-8, in the very least. Oklahoma State's Shane Moskowitz (7:57.79 from earlier this season) and Syracuse's Martin Hehir (7:59.40) have the top entries, but watch out for Villanova's Sam McEntee. Dude is a cheeky miler.
Nova's Tiernan, NC State's Colley, Iona's Daniel Clorley, and Virginia Tech's Leoule Degfae are also entered.
Even though the college men will be slugging at out, the real race will between Furman Elite's Jeff See and Craig Forys. The two have already run 7:43.60 and 7:41.20 this season, respectively.
Men's Mile
It's a little reunion for ISU head coach Martin Smith. The Brooks Beast's Riley Masters (3:37.19 1500m PR) and Indiana Elite's Frezer Legesse (3:41.14 PR), both of whom ran under Smith at the University of Oklahoma, lead a field that consists of 16 sub-4 milers. We'll name a few below.
NJ*NY's Kyle Merber has been working on his speed and posted back-to-back 1:47.94 and 1:49.69 800m marks last weekend.
Furman Elite's Jack Bolas has already gone sub-4 twice this winter season, dipping under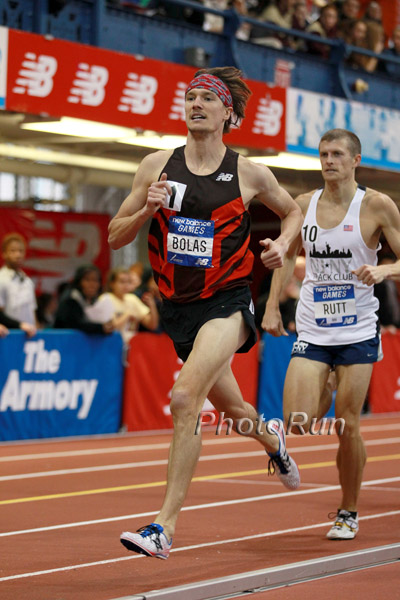 the mark at the often confused New Balance Games in New York (3:59.38) and the New Balance Grand Prix in Boston (3:59.35, with a big negative split).
Leaving the crisp 70 degree afternoons in Austin, TX and making the trip up north will be Austin Track Club's Duncan Phillips, who's coming off a win at the JDL Fast Track mile (4:00.94).
In terms of collegiates, Iona's Matt Gillespie leads the way after his 3:58.48 run at the magic BU Valentine Mile last week. He'll be joined by Air Force's Zach Perkins (remember him?), NAU's Nathan Weitz, Villanova's Jordan Williamsz, Oklahoma State's Chad Noelle, and, honestly, I could list almost anyone at this point because there's a bunch.
Men's 800m
Gators, Cyclones, and NJ*NY'ers. Florida's #4 ranked Ryan Schnulle leads the field after his 1:48.05 win at the Razorback Invitational. He'll be joined by teammate Sean Obinwa, who had an off-day at Razorback and finished ninth in 1:51.54. Remember: this is the same 800m specialist that barely made the NCAA final last winter, and then surprised everyone to finish fourth.
The experienced duo will be joined by high school phenom Andres Arroyo. The freshman finished right behind Schnulle in Fayetteville, AR in 1:48.53.
Iowa State will have some representation on their home track with Edward Kemboi. The junior is currently ranked sixth in the nation after his 1:48.14 win at the Nittany Lion Classic, where he nipped PSU's Brannon Kidder right before the line.
We'll continue the theme of "indoor surprises" and note that NJ*NY's Declan Murray will be making the trip from Boston to Ames, IA as well. Last winter, Murray stormed onto the national scene with a third place finish at NCAAs, which garnered him first team All-American and this awesome splash page by Loyola's (Ill.) athletic department.