Event Hub
5 races to watch for ND Alex Wilson
5 Races to Watch and 5 Bold Predictions for Alex Wilson

Although the Notre Dame Alex Wilson Invitational is not necessarily the crazy last chance meet the weekend before NCAAs that we have been accustomed to throughout the past several years, this year's meet is still surprisingly good. In fact, there are some interesting teams and match-ups that will make this meet one definitely worth watching. 
Below is what to watch for and a few bold predictions for ND Alex Wilson. Click here to sign-up to watch all the action.
1. All things USC


From Southern California to South Bend, Indiana, there will be some fast 60s, 200s, 400s, and possibly 4X400s by one of the all-time great sprint schools. USC's Aaron Brown and Beejay Lee should both be in attendance this weekend, both running the 60m. They currently rank 3rd and 13th in the NCAA in the event, respectively. 

Bold Prediction: Aaron Brown will have the no. 1 ranked 200m and 60m in the NCAA after this weekend.
---
2. The women's 400m

With Diamond Dixon in the field, who is currently only 21st in the NCAA having run 53.25, you know this is going to be an exciting race. While she has the fourth fastest seed time, don't forget she has run 51.09 and is an Olympic gold medalist in the 4x400m from 2012.

Two Notre Dame 400m stars in Margaret Bamgbose and Michelle Brown will be in that fast section of the quarter-mile, with Houston's Ngozi Onwumere and Brittany Wallace adding depth to this field as well.

Bold Prediction: We will definitely be looking at a bunch of sub-53 400s and Dixon runs 51.90. 
---
3. Emma Bates is looking to qualify for NCAAs in the 3k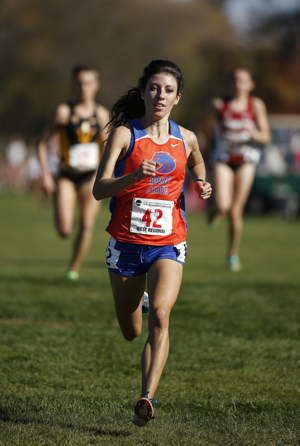 It's been an odd indoor season for Boise State's Bates as we have yet to see her look like the runner who was 2nd at the NCAA XC Championships just a few months ago. That is not to knock her 15:52 at the UW Invite in January, but her 9:19 3k mark is 6 seconds off of her 2013 time that qualified her for NCAA Indoors (9:13.63) and she is far and away much better now than she was then.

Her competition will come from Virginia Tech's 
Sarah Rapp, 
who qualified for NCAA XC individually and was 55th from Va Tech alongside her teammate
Courtney Dobbs, 
who finished 11th in a loaded ACC Cross Country Championships but failed to make NCAAs.


Molly Seidel
of Notre Dame is also listed in the field and she could be a dark horse pick as the former Foot Locker National Champ in 2011 could pop one.

Bold Prediction: Emma Bates will run 9:09.xx.


---
4. The men's 4X400 could be the most exciting race of the day

No, that's not my bold prediction for point number four. I'm just pointing out that a field with teams like Florida State, Mississippi State, Notre Dame, and a surprisingly good Middle Tennessee State, that anchor leg could be poetry in motion. Notre Dame's Chris Giesting and Patrick Feeney are awesome lead and anchor legs for the Irish, but we'll have to see who else they throw in there to compete for the win against these other very quality 400m programs.

Bold(ed) Prediction: Middle Tennessee State will run 3:06.00 here, but Florida State with anchor James Harris will move up into the 5th spot for fastest mark of the year and run 3:05.55.
---
5. The DMRs are going to be fun, but nothing like last year, especially on the women's side 

Before we break down the men's race, which I promise will be amazing, the DMR for the ladies does deserve discussion. There are only six teams listed in the DMR --Columbia, Syracuse, UNC, Iowa State, Notre Dame and Kansas-- and they all put down as a seed time something around 11:00 - 11:10.

Notre Dame and Iowa State both have legitimate cases to make the NCAAs and Notre Dame has the 12th fastest time in the country right now at 11:08.58. Iowa State does have some solid pieces and between the Cyclones and Irish, it should be a fun battle.

Bold Prediction: Both Notre Dame and Iowa State will run 11:06 high.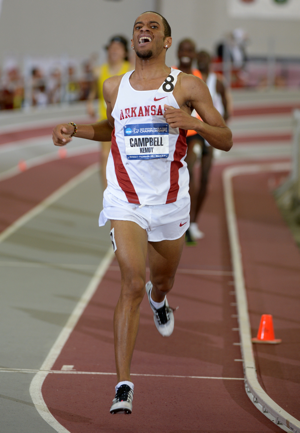 The men's DMR will not disappoint. As we've all come accustomed to an exciting and electric atmosphere for the Distance Medley Relay at Alex Wilson, this men's race will be no different.

Columbia has the fastest seed mark in 9:28.00 which is ambitious, but doable. With Oklahoma State, Notre Dame, Arkansas, Oklahoma, Virginia Tech, Indiana and New Mexico also in the field, this DMR is going to rock.

Consider the anchor leg options: John Gregorek for Columbia, Kirubel Erassa for Ok. State (or Chad Noelle or Shane Moskowitz), Jeremy Rae for Notre Dame, Abbabiya Simbassa for Oklahoma, Leoule Degfae or Grant Pollock for Virginia Tech, Robby Nierman for Indiana, Kemoy Campbell for Arkansas and Edwin Herring or Elmar Engholm for New Mexico.

Bold Prediction: six of the top 12 times that qualify for NCAAs will be from this race alone. 
Wow. That's a lot of names, and a ton of studs. This DMR will be legit, do not miss it.