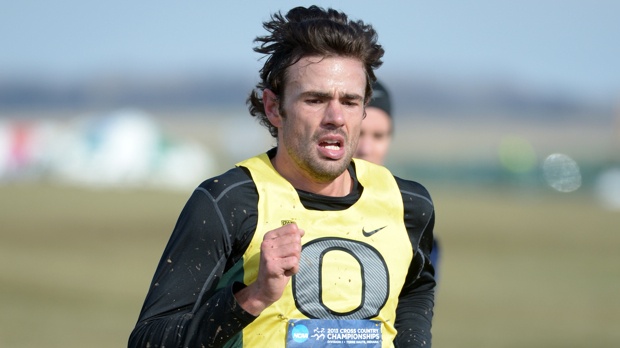 This weekend is the Mountain Pacific Sports Federation (MPSF) Championships, also known as the "West Coast Last Chance Meet." 
Looking at the entries, I decided to make some predictions for the top three spots in the men's distance events.
If you agree, awesome! If you disagree, well, let me buy you a beer and we can discuss why I'm right.

Even though this year's last chance weekend is tame compared to last winter, there will still be big surprises. If you need a quick refresher, the top 16 in the NCAA for each individual event will get a bid to the national championships on March 14th in Albuquerque, New Mexico.

If you're more interested in the implications from the weekend than the weekend itself, I've listed my top 16 for the men's middle-distance and distance events under the MPSF preview.

Flotrack will be broadcasting the meet live on Flotrack Pro. If you're not already a member, click here to sign up.

---
Men's 800m


Place
Time
Name
School
Notes
1
1:47.99
Mac Fleet
Oregon
He ran 1:46 outdoors last year,
4th fastest PR among returners
2
1:48.20
Boru Guyota
Oregon
He is gunning for a top 16 spot and
will use his teammate to pull in a low 1:48
3
1:48.90
Luke Lefebure
Stanford
Has a breakout race due to Mac Fleet
making it a quick race
Flotrack's Take: Remember that time that Fleet ran 1:46.32? Post-season races in Canada, you're crazy. Here's a silly question: Could Oregon get Fleet into NCAAs in both the 800m and mile to score points? Just thinking out loud here.
---
 Men's Mile


Place
Time
Name
School
Notes
1
3:58.92
Trevor Dunbar
Oregon
With a 3:38 1500m PR Dunbar and
Johnson (3:38 PR) will work together to run
a quick time
2
3:59.00
Brett Johnson
Oregon
Both are looking to add more Ducks to
the national meet
3
4:01.10
Ben Saarel
Colorado
First collegiate mile of his career

Flotrack's Take: We've seen Dunbar show us his mile skills. After a strong anchor on Oregon's "B" team DMR not too long ago, he should be ready to roll. We're really interested to see what Brett Johnson can do in an open race. Lastly, 4:01.10 for Saarel?! We know he blew the doors off the adidas Dream Mile last year, but that's a bold prediction.
---
 Men's 3k


Place
Time
Name
School
Notes
1
7:48.00
Edward Cheserek
Oregon
Will jog a sub 7:50 with his arms waving
all over the place
2
7:52.00
Jared Ward
BYU
Basically a deja vu performance from
the 5K two weeks ago
3
7:52.50
Michael Atchoo
Stanford
Has the speed and will be paced by Ward

Flotrack's Take: This one is loaded. King Cheserek should take it, but Ward second? No one from Colorado in top three? CU's Ben Saarel is an obvious choice, but you could really go with anyone from the reigning NCAA XC champions. But as we look down the start list of the men's 3k, it just proves what we always knew: the Pac-12 is the best conference in the NCAA.
---
 Men's 5k


| | | | | |
| --- | --- | --- | --- | --- |
| Place | Time | Name | School | Notes |
| 1 | 13:29.00 | Lawi Lalang | Arizona | No comment |
| 2 | 13:49.00 | Joe Rosa | Stanford | Will be running in no man's land |
| 3 | 13:50.50 | Dustin Fay | UCLA | Why not? |

Flotrack's Take: We really went out on a limb for first, huh. We're all aboard the Rosa train, but third place is tough. Fay had a good 3k at the UW Invitational (8:08.81), but struggled in his return to the Dempsey for the UW Husky Classic 3k (8:19.15). Just because we don't want to be blindsided twice, watch out for Colorado's Morgan Pearson.


---

I know what you are thinking: I have an Oregon bias! Actually, I have a bias towards the Johns Hopkins Blue Jays who will sweep the men's and women's DIII Centennial Conference Team Championships this weekend. But that's neither here nor there.
Since this is last chance weekend and there's only one last chance meet (BU Last Chance), the big question is who will be in the top 16 by the end of the weekend?
Below, I've listed what I think the men's top 16 for the middle-distance and distance events will look like after the weekend.


Men's 800m
  RNK          ATHLETE            SCHOOL        TIME     MEET NAME
   01   Kemboi, Edward       Iowa State        1:45.98
   02   Kidder, Brannon      Penn State        1:47.45
   02   Rutto, Eliud         Mid. Tenn. State  1:47.45
   04   McBride, Brandon     Miss State        1:47.51
   05   Obinwa, Sean         Florida           1:47.76
   06   Ledder, Billy        Georgetown        1:47.89
   07   Chavez, Alvaro       Connecticut       1:47.96
   07   Rono, Patrick        Arkansas          1:47.96
   09   Arroyo, Andres       Florida           1:47.97
   10   Fleet, Mac           Oregon            1:47.99      MPSF
   11   Schnulle, Ryan       Florida           1:48.05
   12   Watkins, Za'Von      Penn State        1:48.11
   13   Guyota, Boru         Oregon            1:48.20      MPSF
   14   Ellison, Samuel      Villanova         1:48.40
   15   Squella, Tomas       Arkansas          1:48.70
   16   Mudd, Austin         Wisconsin         1:48.80    BIG TEN

Men's Mile
   01   Lalang, Lawi         Arizona           3:52.88
   02   Rotich, Anthony      UTEP              3:55.86
   03   Williamsz, Jordan    Villanova         3:56.84
   04   Hillenbrand, Matt    Kentucky          3:57.00
   05   Rae, Jeremy          Notre Dame        3:57.25
   06   Peters, Rich         Boston U.         3:57.27
   07   Creese, Robby        Penn State        3:58.01    BIG TEN
   08   Geoghegan, Will      Dartmouth         3:58.04
   09   Penzenstadler, Sam   Loyola (Ill.)     3:58.21
   10   Fleet, Mac           Oregon            3:58.25
   11   Gillespie, Matthew   Iona              3:58.48
   12   Kidder, Brannon      Penn State        3:58.49
   13   Engholm, Elmar       New Mexico        3:58.90
   14   Dunbar, Trevor       Oregon            3:58.92      MPSF
   15   Johnson, Brett       Oregon            3:59.00      MPSF
   16   Hatz, Alexander      Wisconsin         3:59.03    BIG TEN

Men's 3k
   01   Lalang, Lawi         Arizona           7:44.20
   02   Cheserek, Edward     Oregon            7:48.00      MPSF
   03   Shrader, Brian       Northern Arizona  7:51.48
   04   Korolev, Maksim      Harvard           7:51.52
   05   Geoghegan, Will      Dartmouth         7:51.57
   06   Ward, Jared          BYU               7:52.00      MPSF
   07   Gillespie, Matthew   Iona              7:52.24
   08   Atchoo, Michael      Stanford          7:52.50      MPSF
   09   Peters, Rich         Boston U.         7:52.61
   09   Saarel, Ben          Colorado          7:52.61
   11   Dunbar, Trevor       Oregon            7:53.13
   12   Tiernan, Patrick     Villanova         7:53.20 BU Last Chance
   13   Connor, Reed         Wisconsin         7:53.95
   14   Erassa, Kirubel      Oklahoma State    7:54.05
   15   Happe, Nick          Notre Dame        7:54.39
   16   Theroux, Blake       Colorado          7:54.76
Men's 5k
   01   Lalang, Lawi         Arizona          13:29.00      MPSF
   02   Connor, Reed         Wisconsin        13:37.42
   03   Tiernan, Patrick     Villanova        13:37.73
   04   Cheserek, Edward     Oregon           13:40.51
   05   Ward, Jared          BYU              13:42.17
   06   Caldwell, Luke       New Mexico       13:42.50
   07   Korolev, Maksim      Harvard          13:42.56
   07   Olson, Erik          Stanford         13:42.56
   09   Parrish, Mark        Florida          13:43.15
   10   Bosshard, Joe        Colorado         13:43.21
   11   Stinson, Parker      Oregon           13:43.51
   12   Ahmed, Mohammed      Wisconsin        13:44.00    BIG TEN
   12   Colley, Andrew       N.C. State       13:44.00      ACC
   14   Rotich, Anthony      UTEP             13:44.13
   15   Shrader, Brian       Northern Arizona 13:44.55
   16   Bitchell, Adam       New Mexico       13:44.70