Event Hub
Torrence, Brannen, & Peters chase history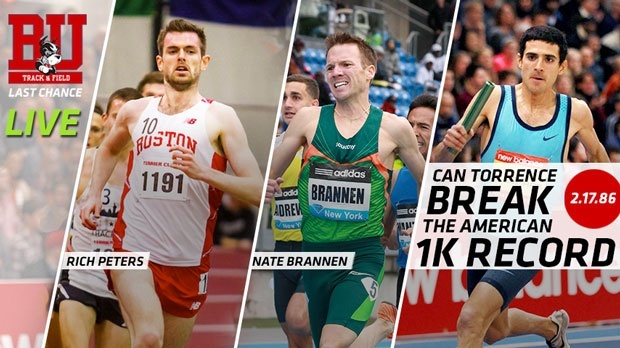 It's the last chance for collegiate athletes to quality for nationals, but it's also a last chance for record attempts.
At Boston University's Last Chance Meet, David Torrence, Nate Brannen, and BU's own Rich Peters will take to the track for an invitational 1 kilometer race. The three records on the docket will be David Krummenacker's 2:17.86 Amerian record from 2002, Simon Hoogewerf's 2:19.04 Canadian record from 1989, and Robby Creese's 2:19.53 collegiate record from 2012.
The opportunity to make a final run at the history books was the inspiration for the race.
Torrence told Flotrack, "When the 4x800m went down [in Boston], there was some talk on Twitter with some of the athletes joking around. 'Oh okay, alright. Same time next year. Let's all do it again.'
"Then Nate Brannen chimed in and and said, 'Hey, you know. I'm running the 1K at the BU Last Chance Meet if you guys want to attack a record there.' I saw that and said, 'Hey, you know. That could be a good opportunity.'"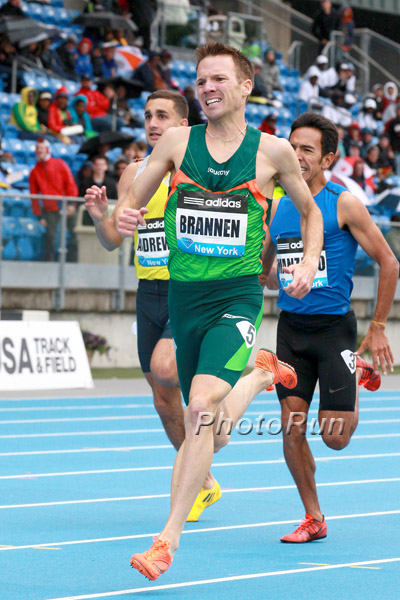 Brannen originally wanted to run the 1K at Millrose Games, but opted for the mile since he still needed a better mark to for the World Championships. Even after his 3:54.32 fourth place finish at Millrose, he "still had the idea that [he] wanted to run a K."
Brannen, who holds the Canandian 1K outdoor record of 2:16.52, was confident heading into Boston.
"Assuming the race goes as planned, I think [the record] should be very attainable," Brannen told Flotrack. It's easier said than done, but I think based on my training, I should really not have much of a hard time getting there."
This isn't the first time Brannen and Torrence have met over 1k. In 2012 in Linz, Austria, both Brannen and Torrence set their outdoor 1K personal bests. Brannen finished second in that race with a new Canadian record and Torrence finished back in 10th in 2:17.46.
Based on his experience at the distance and current fitness, Torrence gives himself good odds to break the 12-year-old record.
"When I set my outdoor personal best, my fitness was really sharp," Torrence said. "I remember that I was coming off not making the Olympic team and was really distraught, really upset. I remember not feeling great at all, being totally burned out.
"Right now, I feel really, really fit... I feel like my speed is at a good level for this 1K, but it kind of depends on the pacer. Most of the previous attempts, the pacer was too slow and we're all trying to be relaxed and feeling good."
While all the blame may not rest on the pacing, all recent attempts to break the American 1k record have been unsuccessful. Last winter, Robby Andrews made an attempt at the Armory Collegiate Invitational and Matthew Centrowitz had an impromptu run at the XL Galan. This winter, the trio of Eric Sowinski, Nick Symmonds, and Mike Rutt took a shot at the mark at the Millrose Games.
In what will hopefully be a successful record attempt, BU's Stephen Vitale will be tasked with the rabbiting duties. The 48.59 quarter-miler is slated to go through 500m in 68-seconds.
Torrence wants to pass 600m in 1:21, 1:22 and 800m in 1:48-mid, 1:49-flat, while Brannen has more wiggle room to break his national record.
"I'd like to get under the U.S. record as well, get two of us under it," Brannen said. "Obviously it means nothing to me, but it's a good standard to go sub-2:18."
But it's not just a two-man race for national records. There's another BU athlete in the race and he's ready to "have a go" as well.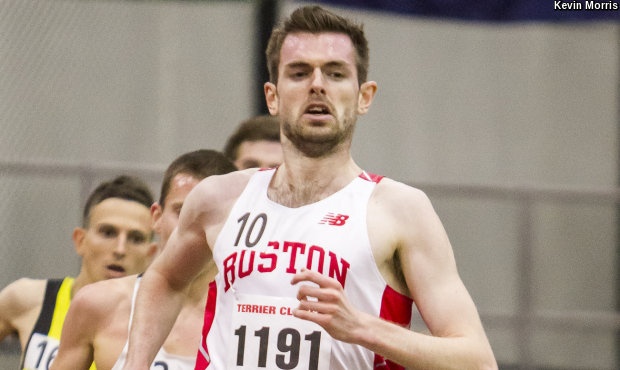 "I am in a way, going for the collegiate 1k record," Peters said. "I did a workout the other day and I hit 67-seconds [for 500m] in flats. I wasn't pressing myself too much. I think that I could get certainly near that in my current fitness.
"I want to run about 2:19 flat. It's just a case of getting in there and seeing what happens."
Peters told Flotrack that his initial plan as to run a fast, paced mile before making the trip to Albuquerque, New Mexico for NCAAs. However, with the timing of the race and guarantee that the pace will be quick, Peters couldn't pass up an opportunity for a third school record and possibly an NCAA record, too.
"I'm being greedy right now because I got two [school records] this year," he said. "When I ran 2:22 on a double, an hour apart, I knew that I could certainly run fast if I was in the right race. Knowing that Nate Brannen and David Torrence were coming in, meant that this was the perfect opportunity."
This will be Torrence's last race of the season while Peters and Brannen will use the race as a tune-up before they travel to NCAAs and Worlds, respectively.
The race is set to go off at 2:00pm ET. If BU wants to be cheeky, they'll move the race to 3:00pm, for obvious reasons. Otherwise, tune in to Flotrack to watch the trio chase history.