Event Hub
Torrence, Brannen, & Peters make history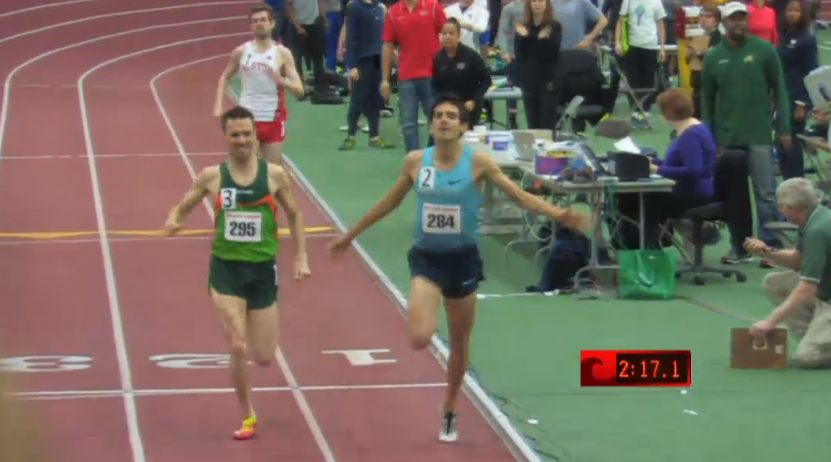 Three for three.
At the Boston University Last Chance Meet, we saw the American, Canadian, and Collegiate Indoor 1k record fall with phenomenal performances by David Torrence, Nate Brannen and Boston University's Rich Peters, respectively.
Torrence broke the tape in 2:16.76, while Brannen was second in 2:16.87. Peters finished third in 2:18.55.
The previous records were David Krummenacker's 2:17.86 American record set in 2002, Simon Hoogewerf's 2:19.04 Canadian record from 1989, and Robby Creese's 2:19.53 collegiate record from 2012.
The race plan was perfectly executed. Boston University's Stephen Vitale led a single-file aligned Torrence, Brannen, and Peters. Peters was roughly 3-meters behind the whole race, through the first 200m in 27.2. With his watch in hand, Vitale passed 400m in 53.8 before stepping off the track at 500m.
From there, it was all Torrence and Brannen. The American assumed the lead and continued the quick pace as the duo passed 600m in 1:21.1. Peters was a few steps behind, but still on pace.
Nothing changed over the next 200m. Torrence, with Brannen right on his shoulder, took the bell at 1:48.9. The Canadian record was definitely going to fall and the American record looked as it would go as well. It was just a matter of who would win.
With 100m left, Brannen moved to Torrence's outside as he began to gather his finishing kick. Torrence, with his mechanical stride, felt Brannen coming and started to kick for home. The two were shoulder to shoulder as they came down the homestretch with Peters just behind.
With a lean at the line, it would be Torrence who took the win. Brannen was second by just over 0.10-seconds, and Peters finished third.

Leader's splits
200m - 27.2
400m - 53.8
600m - 1:21.1
800m - 1:48.9
Finish - 2:16.76