Event Hub
IAAF World Indoor Preview: Women's 800m
Remember that time the United States headed to the World Indoor Championships with the two fastest 800-meter women in the world? That's right. Ajee' Wilson and Chanelle Price enter Sopot with targets on their backs as the two are possible medal contenders after running 2:00.34 and 2:00.48, respectively at altitude on Feb. 23. 
The Americans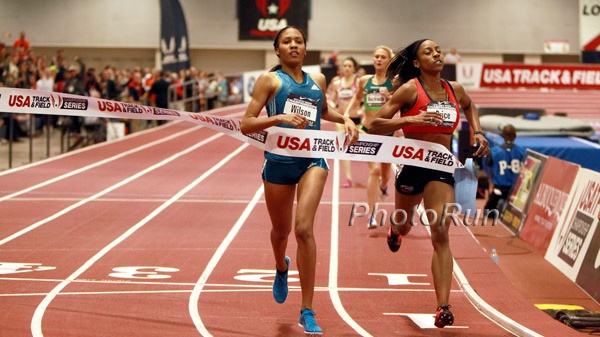 Wilson is the gold medal favorite. Her chances of winning it all? Bigger than Ryan Whiting's hands. 
She is undefeated on the year in all 800-meter and 600-meter races. This all comes after a sixth place finish at the IAAF Outdoor Track World Championships, where she set a personal best and American Junior Record of 1:58.21 with her sixth place finish. None of the women that finished ahead of her in Moscow are running indoors.  
It has taken a while, but Price has finally made her first U.S. national team as a senior athlete. She continues to train at Tennessee under coach JJ Clark, but a change of race mentality may be biggest the reason to her success in 2014. 
"Prior to this year, I put A LOT of pressure on myself. Track was the center of my life. This year, I've really worked on taking that pressure away and reminding myself that I'm more than a runner," she told Pat Price of the Daily Relay in late February. "Track is no longer my only focus, and I it like that way. Last year was my first year out of college, and when running was all I had to focus on, I burnt myself out physically and mentally. This indoor season, I've started to enjoy running again."
Price may not be undefeated on the year, but her performance at the U.S. Indoor Championship was remarkable as she took command of the race from the gun. Wilson would win by inches. The endurance in that race could come from the fact that she set personal bests in the 1,000-meter run and mile earlier in the year. The speed into the final lap derives from the 400-meter personal best of 54.64 from the Blazer Invitational on Jan. 17.
The only worry may be that she has peaked too early on in the year, but every time she hits the track, that hasn't seemed to be the case. 
Other challengers
20-year-old Laura Muir of Great Britain ran 2:00.94 at the British Athletics International Match on Jan. 25. What many overlook is the fact that she decided to only run the 800 at Worlds after posting the third fastest 1,500-meter time on the year. The only two runners faster than her 4:05.32 are Genzebe Dibaba and Abeba Aregawi, both of whom have dipped under the old world record.

There are 12 women entered with times under 2:02 and Muir is one of the only three that has dipped under 2:01. The other two are Americans. Muir has been in great company and has a win over Price on her resume for the year.
"People are almost intimidated by me now, which I find really scary," She told the Courier (UK). "But I'm loving the position I'm in. I just love running really, whether I'm doing well at it or not, so I am very happy with where I am just now."
If a home field advantage exists in track, Angelika Cichocka may be in luck. She has already run 2:01.14 on the ERGO arena track for the Polish National Championships. She has also run 4:08 on the year for 1,500-meters, which ranks 11th in the world. She holds an indoor personal best of 2:00.86 from 2010. 
Anna Shchagina of Russia ran 2:02.73 and 2:01.29 on back-to-back days to win the Russian National Championships in the middle of February. 2013 European Indoor Champion Nataliya Lupu of Ukraine is back as she looks to improve upon her World Indoor Silver Medal from 2012. She has run a season's best of 2:01.33 with her race in Moscow on February 2. Do not count her out as her best performances of the year tend to come at championship stages. 
Aside from Wilson, there will be other young talent competing in Sopot with 18-year-old Anita Hinriksdottir (Iceland) and 19-year-old Jenna Westaway (Canada). Both competed at the Millrose Games. Westaway set an indoor personal best of 2:01.89 as she finished second behind Wilson. Hinriksdottir was fourth. 
----
The first round of the women's 800-meter run is scheduled for Friday at 7:00 a.m. ET. The final will take place on Sunday at 10:35 a.m. ET. 

Chris Chavez is a staff writer for Flotrack. He once beat Joey Fatone of NSYNC in a half-marathon. Feel free to to reach him with any questions, comments, or feedback on Twitter or by email.