Event Hub
IAAF World Indoor Preview: Men's 1500m
Historically speaking, picking a winner in the 1500m hasn't been too much of a struggle. In the very least, we are fairly sure of which national anthem we'll hear at the medal ceremony. The tough part is usually trying to figure out who else is going to be on those lower level steps on the podium.
But for this year's men's 1500m, you might as well pick a name out of a hat.
First, we'll talk about the "rest of the world." Then, the three former NCAA stars. After that, we'll give our odds for the Americans, Lopez "I'm not a miler" Lomong and the super dangerous Will Leer. Finally, we'll give the lowdown on the two former Michigan Wolverines.
The Rest of the World - 8 Africans with killer resumes
Between Kenyan, Turkey, Morocco, Ethiopia, and of course, Djibouti's lone entry, there are eight guys who could be crowned the world champion. Between those chosen few, seven of them have gone sub-3:32 for 1500m, there's loads of championship experience, and a handful of world medals.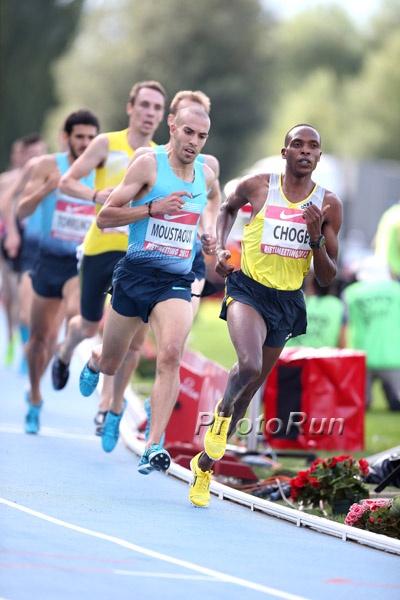 #1 - Mohamed Moustaoui (Morocco)
1500m PR: 3:31.84 (Berlin, 2011)
Season's Best: 3:35.0 (1st in Stockholm)
What we like: He has the world's fastest time and is the top seed.
What we don't like: It's not by much. Also, it's not he's some sort of big time performer on the world level. He was sixth at both the 2009 and 2011 World Championship 1500m.
#2 Ayanleh Souleiman (Djibouti)
1500m PR: 3:30.31 (Hengelo, 2012)
Season's Best: 3:35.2 (2nd in Stockholm)
What we like: At just 21-years of age, Souleiman is an incredible middle-distance talent. While we considered him a miler, he showed us his speed last year in Moscow, where he took the bronze medal in the 800m. I've also been riding high on him for the last two years.
What we don't like: He lost to Moustaoui in Stockholm and was 4th in a 3k in Dusseldorf (7:40.85). Souleiman, much like everyone else we'll talk about, has seldom raced this winter. Still, we think his raw talent outweighs his lack of racing. He'll be on the podium.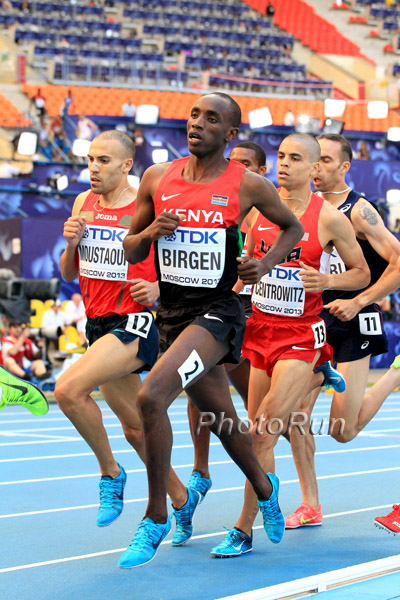 #3 Bethwel Birgen (Kenya)
1500m PR: 3:30.77 (Monaco, 2013)
Season's Best: 3:35.3 (3rd, Stockholm)
What we like: He's emerged as yet another Kenyan star over the last two years. In back-to-back years in Monaco, he's run 3:31.00 (2012) and 3:30.77 (2013). He also paced Galen Rupp to an American 2-mile record this winter and split 7:37.17 for 3k, which was pretty neat.
What we don't like: Even after running his PR the before Moscow, he struggled on the world stage. Birgen made it out the quarterfinals (fourth), but was 10th in his semi-final. In his last four 1500m races, he's gone progressively backwards, place-wise. First in Dusseldorf, second in Moscow, third in Stockholm, and fourth in Birmingham.
#4 Silas Kiplagat (Kenya)
1500m PR: 3:29.27 (Monaco, 2010)
Season's Best: 3:35.85 (1st, Moscow)
What we like: He's always in the mix, he's always confident, and we've seen him take down all the big names.
What we don't like: Kiplagat has one win this season, and even though it was over a few guys who'll be in Sopot, his other three races have been poor. He's been 4th in Dusseldorf (3:40.47), 8th in Stockholm (3:38.7), and 6th in Birmingham (3:39.75).
It's really hit or miss for Kiplagat. In 2011, he was on at the World Championships and came away with a silver medal. But at the 2013 World Outdoor Championships and 2012 World Indoor Championships, he was fit, and finished 6th. That's not to mention his forgettable 7th place finish at the 2012 Olympics.
High risk, high reward here.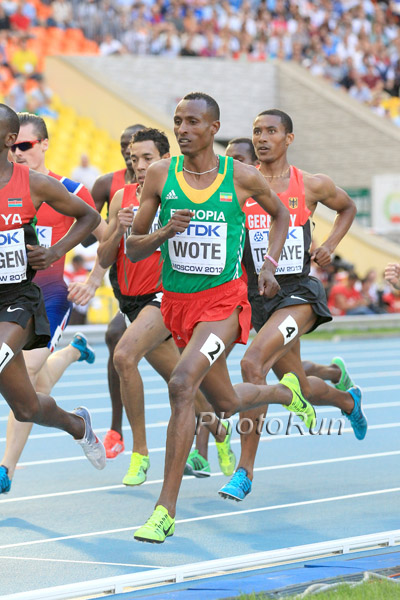 #5 Aman Wote (Ethiopia)
1500m PR: 3:32.65 (Saint-Denis, 2013)
Season's Best: 3:36.4 (4th, Stockholm)
What we like: He's taken Souleiman all the way to the line and even after their 400m leg fell, Wote brought the Ethiopia DMR back for the win at Penn Relays. If we go back to the Prefontaine Classic, Wote was third in 3:49.88.
What we don't like: Even after a stellar summer, Wote looked poor at the World Championships. He barely made it out of his quarterfinal and was 8th in his semi-final in Moscow. This winter, he was 4th in both Moscow (3:36.45) and Stockholm (3:36.4).
#6 Mekonnen Gebremedhin (Ethiopia)
1500m PR: 3:31.45 (Hengelo, 2012)
Season's Best: 3:37.42
What we like: He's a constant threat on the world stage. Below, we've listed his finishes at recent World Championships and Olympic Games (courtesy to tilastopaja.org):
1500 m World Indoor Bronze Medallist 2012
1500 m 4th at World Indoor Championships 2010
1500 m 6th at Olympic Games 2012
1500 m 6th at World Indoor Championships 2008
1500 m 7th at World Championships 2013
1500 m 7th at World Championships 2011
What we don't like: Fifth in Birmingham to a few names in the Sopot field. The one's we've already listed are forgivable loses, but the ones we haven't yet are not.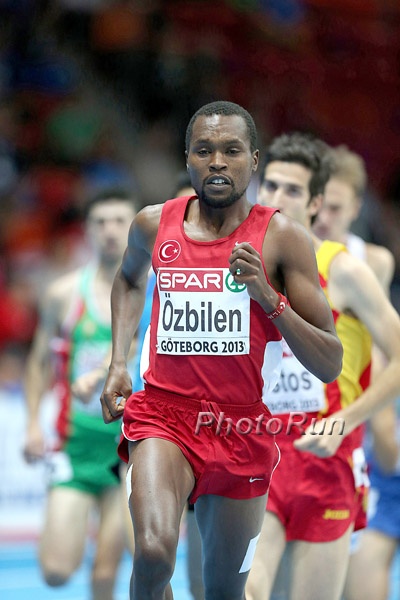 #7 Ilham Tanui Ozbilen (Turkey)
1500m PR: 3:31.30 (Monaco, 2013)
Season's Best: 3:38.22 (5th, Moscow)
What we like: The former Kenyan took silver at the last World Indoor Championships and has shown his wheels with a 2:15.96 1k this winter.
What we don't like: Not much. All of his international 1500m races came a month ago and he's clearly sharp. Perhaps an overlooked threat.
#8 Abdelaati Iguider (Morocco)
1500m PR: 3:31.47 (Monaco, 2009)
Season's Best: N/A
What we like: He's the reigning indoor 1500m world champion.
What we don't like: He's only run one race this winter, which was a 7:39.56 fifth place finish in the Flanders 3k. Even though we don't have much on him, he's a huge threat in big races and could easily be on the podium.
The Former NCAA Stars - Lee Emanuel, Chris O'Hare, and David McCarthy
There's a new generation of Britain milers and they both went through the NCAA system. Former New Mexico standout Lee Emanuel and former Tulsa stud Chris O'Hare
both don the Union Jack vest for Team GB. It's also good to see former Providence Friar David McCarthy get the nod as well for Ireland.
If any of them make it to the final, we'd call it a success (though I'm sure they all want to contend). O'Hare does have a final appearance on his resume from his performance in Moscow, last summer. 
What about the Americans - Will Leer and Lopez Lomong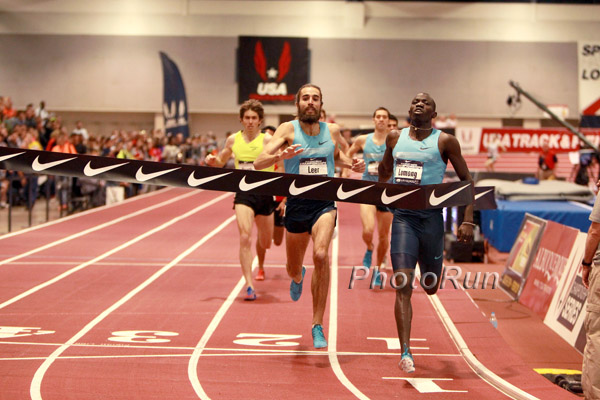 Leer looked dangerous at the Millrose Games' Wanamaker Mile and Lomong got the jump on him at USAs. Although Lomong considers himself no longer a 1500m runner, he's been fantastic at the distance.
Lomong is hard to read. While he was the class of the field in Albuquerque, he struggled at the New Balance Indoor Grand Prix, where he finished 4th. He failed to make it out of the semi-finals in Moscow last summer, too.
Leer, on the other hand, has been on point, but has left it late in both of his 1500m races this winter. At Millrose, he was barely into the conversation until 150m to go and then stole the show in the final 30m. At USAs, Lomong held off his late charge.
I have a sinking feeling that an American can medal, but which of the two will it be? After years of frustration, I say Leer.
The Two Michigan Wolverines - Nick Willis and Nate Brannen
The guy that got jumped by Leer at Millrose Games was the man who got the jump on everyone at NBIGP, Nick Willis. After taking a new approach to his training and racing, Willis is a serious threat in what looks to be either fast or slow races.
I've picked the Kiwi to medal numerous times in the past, and have had mixed results. There's no way he'll get the jump on the field in Sopot, but can he position himself onto the podium? Perhaps.
We'll also give a shout-out to his former teammate, Nate Brannen. After a quick 1k in Boston before stepping on the plane, Brannen looks ready.
Like we said, trying to predict this one is kind of a mess. Since no one really stands out, it will come down to who is sharp on the day. That day is Saturday, March 8th at 2:00pm ET.