Event Hub
Lagat sets 5k American Record at Carlsbad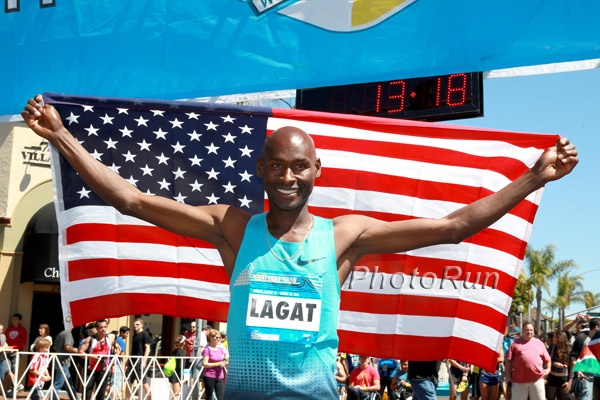 Another year, another American Record.
At the 2014 Carlsbad 5000, Bernard Lagat's second place time of 13:18 broke the previous American 5k Road Record of 13:24, set by Marc Davis in 1996. Dejen Gebremeskel would take his fourth straight Carlsbad 5000 win in 13:11.
The race was one of attrition, with Gebremeskel leading the charge. From the start, Gebremeskel went straight the lead and rarely relinquished it throughout the race.
As the lead pack of passed the mile in 4:13, seven men were in contention. The group consisted of the aforementioned Gebremeskel and Lagat, plus Augustine Choge, Haron Lagat, Edwin Kipyego, Tariku Bekele, and Diego Estrada.
Choge, who would be the only other competitor to really take the lead from Gebremeskel, made some strong moves on various tight turns, but would continuously soon find himself back in the pack.
When the leaders hit the next mile marker in 8:34, there would be only four that remained--Lagat, Choge, Gebremeskel, and Kipyego. However, the quartet no longer resembled a pack, as they were running shoulder to shoulder down the streets of Carlsbad, CA.
The pace soon been to accelerate and Kipyego was the first to drop. Then, when Choge started to drift to the far left side of the street, Gebremeskel made his move with Lagat in tow.
The long run for home was on for Gebremeskel as he tried to run the kick out of the 39-year-old American.
Although Lagat covered the move, with 300-meters to go, it appeared that Gebremeskel's tactic had worked. Lagat had begun to fade as Gebremeskel pushed for the tape and took his fourth consecutive Carlsbad 5000 win.
Although he was unable to take the win, Lagat was pleased to come away with the American Record. "It's an amazing race," Lagat told Toni Reavis. "I'm going to come back."