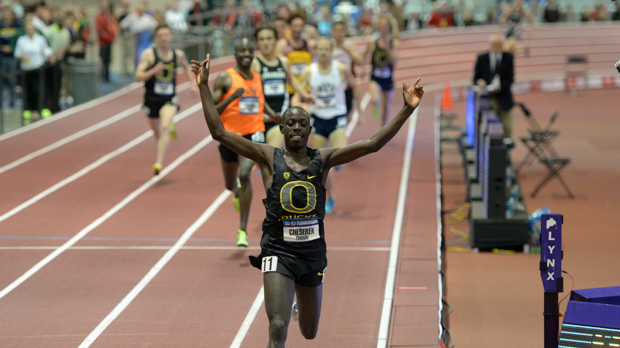 A lot of press goes into the magic of the 10,000-meters at Mt. SAC and Payton Jordan. To their credit, those are always great races. But as College Football announcer Lee Corso would say, "Not so fast my friend."

The 10,000-meters at the 2014 Stanford Invite could be the fastest 10k of the 2014 outdoor season. 
Yes, I'm saying that and, yes, I know it's only the first week of April. Here's why: 

You can find the entries here and remember that you can watch this race live on Flotrack on Friday night, get your Flotrack premium subscription here.
1. The Jordan Hasay Effect: 
Remember how Jordan Hasay of Oregon made her 10k debut at Stanford last year and ran 32:46? Similarly, Edward Cheserek of Oregon will run a 10k in an a Duck uniform for the first time.

The meet record is 28:03.72 held by Sean Quigley and the fastest 10k at the Stanford Invitational in the last five years was run by Dathan Ritzenhein in 28:21.48, which was at the 2010 meeting.

I believe Cheserek will break the meet record. You can watch Ritz's walk in the park 10k below: 
2. There are NINE runners with sub-29:00 PRs
If Cheserek needed any help to run sub-28:20 (I think he could solo that), he has nine other athletes in the race that have run under 29:00 for 10k in the field ready to push him to it. In fact, two of them are Parker Stinson of Oregon, Cheserek's teammate, and Jared Ward of BYU, who went 2-3 last year and ran 28:34 and 28:36, respectively. Both Stinson and Ward are coming off of quality performances at NCAA Indoors and will be ready to roll. 

3. There are a ton of 10k debuts at Stanford
Ask anyone about their first 10k and they'll tell you it was either (a) so much easier than they thought (and they ran great) or (b) they will say it was 25 laps of pure hell. Either way, some of the best distance runners in the NCAA who have yet to run a 10k on the track will get after it this weekend. Here are two big ones:

Trevor Dunbar - Oregon- 13:36 5k PR
Kirubel Erassa - Oklahoma State- 13:47 5k PR

4. There are 11 Cross Country All-Americans from 2013 in the 10k: 
Along with Cheserek, there are ten other athletes in this field who are coming off top-40 performances from the 2013 NCAA XC Champs. And don't forget that race is 10k.

- Jim Rosa- Stanford- 5th- 29:47 PR
- Scott Fauble- Portland- 13th- 29:11 PR
- Aaron Nelson- Washington- 20th- 8:52 3k Steeple PR
- Tylor Thatcher- BYU- 21st- 28:59 PR (Stanford '13)
- Mohamed Hrezi- Iowa State- 24th- 29:25 PR
- Matt McElroy- NAU- 25th- 13:55 5k PR
- Shadrack Kipchirchir- Oklahoma State- 31st- 29:08 PR
- Martin Grady- Notre Dame- 35th- 29:14 PR (Stanford '13)
- Jared Ward- BYU- 36th- 28:36 PR (Stanford '13)
- Matt McClintock- Purdue- 37th- 29:37 PR 
5. When it comes to Cheserek, expect the unexpected: 
Every time Cheserek spikes up, something crazy happens. From crushing Kennedy Kithuka at NCAAs, to blowing the field away at the MPSF 3k, to foiling Lawi Lalang's plan to triple at NCAA Indoors, Cheserek has been the most exciting runner to watch in the NCAA in a very long time.