Event Hub
London Preview: Kipsang, Farah & Company
Race of the year. 

The 2014 Virgin London Marathon is pulling out all the stops for Sunday morning's race. Race director Hugh Brasher has managed to assemble a field with the World Record holder, Course record holder, 2013 New York City Marathon Champion, the Reigning London Marathon Champion, the Olympic/World Champion gold medalist in the marathon and the United Kingdom's hottest distance running star at the moment. (The pace maker for the race is none other than Haile Gebrselassie.)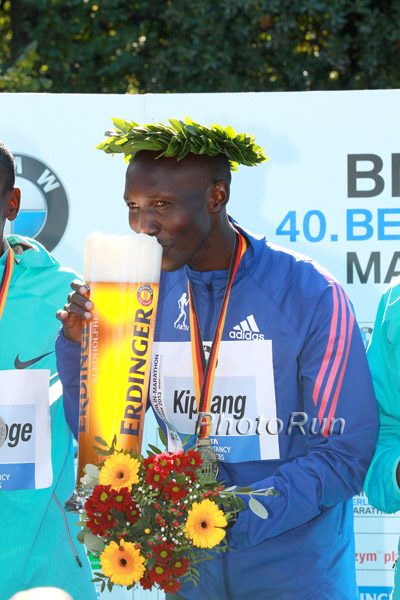 Wilson Kipsang
Personal Records
Marathon: 2:03:23, Berlin 2013
Half Marathon: 58:59, Ras Al Khaimah 2009

There definitely has to be an intimidation factor that comes with having the words "World Record Holder" as a prefix to your name. Then again, Kipsang did not fare well in the race when he entered the 2012 race as the reigning champion and Olympic bronze medalist. He went on to finish fifth in 2:07:47. How will Kipsang handle the limelight in his first marathon since last September?

Kipsang is coming off a victory in the Granollers Half Marathon on Feb. 2 in which he ran 61:18. Similarly, two months prior to his world record run, Kipsang ran 65:26 at altitude winning the Bogota Half-Marathon. He tuned up with a 61:02 in New York before last year's London Marathon. The fitness will be there on race day.

It will be interesting to watch if Kipsang follows a similar game plan as he did in Berlin, where he broke free 30-kilometers into the race. Gebrselassie is responsible for taking the field through that mark at world record pace, which is one hour and 28 minutes.

The policeman doesn't have much luck  when people attempt to steal his moment of glory.

Last year: Idiot promoting porn website breaks the finish line tape before Kipsang crossed the line.
This year: Idiots steal Kipsang's passport.

Why would it be cool to see him win? Would it ignite the Greatest of All-Time conversation? Maybe.

Emmanuel Mutai

Personal Records
Marathon: 2:03:52, Chicago 2013
Half Marathon: 59:52, South Shields 2011

There's a fire burning within Mutai after running 2:03:52 and NOT winning the Chicago Marathon, last October. It was the fastest non-winning time in history and Mutai is just one of five people to run under 2:04 on a legitimate course. Although he is only 29-years-old, race directors may want to consider renaming the race in E. Mutai's honor as he's race the London Marathon in 2008, 2009, 2010, 2011, 2012 and 2013.

His lone victory is the course record set in 2011.  

Could he improve upon his .166 batting average with a home-run?

His last race may not indicate so. On Feb. 2, Mutai finished 14th in 63:58 at the Eldoret Half Marathon. He was in much better shape before last April and was burned in the final mile.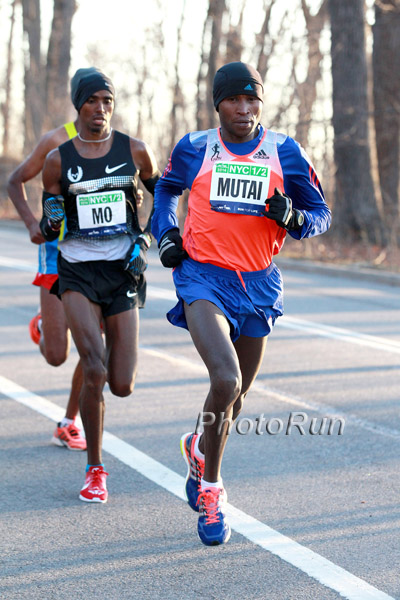 Geoffrey Mutai
Personal Records 
Marathon: 2:03:02, Boston 2011/2:04:15, Berlin 2012
Half Marathon: 58:58, Ras Al Khaimah 2013

(Since I decided to write about them back to back, I'll save you the research and say that Geoffrey has the upper hand on Emmanuel as the superior Mutai in head-to-head marathons. In their lone meeting, Geoffrey beat Emmanuel at the 2011 NYC Marathon when the course record was set in 2:05:06. They are not related.)

Kipsang is the world record holder, but no one has ever run faster over 26.2 miles than Mutai. In 2011, he was definitely assisted by the point-to-point and downhill nature of the Boston Marathon course as well as the push from Mother Nature's tailwind, yet the performance is backed up by other victories.

Mutai is coming in hot. He set a new personal best for the half-marathon with a time of 58:58 at the Ra's Al-Khaymah half on February 15. Then, he went on to win the New York City Half in 60:50 on March 15.

The catch is whether London will treat him better than last year, when he made his debut on the course and dropped out at the 35 kilometer mark. He could threaten Kipsang, if he breaks away like he did after the half-marathon maker in New York City, this past fall.

Why would it be cool to see him win? After winning the New York City Marathon, Mutai stopped and bought a hat from a street vendor. I want him to wear one of these. (Photo by Jane Monti for Race Results Weekly)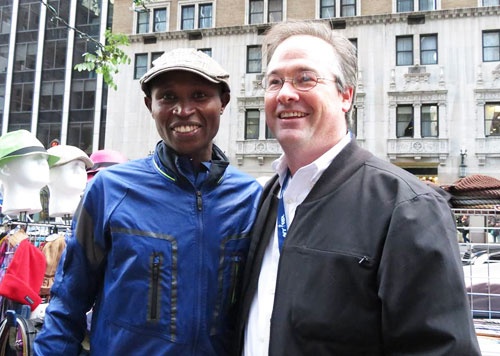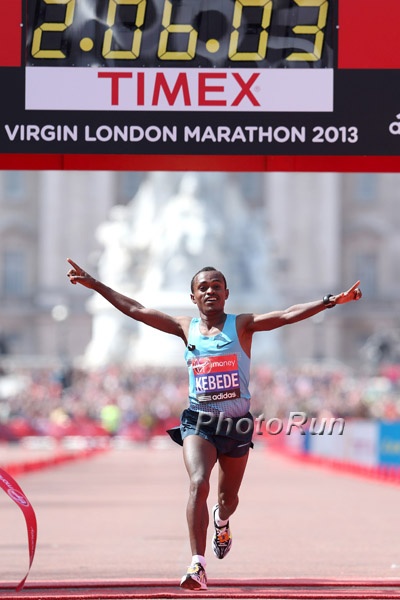 Tsegaye Kebede
Personal Records
Marathon: 2:04:38, Chicago 2012
Half Marathon: 59:35, Ras Al Khaimah 2008

Ain't no party like a Tsegaye Kebede party, because a Tsegaye Kebede party don't settle for second place being a minute behind the leader at 35-kilometers. When the Ethiopian wins, he puts on a show. It is the kick. It is the hat twirling. It's the smile and bouncy personality that emits from the five-foot two-star.

Kebede won his second London Marathon with the comeback that spoiled Emmanuel Mutai's day and retained his crown from 2010. He didn't prep for last year's race with a half-marathon and he's doing so again. Kebede is coming in fresh.

Another thing Kebede has going for him is the chip on his shoulder. After missing out on the Olympic team in 2012, he rebounded by winning the 2012 Chicago in a personal best of 2:04:38 and then London. His last marathon was a second place finish to Geoffrey Mutai in New York. Losing doesn't sit well with Kebede.

Also: Mo Farah, you've been warned. (We'll get to him shortly.)

Why would it be cool to see him win? The celebration .gifs and Vine posts.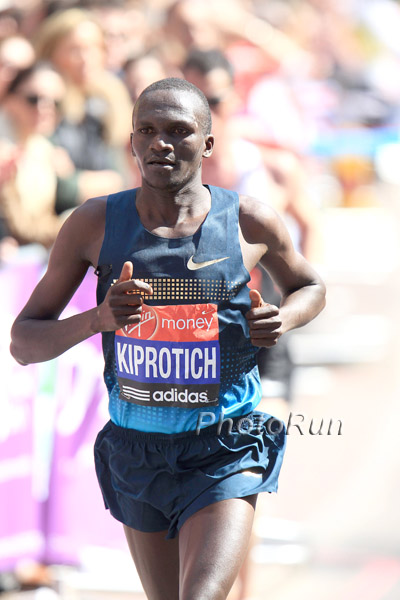 Stephen Kiprotich
Personal Records
Marathon: 2:07:20, Enschede 2011
Half Marathon: 61:15, Granollers 2013

"UGANDA DEFEATS KENYA AND ETHIOPIA!" The headline was incredible after the 2012 Summer Olympic Games in which Kiprotich outran two Kenyans in the last five kilometers for the gold medal. His race broke down into splitting 63:32 for the first half and then 64:29 for the last half.

While Kiprotich beat Kipsang in London for the medal, the world record holder is prepared to go much faster through the halfway marker (61:32, Berlin 2013) and Gebrselassie will push it with the pacing duties.

A more tactical and competitive race may fare Kiprotich better. This one is going to be fast and he will have to hang on. In preparation for last years race, he clocked a personal best of 61:15 for the win in Granollers. He only finished sixth in 2:08:05 in London last year.

His focus may have been on another gold medal as he accomplished the feat and won the marathon (2:09:51) at the IAAF World Championships in Moscow. The fall was not as great as he finished 12th in a dismal 2:13:05.

Why would it be cool to see him win? The underdog story and the headlines.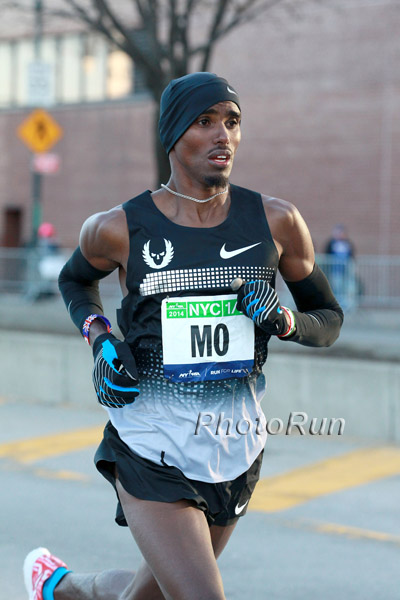 Mo Farah
Personal Records
Marathon: N/A
Half Marathon: 60:10, South Shields 2013

After months of having his name in the same sentence as a possible World Record attempt, Mo Farah has backed off the big talk and settled for the goal of breaking the British record of 2:07:13 set by Steve Jones in 1985. The reason for a change in goals may derive from the double Olympic and World champion's collapse at the end of the New York City Half, where he finished second to Geoffrey Mutai in 61 minutes and seven seconds.

Farah returned to action the next day and ran 10 miles under the instruction of coach Alberto Salazar. The Nike Oregon Project star will not be going at the world record pace with the lead group as Salazar has requested a pacer to take Farah through in 62:15 for 13.1 miles.

The British betting odds have Mo Farah as a 6:1 favorite for the victory, which puts him  only behind Wilson Kipsang's 9:4 odds. The world record holder has already proclaimed that the troupe of Kenyans will not make it an easy debut and Farah will not win.

What we've seen recently is that success on the track does not necessarily translate exactly to victories on the roads and marathon distance. Kenenisa Bekele is an exception as he won the Paris Marathon in 2:05:03 with not as deep of a field. Gebrselassie debuted in 2:06:35 with a sixth place finish. The other names in this field have the upper-hand with the experience and could push Farah into a similar finishing position as Gebrselassie.

At the beginning of the year, I was put on the spot and made the bold prediction that Farah would not finish the full marathon. Months later, I believe I may be chewing on my words for an early morning breakfast on Sunday. This is unknown territory for Farah and it's sink or swim in the deep end. 

Why would it be cool to see him win? Nike would have a field day with a poster of the Mo-bot pose crossing the finish line ahead of the World Record Holder and company. Epic.

The others
Thee aforementioned six men have the best shots of winning on Sunday, but here are just a few quick notes on some of three other stars to consider in the race:

Ibrahim Jeilan (Ethiopia) will be making his debut. His claim to fame comes from defeating Mo Farah in the 10,000-meter run at the 2011 IAAF World Championships in Daegu. He almost did it again with a late charge in Moscow. Could he rain on Farah's parade again? 

Ayele Abshero (Ethiopia) was the third place finisher in London last year. He holds a personal best of 2:04:23 when he burst on the scene with a win at the Dubai Marathon. Two of his last three races haven't boded so well for him. He finished 6th at the 2013 Chicago Marathon with a disappointing 2:10:10. (Yes, Dathan Ritzenhein beat him. Farah is the superior Nike Oregon Project athlete. By the transitive property, he will lose to Farah.) most recently, Abshero withdrew from Ra's Al-Khaymah Half with stomach problems. 

Stanley Biwott (Kenya) also withdrew from Ra's Al-Khaymah Half with a leg issue. 2012 was supposed to be his year. 2012 was his year to shine. He was off to a hot start with wins in the Paris Half-Marathon and Paris Marathon. Then the 2012 New York City Marathon was cancelled due to Hurrican Sandy and his moment to shine on the big stage was washed away. He finished fifth in the 2013 edition of the race and managed to stay with the lead pack until Mutai broke away. 

Chris Chavez is a staff writer for Flotrack. He once beat Joey Fatone of NSYNC in a half-marathon. Feel free to to reach him with any questions, comments, or feedback on Twitter or by email.