Event Hub
Mt. SAC Men's 5k Preview: Japan & Kithuka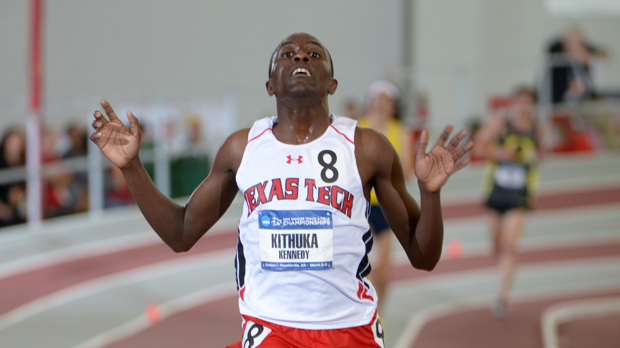 Kennedy Kithuka: The Return
While doing the research for the men's invited heat of the 5000m at Mt. SAC this Friday night at 8:35 PST, I was surprised with how unbelievably random and may I say "eclectic" this field is. What I do like about this field though, is that it is going to be fast. It certainly will be worth staying up late to watch for those of you on the East Coast. 
Before I looked at the heat I had someone ask me what I thought
Kennedy Kithuka
would run this weekend and I threw out there something like right around 13:30. After having some time to consider how fast this race will go, I believe Kithuka will run faster, win this race, and beat a field of totally random, but talented athetes from all over the globe. 
Really though, why would anyone come all the way from Japan, Qatar, Australia, New Zealand, Finland, Mexico, or Lubbock, Texas to run slow at Mt. SAC? They won't. This race is going to be fun and FAST. Be sure to watch all of the races here. 
Of the 38 people that will be running in this invited heat, only 15 of them are NCAA athletes. (Last year there were only eight NCAA athletes, but only 29 people ran in the race). With Will Leer in the mix he ran 13:21.55 where he eerily looked like Prefontaine with the stache and took home the "w." 
Here is last year's invited 5k with Leer winning:



I want to cover everyone's unique story in this field, but that could be as long as a Master's thesis and everyone hates those. Here are some of the people that certainly deserve to be highlighted:
The most interesting man in the race and (could challenge the Dos Equis guy for the world) is Onesphore Nkunzimana aka Sultan Khamis Zambian. This former Burundian, then Qatar native has changed his name back to Onesphore Nkunzimana and is now running for Burundi again. He even has his own wikipedia page. He's run 13:07 (in 2008) and who knows what kind of shape he is in, but he definitely is one of those guys who won't be coming all of this way to run slow. 
Yuki Sato of Japan is also entered in this field. Last year he ran 13:30 and was 4th in this same race at Mt. SAC. Sato is another cool story as he was essentially the Japanese version of Galen Rupp. When Sato was 17 years old he had already run 13:43 for 5k and 28:07 for 10k. He now has run 13:13 and 27:38 and was an Olympian in London where he was 22nd in the 10000m. He ran that 13:13 last year after his 13:30 (in Mt. SAC) in Heusden.

He's also sponsored by Nissin Food, a Japanese company that makes instant noodles.
The real person to watch for though is Texas Tech's Kennedy Kithuka. I think we're all interested in how fit he is and what he is capable of, coming off of not running indoor and a poor performance at NCAA XC (he was sick).  If he can run 13:25 indoors when he is healthy and was seemingly the most dominant cross country runner the last two seasons (besides NCAAs XC), Kithuka, if the pace is right, is ready to go sub 13:20.
With this awesome of a field which also includes Nate Brannen, Tom Farrell, Mav Darling, Luke Caldwell and Jared Ward, is certainly going to produce a race that you cannot miss. Whether it has a winning time of sub 13:15 or a crazy ninja kick finish, the Mt. SAC 5k is going to be extremely exciting. 

Here's the run down of the 38 men entered in the Invited 5k with their PRs according to tilastopaja.
1- Onesphore Nkunzimana- aka Sultan Khamis Zambian- Qatar- 13:07.57
2- Yuki Sato- Japan- 13:13.0
3- Tom Farrell- United Kingdom- 13:15.31
4- Aron Rono- WCAP- 13:23.50
5- Kennedy Kithuka- Texas Tech- 13:25.38
6- Sean Quigley- Saucony/ Bou- 13:27.17
7- Diego Alberto Borrego Moreira- Mexico- 13:27.26
8- Maverick Darling- Unattached - 13:27.93
9- Luke Caldwell- New Mexico- 13:29.94
10- Liam Adams- Adidas Australia- 13:31.21
11-José Mauricio González- Colombia- 13:32.44
12- Soufiane Bouchikhi- Eastern Kentucky- 13:33.09
13- Joseph Stilin- Zap Fitness- 13:33.13
14- Kevin Schwab- Zap Fitness- 13:36.14
15- Trevor Dunbar- Oregon- 13:36.86
16- Jared Ward - BYU- 13:37.03
17- Reed Connor - Wisconsin- 13:37.42
18- Shadrack Kipchirchir- Oklahoma State- 13:38.57
19- Jukka Keskisalo- Team Finland- 13:39.81
20- Kenyon Neuman- Unattached- 13:40.22
21- Stanley Kebenei- Arkansas- 13:42.15
22- Christo Landry- Mizuno- 13:42.79
23- Nate brannen- Saucony- 13:43.19
24- Malcolm Hicks- Nike- 13:43.96
25- Tylor Thatcher- BYU- 13:45.43
26- Jonathan Grey- Team USA Minnesota- 13:46.12
27- Micah Chelimo - Alaska Anchorage- 13:47.73
28- Kelly Wiebe- Point Grey- 13:49.54
29- Ryan Herson- Arizona State- 13:51.00
30- James Leakos- Harvard- 13:51.22
31- Malachy Schrobilgen- Wisconsin- 13:51.56
32- David Rooney- Northern Arizona Elite- 13:53.04
33- Brandon Birdsong - BRC/adidas- 14:09.55
34- Iván Darío González- Colombia- 14:10.32
35- Riley Masters- Brooks- 14:23.25
36- Robert Allen- UMass Lowell- Debut- 4:00.35 Mile PR
37- Sam Stabler- Lamar- Debut- 3:43 1500m/4:02 mile, 8:00 3k
38- Nicholas Hilton- Team Run Flagstaff- Debut- 29:00 10k/7:57 3k